Legit News
Microsoft Announces Own Windows 8 Tablet: Surface
Microsoft announced that they are getting into the hardware market for tablets with the announcement of the Microsoft Surface. The new tablet features a 10.6-inch ClearType HD display made from Corning Gorilla Glass 2! It measures in at 9.3 mm thin with a weight of just 1.5 pounds. The case is built out of magnesium (VaporMg) and it even features a built-in kickstand!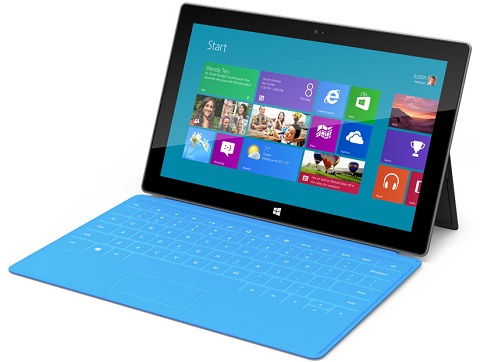 The tablet also has a fold out keyboard that doubles as a case that is 3mm thick. This keyboard has a trackpad, but it is also entirely multi-touch enabled. You can also click in a 5 mm-thin Type Cover that adds moving keys for a more traditional typing feel. The Microsoft Surface tablet also features "digital ink" a pen-input technology that samples at 600 dpi. Microsoft is clearly giving consumers a variety of ways to interact with the Operating System. You have a keyboard and multitouch trackpad along with the pen accessory! As for expansion, you'll get one each of HDMI, microSD and USB 2.0 (no SuperSpeed USB 3.0) as well as either 32GB or 64GB of internal storage.
Microsoft will be coming out with two versions of the new tablet. The first is built on Intel Core i5 'Ivy Bridge' processors and the second tablet will be powered on using an ARM based processor. NVIDIA reached out to us tonight and told us that the Windows RT version be will be powered by their NVIDIA Tegra processor! Microsoft will be taking on Apple with this new tablet and the company feels that this is the right time to take the offensive. Microsoft will likely be launching the Surface at the same time as Windows 8, so things will get interesting later this year. Now that Microsoft is making tablets it will be interesting to see how other tablet makers respond (ASUS, Motorola, Pantech). Microsoft did not mention exact pricing, but said it will "competitive" with similar tablets on the market.
Conceived, designed and engineered entirely by Microsoft employees, and building on the company's 30-year history manufacturing hardware, Surface represents a unique vision for the seamless expression of entertainment and creativity.
Posted by | Mon, Jun 18, 2012 - 07:29 PM
---
---