Legit News
VIZIO Announces Premium Line of All-In-One PCs, Notebooks & Thin + Light Ultrabooks
VIZIO has announced the availability of their new Premium Line of Thin + Light Ultrabooks, Notebooks and All-in-One PCs. Using their entertainment know-how and the performance offered by Intel's latest Core processors, VIZIO will offer power, design and entertainment that can finally be found in the mainstream market without compromise. With Performance, image quality, contrast and viewing angles all being important VIZIO has paired the Intel Core series processors with NVIDIA's Kepler-based GeForce GPUs in order to offer users brilliant HD displays for movies, games and content streaming. The first PC VIZIO will offer is the All-in-One which will start at $898. It will offer fantastic entertainment experiences with a 24-inch or 27-inch 1080p HD display, 2.1 speaker system with subwoofer using SRS Premium Sound HD, as well as two HDMI inputs for cable boxes, game consoles and more. Add to that a wireless keyboard and touchpad with multi-touch gesture support helps offer ease of use without excess clutter of cables. The All-in-One PCs have a sleek aluminum design that is certain to please.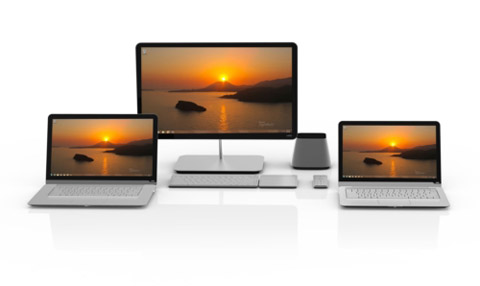 The VIZIO Thin + Light Ultrabook is of course inspired by Intel and offers up a responsive, sleek, long-lasting portable PC. The 14-inch variant will have an HD+ display, while the 15.6-inch will have a Full HD display. The machines will boot in seconds and feature a long lasting battery that will keep it up and running all day. The Ultrabooks feature a sleek, durable aluminum unibody design that is razor-thin. These units also feature SRS Premium Sound HD, and offer stellar HD picture and quality with wide viewing angles.
The final part of VIZIO's new lineup is there more traditional notebook which will start at $898 as well. It offers great performance with fantastic design and profile that stylish and light due to its aluminum construction. Utlizing a Full HD 1080p 15.6-inch display and will also feature SRS Premium Sound HD just like the rest of VIZIO's Premium Line. The unit offers a concealed passive heat venting design which reduces noise that is often noticed with typical fans. For more info on these products check our forums linked below or head on over to VIZIO.com.
VIZIO, America's #1 LCD HDTV Company*, announced today the availability of its highly anticipated line of innovative personal computers designed to work hard and play hard. By combining its entertainment know-how with the unmatched power of the latest Intel® Core™ processors, VIZIO intends to set a new standard for the Windows® experience. The premium line, which consists of the VIZIO Thin + Light, Notebook and All-in-One PC, was created to break through the clutter present in the mainstream market and prove that power, design and entertainment can flawlessly co-exist in a PC.VIZIO Announces Premium Line of All-In-One PCs, Notebooks & Thin + Light Ultrabooks
Posted by | Sat, Jun 16, 2012 - 03:37 PM
---
---