Legit News
AMD Unveils FirePro W9000, Possible Radeon HD 7990 Sighting
AMD has unveiled its newest flagship professional-oriented graphics card, the FirePro W9000 at the AMD Fusion Developer Summit (AFDS) 2012. This new flagship FirePro graphics card has some interesting specs, 6GB of GDDR5 memory, 4 TFLOPs single-precision and 1 TFLOPs double-precision floating-point performance, up to 264.8 million pixels/s. And as you might have guessed, it's based on the same Tahiti XT GPU used in the Radeon HD 7970.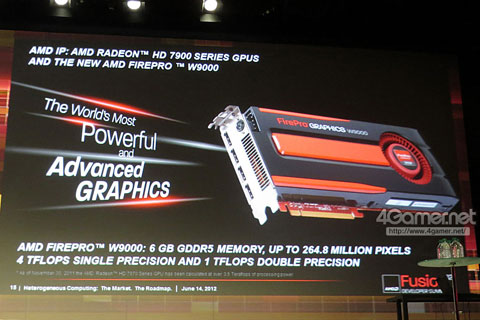 The other product that grabbed the attention of many was the graphics card being held by Mark Papermaster, which could very well be an AMD Radeon HD 7990. As our readers can see from the images, two GPUs were present on the PCB. If the card shown is indeed an HD 7990 then AMD has once again changed its cooling design for its enthusiast dual-GPU product. Forgoing the lateral-flow design of the past they have from the looks switched it out in favor of a triple-fan design that uses three low speed 90mm fans. Another rather interesting point of note is the fact the card only uses two 8-pin PCIe power connectors. This could mean AMD will use the lower voltage Tahiti XT2 chips, which will make their debut in the new Radeon HD 7970 GHz Edition we reported on earlier. That said it seems we will all have to wait and see what it was Mark Papermaster was actually holding.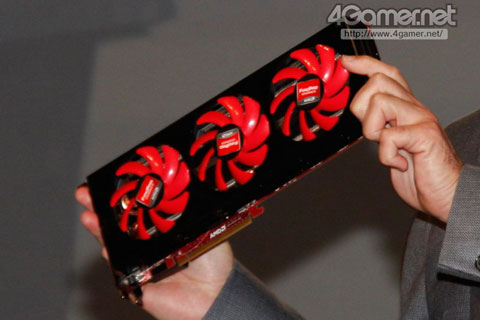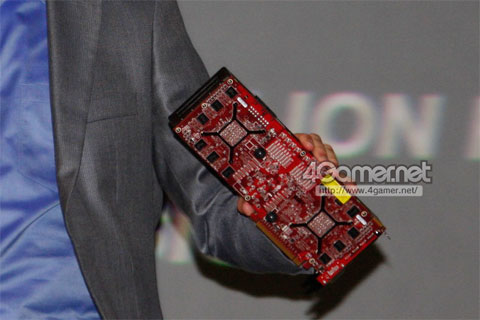 In any case, it was AMD state that show a dual GPU card unpublished would be welcomed. AMD, the only tend to put the Radeon ahead FirePro for a workstation, finally, and has been the impending dual GPU card "New Zealand" (New Zealand, codenamed) is introducing in the generation Southen Islands looks good is said.
Posted by | Sat, Jun 16, 2012 - 02:20 PM
---
---