Legit News
ORIGIN PC Launches 3D Laptop with Dual Graphics Cards in SLI
Last week ORIGIN PC announced the availability of their new EON17-X desktop replacement laptop, the most powerful laptop for gamers, artists, and professionals. ORIGIN PC today announced the world's first 3D laptop with dual graphics cards: The EON17-X3D featuring the latest Intel X79 chipset, 2nd generation Intel hexcore processors, and dual overclocked NVIDIA GeForce GTX 580M graphics cards in SLI. The EON17-X3D marks the first 3D laptop from ORIGIN PC with a customizable backlit keyboard with three lighting zones and seven color options.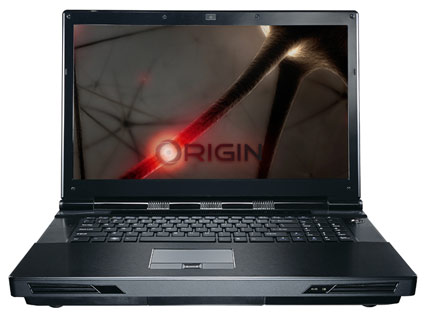 ORIGIN PC EON17-X3D Laptop Features:
Built-in 3D Emitter and 1080p 3D Display
NVIDIA 3D Vision 2 Wireless Glasses with LightBoost Technology
Up to Dual NVIDIA GeForce GTX 580M Graphics Cards with ORIGIN Professional Overclocking
Intel X79 Chipset with 2nd Generation Intel Hexcore Processors
Fully Customizable starting at $3,032
"ORIGIN PC continues to lead the industry by being the first to offer a 3D laptop with dual overclocked graphics cards in SLI." said Kevin Wasielewski ORIGIN PC CEO and co-founder. "The ORIGIN EON17-X3D is the ultimate mobile 3D experience. Whether you are at home or on the road, you will forget where you are and become immersed in the world of 3D."
Posted by | Mon, Feb 20, 2012 - 01:17 PM
---
---