Legit Reviews News History
Starting today, Samsung customers can take advantage of TecTiles 2, the next generation of Samsung's original TecTile NFC programmable tags launched last summer. Fully compatible with all Samsung NFC-enabled smartphones, including the Galaxy S 4, TecTiles 2 and the new TecTile mobile app allow users to simplify smartphone actions and connect to the world around them using NFC technology. TecTile 2 programmable NFC tags are available at Samsung.com beginning today for $14.99 for a 5-pack sleeve and will be at other retailers nationwide in June.
Samsung TecTiles 2 are the next generation and evolution of TecTiles, programmable NFC sticker tags that allow users to automate everyday functions of a smartphone through a single tap. TecTiles 2, paired with the new Samsung TecTile app, allow consumers to program the tag for various functions, including sending text messages, silencing the phone when entering a meeting, playing a specific song and dimming the display before going to bed.
Posted by | Fri, May 17, 2013 - 09:42 AM | Comments
---
Razer today announced the Razer Atrox Arcade Stick for Xbox 360, the final product following an extensive beta testing program. Tested by some of the world's best pro-gamers and Fighting Game Community members all over the world, the Razer Atrox Arcade Stick is constructed with modders and tournament gamers in mind. Featuring premium quality Sanwa components, the 10 highly responsive buttons and a precision eight-way joystick allow gamers to strike instantly and surely, game after game, while maintaining peak performance and reliability. The Razer Atrox Arcade Stick will be available to pre-order on May 21st, 2013 for $199.99.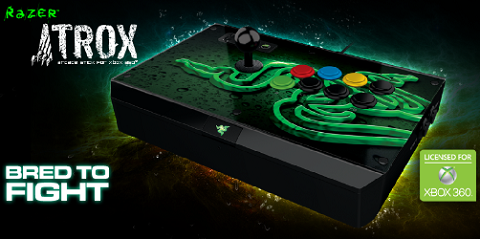 "Following a huge beta testing program, we're confident that we've built an arcade stick enthusiasts will love," says Min-Liang Tan, Razer co-founder, CEO and creative director. "We know that the Fighting Game Community is huge on modding their arcade sticks, and that is why we made the Razer Atrox extremely mod friendly. We are excited to see what extreme mods the Razer Atrox will be the base for."
Posted by | Thu, May 16, 2013 - 04:01 PM | Comments
---
Lenovo announced today that customers can place orders for the IdeaPad Yoga 11S beginning today directly through them or on Bestbuy. Models will be available in Best Buy stores starting on June 23. Multiple configurations will be available with suggested list price starting at $799.99 The acclaimed 360° flip and fold Yoga 11S premiered in January at the International Consumer Electronics Show, following its popular predecessor, the IdeaPad Yoga 13.
Yoga converts into four special modes to fit the changing ways people are using technology. It offers a new way to experience mobile computing, letting people define which mode works best for them in their environments, from the park and the coffee shop to in transit, at home or at the office. For example, users can watch movies like never before by putting Yoga in tent mode while enjoying the convertible's rich Dolby Home Theatre audio. They can convert Yoga into stand mode for a different environment; good for things like swiping through family photos using the high definition IPS screen's 10-finger multitouch support. Yoga even supports hand gestures so consumers can just wave their hand in front of the webcam to instantly advance photos, videos and other content. In tablet mode, Yoga makes exploring Windows 8 apps fun and up close with its 11-inch touchscreen. And in laptop mode, Yoga offers a great typing experience with its comfortable and responsive keyboard. Additionally, the Yoga 11S has a soft-touch exterior and comes in attractive Silver Grey and Clementine Orange colors.
Posted by | Thu, May 16, 2013 - 08:31 AM | Comments
---
DATA Technology today announced a small but stylish addition to its DashDrive family of USB Flash drives. The new DashDrive Choice UC510 packs durability and charm into a super small and handy profile. The DashDrive UC510 is available in colors of steel-blue and titanium. Capacities are 8, 16, and 32 gigabytes.
Posted by | Thu, May 16, 2013 - 08:30 AM | Comments
---
Dell today announced an expanded and stronger Dell Precision workstation portfolio that includes the smallest tower workstation chassis in its class, the Dell Precision T1700 small form-factor, and the world's most powerful rack workstation, the Dell Precision R7610. In addition, the Dell Precision family features a more powerful and reliable Dell Precision T1700 Mini-Tower rounding out a workstation portfolio that offers increased performance, dependability and smart design for entry-level and high-end workstation users. The Dell Precision R7610 rack workstation (shown below) will be available on May 21 starting at $2,179 and the Dell Precision T1700 Mini-Tower and Small Form-Factor are available on June 4 worldwide. Pricing for both T1700 workstations will be released on June 4.
Dell, the industry leader in rack workstations¹, is announcing updates to its rack workstation including significantly more power, an enhanced remote experience and new virtualization capabilities for engineers, designers and other professional users who demand the best. The new Dell Precision R7610 now packs the power of Dell's flagship T7600 tower workstation in an intelligently designed 2U rack form-factor that's ideal for datacenters or OEM embedded solutions. The Dell Precision R7610 enables customers to centralize, secure and manage data, leverage their worldwide talent pool, and share resources for improved cost effectiveness.
Posted by | Thu, May 16, 2013 - 08:25 AM | Comments
---
Innodisk is proud to be among the first to supply (DDR4) registered DIMM product samples to key server companies for their next-generation systems. With this announcement, Innodisk, an industry leader in DRAM modules for industrial applications and embedded systems, will continue to offer the most advanced technology to its customers. The result of almost eight years of development, DDR4 (Double Data Rate 4) technology improves on the previous generation, DDR3, in every way. These new memory products provide users with greater performance, but can still cut costs by saving power and space, and reducing waste heat.
DDR4 offers a giant leap in peak performance over DDR3 technology, with a 3.2 Gbps data transfer rate. In fact, DDR4 could eventually even surpass this already high rate, according to standards organization JEDEC, in the same way that DDR3 surpassed its initial ceiling of 1.6 Gbps. DDR4 memory bus speeds start at 2133MHz, which already offers a huge jump in potential performance from the average bus speed of 1333MHz and 1666MHz offered by DDR3.
Posted by | Thu, May 16, 2013 - 08:16 AM | Comments
---
ASUS announced a new design theme for its lineup of mainstream motherboards based on the upcoming Intel Z87 chipset. Replacing the previous blue-accented color scheme, a distinctive gold application on custom-designed heatsinks serves to highlight the ASUS philosophy of industry leading motherboard design and continuous innovation. ASUS mainstream series will be available from mid-2013. Pricing and availability of specific models may vary between regions.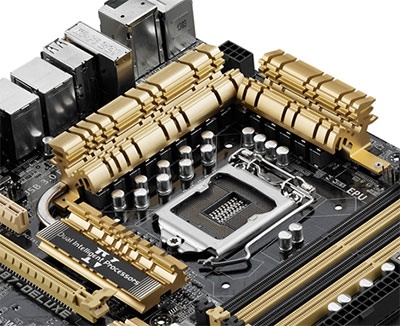 "ASUS-branded motherboards keep evolving and always offer the gold standard in quality, performance, and durability. The new gold color scheme symbolizes this and our insistence on delivering the highest level of innovation and reliability. ASUS motherboards are fully-featured and provide an attractive visual style for a great system building experience", said Jackie Hsu, Corporate Vice President and General Manager of Worldwide Sales, ASUS Open Platform Business Group.
Posted by | Thu, May 16, 2013 - 06:09 AM | Comments
---
ECS introduces the first Intel 8-Series Motherboards featuring the new 4th Generation Intel Core processor family for their new family of desktop motherboards Pro, Deluxe and Essentials.
The new ECS (Elitegroup Computer Systems) family of motherboards featuring the new Intel 8-series Chipset family with new designed specifically for the new 4th Generation Intel Core processor family of CPUs, which will be available and shipping worldwide in Q2 2013. The new chipset features support for full SATA III 6 Gb/s internal ports and PCI-Express Gen.3 x16 bus design. They also integrate USB 3.0, Thunderbolt, and enable responsiveness technologies like Intel Smart Response, Intel Smart Connect, and Intel Rapid Start.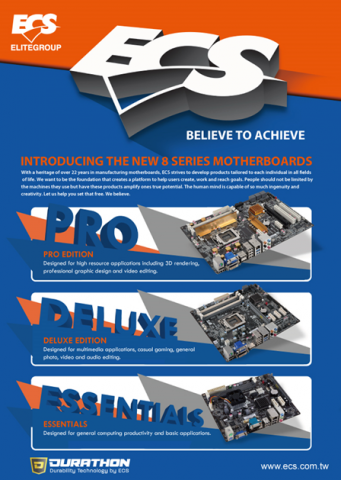 ECS is also introducing a new family of motherboard tiers including: Pro series optimized for power computing, Deluxe series optimized for small office and home, and Essentials series optimized for home and multi-media. The new ECS family of motherboards will feature ECS's new Durathon durability technology which includes a triple density PCB, extreme temperature resistance, 1.5K point marathon testing, and superior solid capacitors designed to greatly improve motherboard quality, stability and longevity.
Posted by | Thu, May 16, 2013 - 05:50 AM | Comments
---
It's not at all unexpected that we start seeing motherboards and features being shown off before a product launch. In the near future, Intel will launch their latest processor code named Haswell if the rumors floating around are accurate, Haswell will rear its head at the beginning of June at Computex. Rumors aside, ASUS has sent over some images and information about their Intel Z87 Motherboard lineup
In addition to the ASUS Maximus VI Extreme and Maximus VI Gene that ASUS will be shipping, they are bringing around a new board in the ROG line-up. The ASUS Maximus VI Hero! The ASUS Maximus VI Hero is meant to bring the ASUS ROG brand to gaming enthusiasts at a more accessible price point. It will be interesting to see where ASUS was able to cut back to reduce the cost while still maintaining the ROG performance.
Apart from the Republic of Gamers line up of Z87 motherboards, ASUS has a plethora of main stream offerings. The top dog in the main stream boards is the Z87 Deluxe. Like the Deluxe predecessors in the Z77 and P67 chipsets the Z87 Deluxe will offer a variety of advanced features and connectivity options. Aside from the Z87-Deluxe, the mainstream line up will include the Z87-Pro, Z87-Plus, and what may be the next board for my mini-ITX System the Z87I-Deluxe


There are more images available in our forums check them out and let us know what you're looking forward to with the upcoming Intel Haswell launch!
ASUS introduces their next generation Dual Intelligent Processors 4 with 4-Way Optimization technology that integrates new features to enhance the ways customers manage their PC for improved gaming, entertainment, and productivity performance. The TPU performance tuning chip, EPU energy consumption manager, DIGI+ Power Control, and Fan Xpert 2 can all be activated with one click of the mouse.
Posted by | Thu, May 16, 2013 - 12:05 AM | Comments
---
Seasonic issued a statement this week letting their customers know that many of their power supplies are ready for Intel Haswell Processors. It appears that the Seasonic 80 PLUS Platinum and Gold series, Platinum series, X series and 80 PLUS Bronze series (M12II-650, 750 & 850W models) are ready for Haswell's new low power draw technical requirements!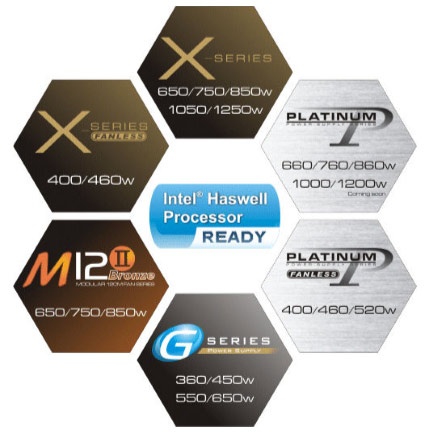 Sea Sonic Electronics congratulates Intel on the launch of the Haswell Processors. We are inspired by the continuing efforts made by Intel to push the boundaries of performance and at the same time, be environmentally conscious through reduction of energy consumption. These are the exact same attributes which have driven Sea Sonic for the past 35+ years. As we strive for industry leading performance, we continue to research the long term effects of each of our design. By continuously improving our efficiency we try to achieve maximum energy savings and by using high quality components we aim to prolong product lifetime; all to achieve long term sustainability.
Posted by | Wed, May 15, 2013 - 01:51 PM | Comments
---
When NVIDIA released the GeForce GTX Titan video card they debuted a lifelike human face rendering demo called FaceWorks. NVIDIA has made that demo available to download and you can grab the 309MB file here. The character in the demo is called "Digital Ira" and in the demo you can see him immersed in three different lighting environments. You can also adjust his skin rendering to see the effect of sub surface light transmission through his skin. If you are ready to see some awesome realism when it comes to facial expressions be sure to give this demo a test drive.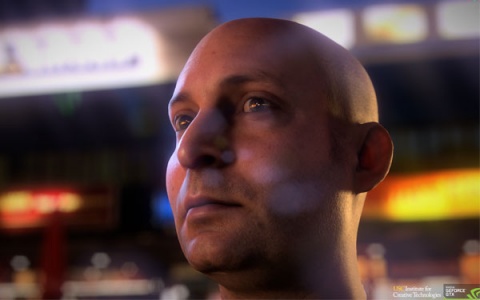 This demonstration highlights the state of the art in performance capture. All Ira''s motions were acted out in a "light stage" at the Institute for Creative Technology at USC. The team there headed by Dr. Paul Debevec is able to photographically capture facial geometry, surface detail, and lighting information of an actor without any of the traditional tricks of face markers or special makeup. This light stage data is pulled into NVIDIA''s demo engine, and using FaceWorks rendering technology we witness a realism of human facial rendering never before seen in real time. FaceWorks shading gives Ira lifelike skin, eyes, lips and teeth. Adaptive tessellation keeps the curves of his face perfectly smooth.
Posted by | Wed, May 15, 2013 - 09:27 AM | Comments
---
Lian-Li announces a very interesting brushed aluminum Mini-ITX chassis this week called the PC-Q30 that will be made available in June 2013 for $149. What makes the PC-Q30 different from all the other mini-ITX cases on the market is the unique curve-shaped design and large acrylic front window. Can't say we've run across one of these yet!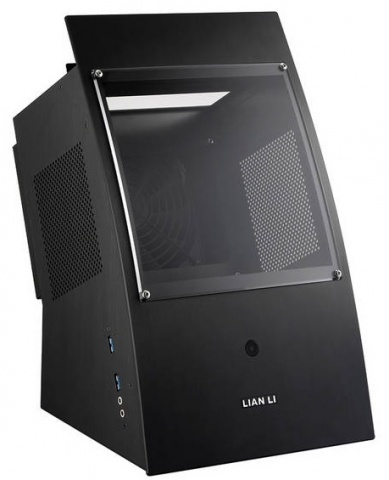 The curved shape and large window on the PC-Q30 allows users to show off their systems, and to be the highlight of the room. A 140mm fan in the rear of the chassis expels hot air, while ventilation on the top and side allows for cool air to enter. The PC-Q30 supports graphics cards up to 200mm (7.8" in length and can hold four 2.5" notebook sized storage drives. The one downside to this case is that a small form factor power supply (up to 125mm or 4.9" in length) must be used. The PC-Q30 measures in at (W)223mm x (H)357mm x (D)300mm and weighs 2.13KG thanks to the nice 3mm thick aluminum construction.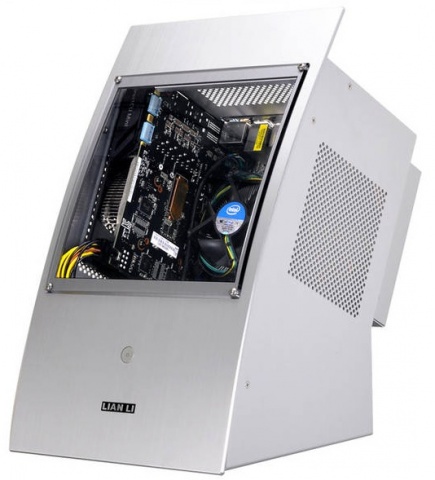 The PC-Q30 will be available in black or silver and this is is how it will look with hardware installed in it. A video tour by Lian Li that covers the PC-Q30 in greater detail can be seen below. Are curved cases the wave of the future?
Posted by | Wed, May 15, 2013 - 09:17 AM | Comments
---
ASRock announced this week that they are the first company to get their Thunderbolt ports certified on ASRock Z87 Extreme9/ac motherboard. This makes it the first of the upcoming Intel 8 Series motherboards to be Thunderbolt certified!

These Thunderbolt ports will come on ASRock's Z87 Extreme9/ac, which are allegedly arriving to the market very soon, along with dozens of other exciting new features, such as ASRock's A-Style. So, if you're looking forward to build a solid next gen desktop rig with insanely fast data transfer abilities and innovative new software or hardware features, keep your eyes open for this bad boy.
Posted by | Wed, May 15, 2013 - 09:00 AM | Comments
---
ADATA Technology has launched the DashDrive UV150 USB Flash drive, a value-priced USB 3.0 solution with an attractive pearlescent exterior. The sleek contour of the UV150 makes the drive as easy in the hand as it is on the eyes, and the USB connector cap snaps in cleanly in the rear of the drive to prevent cap loss. Thanks to the USB 3.0 interface you can expect read speeds of up to 90MB/s and write speeds of up to 20MB/s on the 8, 16 and 32GB capacity drives. The drives measure in at 58 x 18 x 11mm (L x W x H) and weigh just 9g. You get the a choice in colors too and get the opportunity to pick between glossy black and scarlet red. No word from ADATA on pricing, but we expect these drives to be affordable since they are said to be 'value priced.'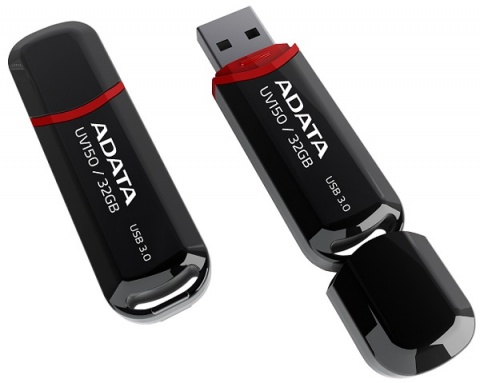 Posted by | Wed, May 15, 2013 - 07:39 AM | Comments
---
WD today announced the availability of the My Passport Ultra line of portable hard drives, which combine additional layers of data protection with super-fast USB 3.0 connectivity, a slim, compact design and four color choices to offer mobile consumers the safest and easiest way to protect their digital content while traveling. Available in 500 GB, 1 TB and new 2 TB capacities, My Passport Ultra portable hard drives have built-in WD SmartWare Pro backup software with Dropbox integration, hardware encryption and password protection to safeguard against unauthorized drive access.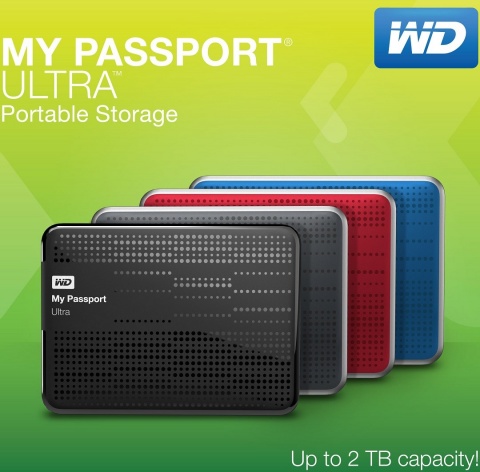 A protective pouch is included with the My Passport Ultra to help shield it from the daily knocks encountered by today's mobile consumer. When it comes to pricing the WD My Passport Ultra 500 GB has an MSRP of $99.99 and the My Passport Ultra 1 TB is $129.99. The WD My Passport Ultra 2TB will be released in Q3 2013 and there is no pricing on that drive just yet. All of the WD My Passport Ultra drives are backed by a 3-year limited warranty.
"WD's My Passport Ultra combines USB 3.0, a range of colors and capacities and the best software and hardware functions currently found in our line of My Passport portable storage drives to create the ultimate portable digital safe for today's active consumer," explained Jim Welsh, executive vice president and general manager of WD's branded products and consumer electronics groups. "Adding WD SmartWare Pro technology with auto backup and password protection to one of the industry's fastest interfaces and largest capacity drives gives consumers the convenience and peace of mind to enjoy, share, and protect their personal digital content everywhere they go."
Posted by | Wed, May 15, 2013 - 07:28 AM | Comments
---
Noctua today presented a new revision of its much acclaimed NH-U12DX and NH-U9DX quiet CPU coolers for Intel Xeon workstations and servers. The new NH-U12DX i4 and NH-U9DX i4 models support LGA2011 (both Square and Narrow ILM), LGA1356 and LGA1366 based Xeon platforms and now come with PWM fans for automatic speed control. Fitted with the professional SecuFirm2 mounting system and bundled with Noctua's industrial-grade NT-H1 thermal compound, the NH-U12DX i4 and NH-U9DX i4 form complete premium quality packages for quietly cooling Xeon based workstations and servers. The NH-U9DX i4 and NH-U12DX i4 will be available shortly at suggested retail prices of EUR 59.90 / USD 64.90 (NH-U9DX i4) and EUR 69.90 / USD 74.90 (NH-U12DX i4).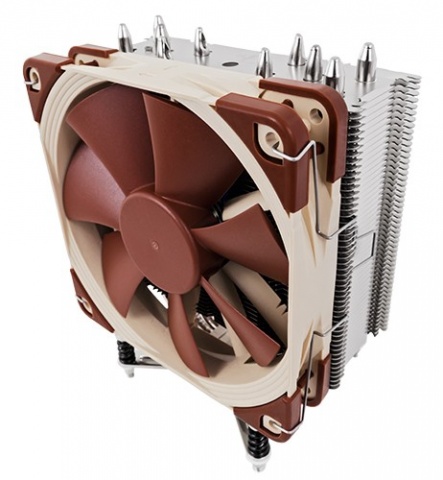 "Builders of quiet workstations and servers still have trouble finding quality cooling solutions for Intel's LGA2011 socket with Narrow ILM mounting", explains Mag. Roland Mossig (Noctua CEO), "so we've decided to update our DX line of coolers to work with both Square ILM and Narrow ILM based LGA2011 platforms. At the same time, we've added PWM control and switched the U12 version to the new, slimmer layout of the NH-U12S, which not only provides better performance but also ensures easier access to the RAM slots, which was another long time request from our industry partners."
Posted by | Wed, May 15, 2013 - 07:22 AM | Comments
---
AMD today launched the AMD Radeon HD 8970M, the world's fastest notebook graphics card. The AMD Radeon HD 8970M graphics processing unit (GPU) delivers the best mobile gaming experience imaginable to gamers, powered by AMD's award-winning Graphics Core Next (GCN) architecture. In tests by AMD, the reference AMD Radeon HD 8970M showed higher average performance than NVIDIA's highest performing single GPU mobile graphics card, the GeForce GTX 680M, in the 3DMark Fire Strike test with a score of FS4571 vs. FS3749 and in Crysis 3.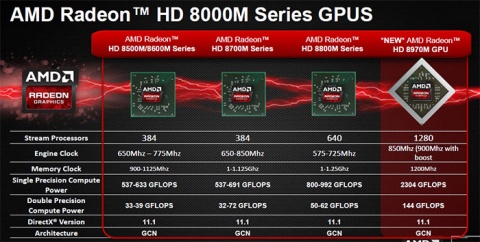 The AMD Radeon HD 8970M GPU has 1,280 compute cores running at 850MHz with GDDR5 memory running at 1200MHz or 4,800MHz effective. Notice that the AMD Radeon HD 8970M core is able to boost from 850MHz to 900MHz when there is enough thermal/voltage headroom to do so. This means the newest performance GPU may be merely a few per cent faster in some gaming titles. Pretty sweet stuff and it looks like AMD has taken the mobile performance crown for now, but we don't expect NVIDIA to just stand there and watch.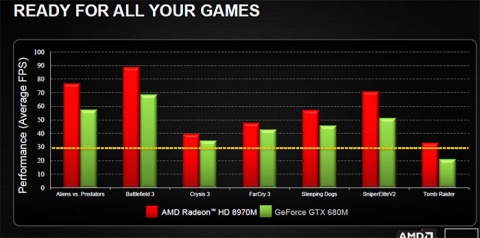 "Today's gaming notebooks need a graphics card that is fast, powerful and energy-efficient," said Matt Skynner, corporate vice president and general manager, Graphics Business Unit, AMD. "The AMD Radeon HD 8970M GPU is the perfect combination of technologies, blending performance, immersive features and an extensive battery life that delivers an unrivaled gaming experience, even on the go."
Posted by | Wed, May 15, 2013 - 07:03 AM | Comments
---
TRENDnet announced the availability of the N150 Nano Easy-N-Range Extender, model TEW-713RE, which extends an existing wireless network at the touch of a button and has an MSRP of $44.99. To maximize extension range, plug the TEW-713RE into an outlet in a location where there is still two bars of network connectivity to the home wireless router.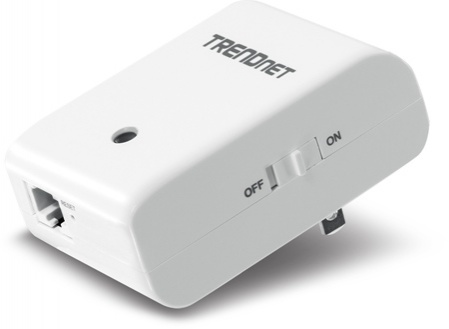 The extender is so compact it's practically unnoticed when plugged into an outlet. Press the WPS button on the wireless router and then on the TEW-713RE and you're done. The TEW-713RE automatically adopts the router's wireless network name, encryption, and password.
"The TEW-713RE is small, affordable, and offers solid performance," stated Sonny Su, technology director for TRENDnet. "It's also easy for the average user to install."
Posted by | Wed, May 15, 2013 - 06:34 AM | Comments
---
Cooler Master today announced three new additions to the N series, N200/N400/N600. This new series of compact and fully featured cases are said to improve upon traditional mainstream chassis by offering future proof value. All of the cases support 240mm liquid coolers and have full mesh front panels and well-ventilated layouts. Not bad considering these are compact cases! Only the product page for the Cooler Master N200 is up, which is the case shown below, so we don't know too much about all of these new products. Cooler Master did tell us a little about pricing in North America, so we can inform you of each cases respective MSRP.
Cooler Master N200 - $49.99
Cooler Master N400 - $59.99
Cooler Master N600 - $79.99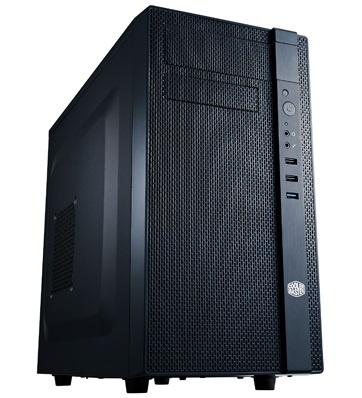 Cooler Master N200 Case Features:


Edgy asymmetrical design with full mesh on the front panel
Mini tower with great expandability that supports up to three 3.5" HDD and four 2.5" SSD
Supports a 240mm liquid cooling radiator in the front
Supports high-end graphics cards with a length of up to 355mm/14inch
Supports air CPU cooler heights up to 160mm/6.3inch
Supports SuperSpeed USB 3.0
Removable dust filter under the PSU for easy maintenance
Posted by | Tue, May 14, 2013 - 08:53 PM | Comments
---
Asetek today announced that HP has expanded the availability of Asetek liquid cooling to include single processor Z820 workstations. Previously only available in dual CPU configurations, the more affordable single CPU Z820 with Asetek's integrated sealed loop liquid cooling provides reduced system noise and increased productivity. The design win is expected to translate into an 8-10% increase in Asetek's workstation business and is a key element in the company's goal to increase its overall desktop division revenue by 10% in 2013.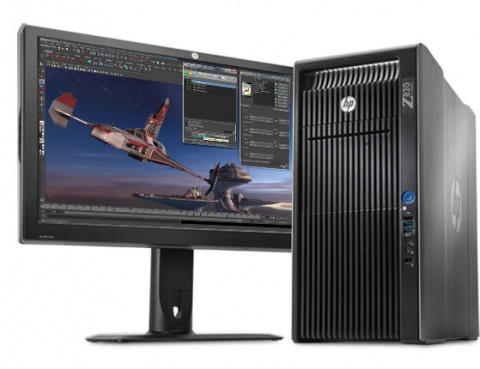 "HP has always been on the cutting edge of workstation technology," said Scott Chambers, Senior Director of Marketing at Asetek. "The expansion of Asetek liquid cooling within the Z820 line further validates Asetek liquid cooling as a valuable addition for improved productivity".
Posted by | Tue, May 14, 2013 - 08:43 PM | Comments
---
D-Link today announced it is now shipping a new line of AC Routers with the availability of the Wireless AC1750 Router (DIR-868L), Wireless AC1200 Router (DIR-860L), Wireless AC1000 Router (DIR-820L) and Wireless AC750 Router (DIR-810L). Offering next-generation Wi-Fi speeds, D-Link's latest 802.11ac Routers deliver a range of wireless speeds and price points for creating a reliable and strong Wi-Fi home network ideal for HD video streaming, online gaming, and multiple user activities.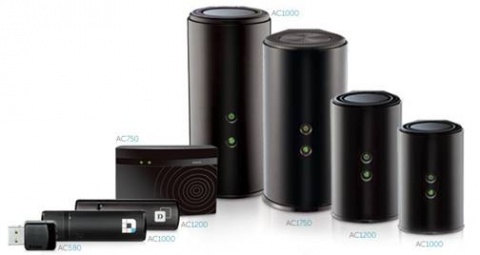 The new line of AC routers will be available throughout D-Link's vast network of retail and e-tail outlets in the United States. Expected street pricing is as follows:
Wireless AC 1750 Dual Band Gigabit Cloud Router (DIR-868L) - $169.99
Wireless AC 1200 Dual Band Gigabit Router (DIR-860L) - $149.99
Wireless AC1000 Dual Band Cloud Router (DIR-820L) - $119.99
Wireless AC750 Dual Band Cloud Router (DIR-810L ) - $79.99
"Today's average home now has more than 15 devices, oftentimes with multiple iPads, iPhones, as well as Android phones and tablets, and consumers are looking for the best in wireless connectivity to help deliver uninterrupted HD video streaming, online gaming and multiple user capabilities," said Daniel Kelley, vice president of marketing, D-Link Systems, Inc. "With the introduction of the new 11AC Router line, D-Link provides next-generation wireless speeds to meet the needs of the digital home coupled with advanced remote management and sharing capabilities to better suit mobile lifestyles."
Posted by | Tue, May 14, 2013 - 08:38 PM | Comments
---
AVADirect recently added Quiet Workstation Configurations as an option listed on their website. Each configuration has specific, hand-picked components that create a system unheard to end-users seeking a powerfully silent system. This gives all customers the opportunity to have exactly what they want, without having to know which parts are quiet, and which will create headaches.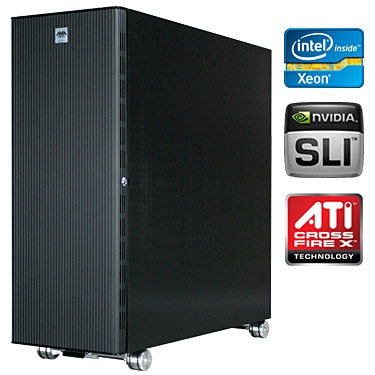 AVADirect currently lists two available Quiet Workstation Configurations. The "Single Xeon E5 / E3 / Core i7 C606 Eight-Core Low-Noise Graphics Computer Workstation" and "Dual Xeon E5 C602 Eight-Core Low-Noise Graphics Computer Workstation" configurations are the starting points for the fresh new line of quiet configurations.
As a veteran in building low-noise, quiet configurations, it was only a matter of time until the custom PC builder began to implement the qualities and features of previous low-noise configurations into new quiet custom configurations. This is the exact implementation behind the new Quiet Workstation Configurations now offered through AVADirect.com. Using a series of supported, low-noise cases and noise reduction accessories, AVADirect has created state-of-the-art Quiet Workstation Configurations at the disposal of all end-users seeking a powerful, yet quiet solution that was once thought to be impossible. Noise reduction accessories, such as rubber washers, screws, fan brackets, power supply brackets, low-noise fans, and several "silencer kits" have been hand-selected, approved, and certified for use with the new Quiet Workstation Configurations. What makes AVADirect's new Quiet Workstation configurations terrifically appealing? Value - price points remain the best in the industry, in such an amazingly-designed Quiet Workstation package.
Posted by | Tue, May 14, 2013 - 08:32 PM | Comments
---
Microsoft announced Tuesday an update to its Windows 8.1 OS known previously by the code name "Windows Blue." Windows 8.1 will be a free update for Windows 8 users when it debuts later this year, said Tami Reller, CFO and CMO of Windows, in a presentation today at JP Morgan's Technology, Media and Telecom Conference in Boston. The update for both Windows 8 and Windows RT will be available via the Windows Start Screen through the Windows App store later this year. Microsoft has said that a public preview of the new software will be available on June 26 for those that want to try out an early version.

"By making the Windows 8.1 upgrade free, Microsoft is indicating they weren't satisfied with the experience," Patrick Moorhead, an analyst at Moor Insights & Strategy, told ABC News. "This is a very good step toward improving the somewhat negative sentiment about Windows 8 as a whole. But to turn the entire Windows 8 ship around, the market will need smaller, more-cost effective touch-based tablets and more titles in the Windows store, like Facebook."
Posted by | Tue, May 14, 2013 - 07:48 PM | Comments
---
NVIDIA Project SHIELD is now known as NVIDIA SHIELD. This is because the hand-held gaming device is now available to pre-order for $349 for those who signed up for the newsletter at shield.nvidia.com. If you did not register you can still sign up and get in early as the general public pre-order begins on Monday, May 20th. NVIDIA SHIELD will begin shipping in June 2013 and we were told that Newegg, Gamestop, Micro Center and Canada Computers will all carry SHIELD. Here's what you'll get:


Tegra 4 – The world's fastest mobile processor delivers rich graphics and unbeatable performance thanks to 72 GPU cores, four CPU cores and 2GB of RAM
Console-grade controller – Precise control thanks to dual analog joysticks, a full-sized D-Pad, left and right analog triggers, full-sized bumpers and A/B/X/Y buttons
Multi-touch display – 5-inch, 720p retinal multi-touch display for high-fidelity visuals
Integrated speakers – Custom, bass reflex, tuned port audio system – we think this is SHIELD's sleeper feature
Wi-Fi – 802.11n 2X2 MIMO game-speed Wi-Fi for game streaming
Pure Android – Latest Android Jelly Bean operating system from Google, for access to Android games and apps
There's more – We put into SHIELD everything we would want in a premium mobile gaming device: 16 GB memory, GPS, Bluetooth 3.0, a mini-HDMI output, micro-USB 2.0, a microSD storage slot, a 3.5-mm stereo headphone jack. See the full spec sheet, here.
NVIDIA also announced that these five TegraZone games are coming to SHIELD and Tegra 4 devices later this year:
Broken Age, Double Fine Productions
Costume Quest, Double Fine Productions
Flyhunter: Origins, Steel Wool Games
Skiing Fred, Dedalord Games
Chuck's Challenge 3D, Niffler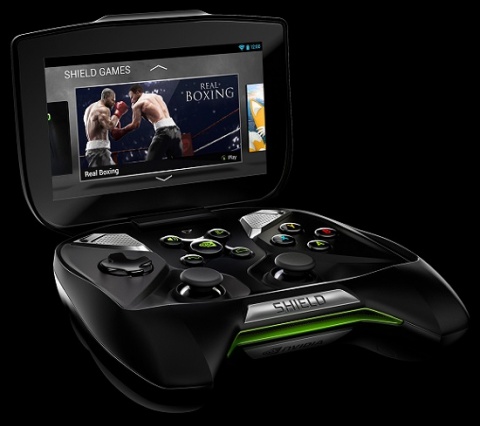 Pre-order will go live on May 20th for the general public on shield.nvidia.com. Fans who have signed up to receive SHIELD updates by clicking "Notify Me" on the SHIELD website will have an exclusive opportunity to pre-order starting today. If you're an Android gamer, this will fit into your life the moment you open the box. SHIELD is the one device that taps into the planet's largest ecosystem of games — spanning NVIDIA TegraZone, Google Play and Steam. Rediscover your Android games with the mobility, control and performance of SHIELD. Connect to your Google Play account to enjoy your favorite movies, music and apps. And GeForce game streaming, launching as a beta feature, will give SHIELD the power to access your NVIDIA GeForce GTX GPU-powered computer from the comfort of your couch. We're working on streaming your favorite PC games to SHIELD, including great titles from Steam.
Posted by | Tue, May 14, 2013 - 09:36 AM | Comments
---
The French government is considering creating a new tax on smartphones and tablets in a bid to raise millions to support the creation of digital cultural content inside France. The proposal, handed to President Francois Hollande today, outlines a 1 percent tax on the sale of Internet-compatible devices, targeting companies such as Google, Apple and Amazon. The tax would yield about 86 million euros per year. That means technology lovers will have to pay a little more money to help pay for the "work" of others who for some reason need a boost.
The revenue would help cultural industries create French content such as music, images and videos. The proposal is part of France's "cultural exception," a policy that protects French cinema and music industries, and other creative sectors, against foreign — often American — competition.
Posted by | Mon, May 13, 2013 - 09:17 PM | Comments
---
Samsung announced in a company blog today that the company has successfully developed millimeter-wave Ka band transceiver technology that will allow them to roll out a 5G cellular band in Europe around 2020. The new technology will play a crucial roll in 5G mobile communications and will provide data transmission up to several hundred times faster than current 4G networks. It sounds like a long time away, but seven years will come quickly and it should give service providers time to figure out new data plans that go by Terabytes and not Gigabytes! We will also need improved batteries as moving around all that data will surely use up some power!
5G mobile communications technology is the next generation of the existing 4G Long Term Evolution (LTE) network technology. 5G will be capable of providing a ubiquitous Gbps experience to subscribers anywhere and offers data transmission speeds of up to several tens of Gbps per base station.
Posted by | Mon, May 13, 2013 - 09:08 PM | Comments
---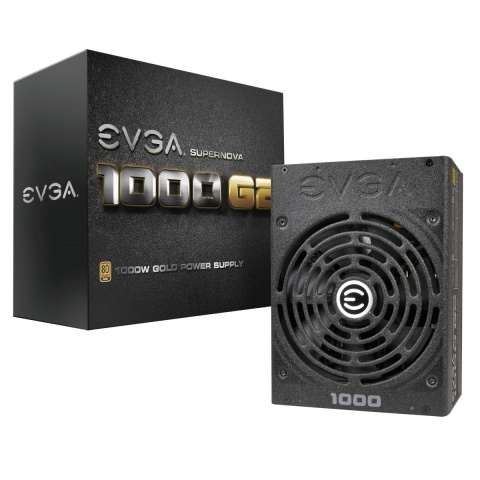 The EVGA SuperNOVA 1000 G2 power supply has arrived! This 80 Plus Gold Rated power supply offers 1000W of continuous power, exceptional efficiency and is fully modular. It is also backed by an impressive 10-year limited warranty.
AC Input
100-240 VAC~, 15A, 50-60 Hz
DC Output
+5V
+3.3V
+12V
-12V
+5Vsb
MAX Output
20A
20A
83.3A
0.5A
2.5A
Combined
100W
999.6W
6W
12.5W
Output Power
1000W @ +50°C
EVGA claims the SuperNOVA 1000 G2 power supply is the best choice to power this and next generation enthusiast computers. It is already available in the channel as Newegg is currently selling this PSU under part number 120-G2-1000-XR for $199.99 plus $7.05 shipping. EVGA also has an unboxing video that they did on this PSU available, so be sure to check it out below.
Posted by | Mon, May 13, 2013 - 04:40 PM | Comments
---
The Samsung Galaxy S4 will be available for purchase online and in Verizon Wireless Stores starting May 23rd, 2013. The Verizon Samsung Galaxy S 4 smartphone is now available for pre-order online for $199.99 after a $50 mail-in rebate with a new two-year customer agreement. You get your pick of Black Mist or White Frost.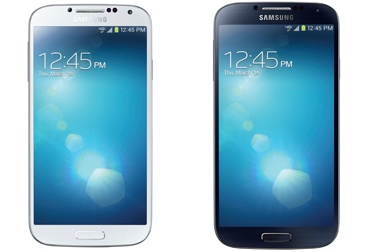 The Galaxy S 4 introduces new photo features like Dual Shot, paired with a 13-megapixel rear-facing camera to take professional looking photographs. The Galaxy S 4 is Global Ready and can travel overseas with anyone, but the software may make it an essential item for the world traveler. S Translator operates as a multilingual pocket dictionary native to the phone, translating words and phrases when typed or spoken into the app. Other apps on the Galaxy S 4 include WatchON™, which turns the smartphone into a home entertainment remote and personal TV guide. Air View and Air Gesture let users interact with their smartphone without even touching it. Hovering a finger over the screen lets users preview emails and waving a hand over the phone can scroll up and down a webpage.
Posted by | Mon, May 13, 2013 - 03:57 PM | Comments
---
NVIDIA today released GeForce 320.14 beta video card drivers that were specifically optimized for Metro: Last Light. The GeForce 320.14 drivers are said to improve single-GPU and SLI performance in the eagerly anticipated sequel by up to 10%. 320.14 beta also includes all of the performance optimizations and SLI profiles found in the recent 320.00 beta release, improving performance and compatibility in games such as Call of Juarez: Gunslinger, Dead Island: Riptide, Dungeons & Dragons: Neverwinter, Far Cry 3: Blood Dragon, GRID 2, Remember Me, Natural Selection 2, Resident Evil 6, Tomb Raider, and TrackMania Canyon. You can download the GeForce 320.14 beta drivers here.

Posted by | Mon, May 13, 2013 - 03:37 PM | Comments
---
PREVIOUS
|
NEXT