Legit Reviews News History
Web merchants can continue to accept payments using Google Checkout until November 20, 2013. After that date Google is going to be retiring Google Checkout services. Google suggests that merchants who do not have their own payment processing transition to Braintree, Shopify or Freshbooks, which are offering discounted rates for Google Checkout users. Developers selling through Google properties will automatically transition to the Google Wallet Merchant Center in the next few weeks. Google has invited web merchants to join them for a live webinar on May 23, 2013 at 10AM PST to learn more about the transition from Google Checkout to Google Wallet. Will this move make Google Wallet a major Paypal competitor?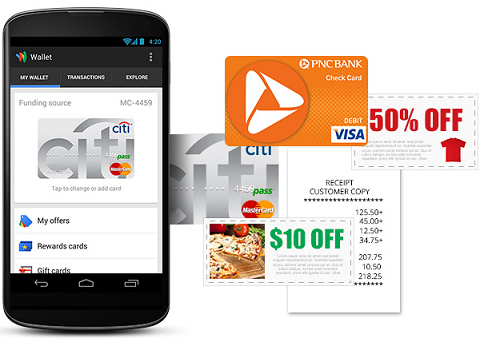 Today, we're letting web merchants know that in six months, Google Checkout will be retired as we transition to Google Wallet — a platform that enables merchants to meet the demands of a multi-screen world where consumers shop in-stores, at their desks and on their mobile devices.
Posted by | Tue, May 21, 2013 - 03:35 PM | Comments
---
I remember when water cooling your PC was considered foolish and was something only die hard enthusiasts would do to get the most from their desktop PC. Those days are long gone as closed loop water cooling kits have become the norm over the past decade. While water cooled desktop computers is fairly common, it is most certainly not common on smartphones. That might all be changing as the NEC Medias X is officially the first smartphone to feature a liquid-cooled system from the factory. Don't get too excited as the phone is only expected to be available in Japan.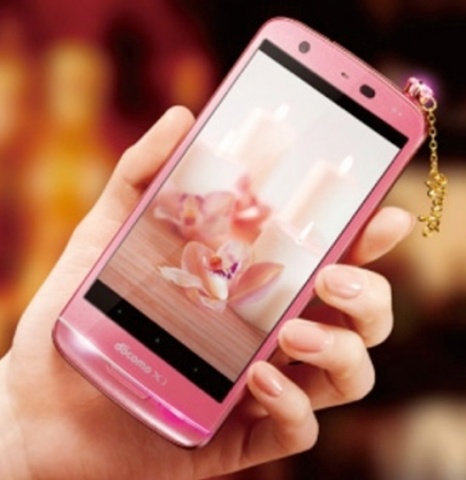 The NEC Medias X 06E features a quad-core Qualcomm Snapdragon 600 processor at 1.7GHZ and it appears that that a graphite radiator is needed to help disperse the heat. The odd thing is that the Qualcomm Snapdragon 600 is rated to run at up to 1.9GHz, so why would it need a form of liquid cooling at just 1.7GHz? Maybe this is a slick marketing gimmick, but time will tell.

How does liquid cooling work in a smartphone? It looks like the water-cooling is done by a liquid filled tube directing heat away from the processor of the NEC Medias X 06E. The pipe is next to the circuit board and this helps disperse the heat across the entire device. This sounds more like a heat-pipe more than a liquid cooler, but a water cooled smartphone has a nice ring to it.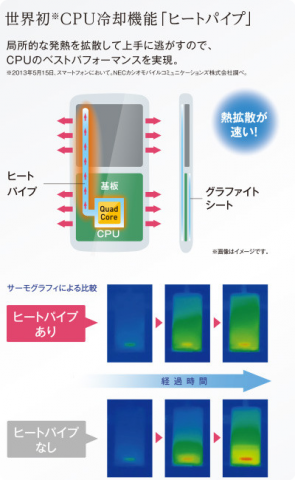 Posted by | Tue, May 21, 2013 - 02:42 PM | Comments
---
Diamond Multimedia is now following up its first edition best-seller of Wireless Range Extender line, WR300N, with a thoroughly improved version. The new WR300NSI 3-in-1 device acts as a Wireless Repeater and Range Extender, Standalone Wireless Access Point, and Wireless Bridge Device that eliminates wireless dead spots.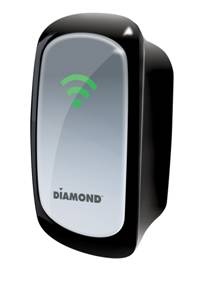 The second-generation device is even easier to set up and has a new LED signal indicator and it can extend the wireless range as far as 30 meters. The Diamond WR300NSI is now available and retails at $49.99. A product information video can be seen below.
Unlike ordinary Wi-Fi repeaters that require an external power supply adapter, WR300NSI's innovative wall-plugged design empowers users to plug it directly into any available power outlet. The WR300NSI can take an existing 802.11n wireless signal, repeat it and send it to a longer range where it would have been too far for the router or access point to reach. Standalone wireless access point creates a wireless network by connecting the device to a wired router/cable modem or DSL modem. It is designed with RSSI- Received Signal Strength Indicators to determine the strength of the signal it receives from the router so that it can be placed in the optimal location, a new function that the first generation model did not have. The WR300NSI acts as a Wireless Bridge Device by receiving wireless signal from your home wireless network and converting to wired Ethernet connections for non wireless devices such as internet ready HDTV, Blue-Ray players, gaming consoles, and media players.
Posted by | Tue, May 21, 2013 - 02:27 PM | Comments
---
German power supply maker be quiet! confirmed today that all of the company's current PSU models support Intel's fourth generation of Core processors (Codename Haswell). Intel's upcoming Haswell CPUs impose stricter requirements on the power supply regarding energy saving features. To lower the power consumption of current computers even more, the new processors feature new sleep states called C6 and C7. In these states, the processor is nearly shut off completely, bringing down the power consumption close to zero. If consumers can use this new deep sleep state depends on their power supply. It must run under very low loads below 0.05 Amps. Many inferior power supplies have problems in these low load situations. Low quality components might even lead to the activation of the PSUs safety circuits. In that case the computer would not start again.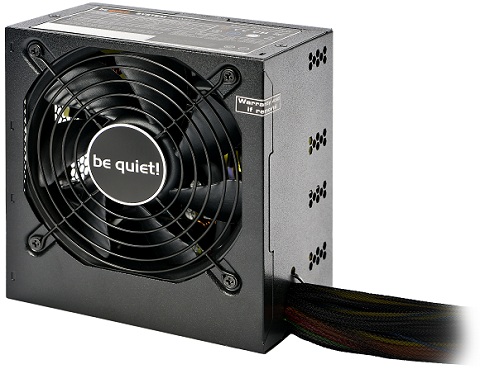 As for be quiet!, all current power supply series, starting with the entry-level Pure Power L8 up to the high-end Dark Power Pro 10, are able to deliver the above mentioned low loads without problems. Even older models are mostly compatible with the fourth Core generation. In detail Dark Power Pro 10 (all models), Straight Power E9 (all models), Pure Power L8 (all models), System Power 7 (all models) and Pure Power L7 (630 W and 730 W) are fully Haswell compatible.
Posted by | Tue, May 21, 2013 - 02:20 PM | Comments
---
Onkyo announced the release of a fully loaded 9.2-channel TX-NR929 Network A/V Receiver to crown its mid-range lineup this morning at $1399, introducing value-conscious consumers to the visceral thrill of nine-channel entertainment. The all-new model is positioned between the 7.2-channel TX-NR828 Network A/V Receiver ($1099) also on release, and the company's existing audiophile-grade flagship products.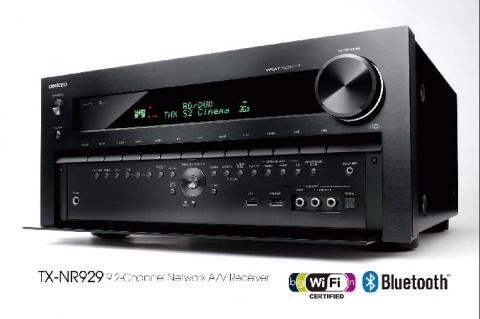 Onkyo is also among the first to include built-in Wi-Fi and Bluetooth technology on its entry-level and mid-range A/V receivers, enabling universal wireless audio streaming and adding to an extensive suite of proprietary and licensed technology, including:
Built-in Wi-Fi to enable lossless audio streaming from iPhone and Android devices, as well as app-controllable 192 kHz/24-bit FLAC, Apple Lossless, Dolby TrueHD, LPCM, and DSD streaming from NAS and personal computer (via network and DLNA)
Onboard Bluetooth technology for fast and convenient audio streaming
Passthrough of 4K Ultra HD content via HDMI, and upscaling of lower-resolution video to 4K with Qdeo processing technology from Marvell
Audyssey's premium MultEQ XT32 room acoustic equalization on the TX-NR929, and Audyssey MultEQ on the TX-NR828
Upmixing solutions comprising DTS Neo:X (TX-NR929 only), Audyssey DSX, and Dolby Pro Logic IIz
Nine HDMI inputs (including frontside MHL) and two outputs (TX-NR929); and eight HDMI in (including MHL) and two out (TX-NR828)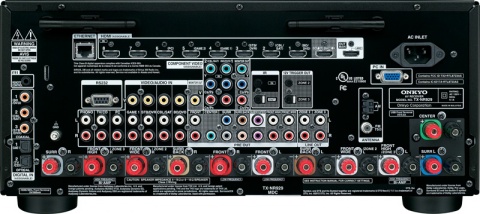 The TX-NR929 Network A/V Receiver pushes the boundaries of what is possible from a production home theater, with 11.2 multichannel pre-outs and DTS Neo:X upmixing for surround-sound playback through up to 11 channels. If preferred, the user can assign four of the nine available channels to drive audio in Zone 2 and Zone 3 simultaneously. The receiver also has an extra HDMI output for sending high-def video to a second display. Multi-zone entertainment is managed via smartphone app, which encompasses the selection of online streaming services, internet radio channels, and network audio files.
Posted by | Tue, May 21, 2013 - 02:14 PM | Comments
---
MSI just unveiled the new and refreshed GX70 and GX60, the world's first AMD Richland A10-5750M powered gaming laptops. Part of MSI's award-winning G Series gaming laptops, the all-new GX70 and GX60 are now upgraded with AMD's newest processor, which promises an increase in visual performance by up to 40 percent over previous generations.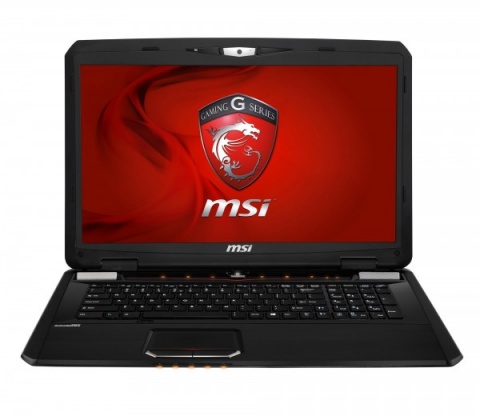 The new processor also increases battery life and CPU performance, resulting in longer gaming sessions with crisper, brighter and a more realistic visual experience. The The GX70 is armed with new AMD Radeon HD 8970M graphics and a Killer E2200 Game Networking card to eliminate lag time.The full specs can be seen below: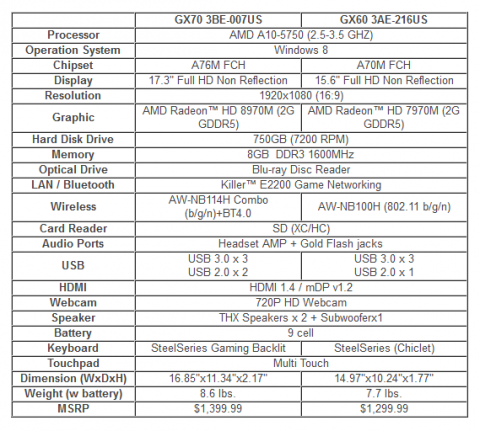 "The GX70 and GX60 deliver the ultimate sensory experience for both professional and amateur gamers," said Andy Tung, vice president of sales for MSI US. "MSI is committed to the gaming community and we understand that cutting-edge components results in exceptional performance."
Posted by | Tue, May 21, 2013 - 01:52 PM | Comments
---
Fractal Design announced today that their popular Node 304 MiniITX chassis is now available in white. This case measures in at 250 x 210 x 374 mm (W x H x D) and can fit up to six hard drives and video cards up to 310mm in length, when 2 HDD brackets are removed (Graphics cards longer than 170 mm will conflict with PSUs longer than 160mm). The Fractal Design Node 304 White has an MSRP of $89.90 or €69.90. The Node 304 Black runs $88.39 plus shipping on Amazon, so there shouldn't be any difference on the two when it comes to street pricing.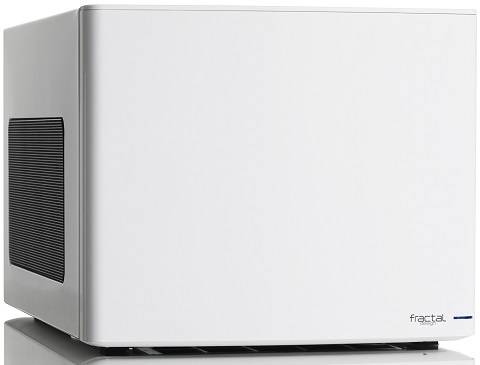 Fractal Design Node 304 Technical specifications

Mini ITX, DTX motherboard compatibility
2 expansion slots
6 – supports either 3.5" or 2.5" HDD / SSD
ATX PSUs, up to 160mm in length (To fit in combination with a long graphics card, PSUs with modular connectors on the back typically need to be shorter than 160 mm)
Graphics cards, up to 310mm in length, when 2 HDD brackets are removed (Graphics cards longer than 170 mm will conflict with PSUs longer than 160mm)
Tower CPU coolers, up to 165 mm tall
Case dimensions (W x H x D): 250 x 210 x 374 mm
Case volume: 19,5 Liters
Net weight: 4,9 kg
Colors available: Black and White
Posted by | Tue, May 21, 2013 - 01:45 PM | Comments
---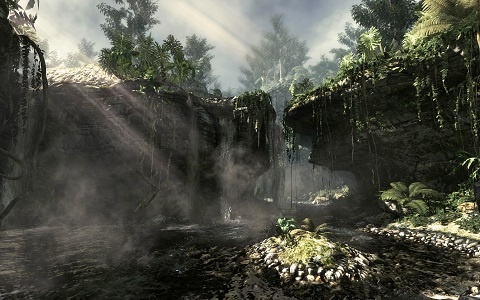 Lots of good stuff came out of the Microsoft press event this morning for the debut of the Xbox One. One of the gems from the press conference is most certainly the Call of Duty: Ghosts reveal trailer. This upcoming game title uses a new game engine that runs at 60FPS with enhanced particle effects, volumetric HDR lighting and Pixar's SubD technology. Activision's VP of Production Daniel Suarez said that this year's COD will be "the most beautiful Call of Duty game we've ever made" and after looking at some of the screen shots (above) we think they are on the right path. Without further ado here is the game trailer!
Microsoft also released a behind-the-Scenes Call of Duty: Ghosts trailer that can also be watched below.
Posted by | Tue, May 21, 2013 - 01:33 PM | Comments
---
NVIDIA announced its support today for the Microsoft Xbox One game console with its popular NVIDIA PhysX and NVIDIA APEX software development kits (SDKs). Together, PhysX and APEX provide solutions for collision detection and simulation of rigid bodies, clothing, fluids, particle systems and more, across a wide range of platforms, including desktop PCs, game consoles, and mobile and handheld devices.

"We are excited to extend our PhysX and APEX technologies to Microsoft's Xbox One console," said Mike Skolones, product manager for the PhysX SDK at NVIDIA. "We look forward to the Xbox developer community taking advantage of PhysX and APEX along with Xbox One's processing power, programmability and next-generation features to design cutting-edge games that deliver an unparalleled and ultra-realistic experience."
Posted by | Tue, May 21, 2013 - 01:25 PM | Comments
---
Microsoft unveiled the Xbox One today! This is the all-in-one gaming and entertainment system that we have all be waiting years for. At Microsoft headquarters in Redmond, Wash., the company showcased how Xbox One puts you at the center of all your games, TV, movies, music, sports and Skype.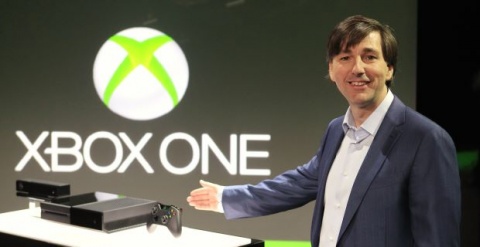 With Xbox One, games push the boundaries of realism, and TV obeys your commands. Say "Xbox On" to launch your personalized Xbox One Home screen, discover what is popular on TV or see friends' latest gaming achievements all using the most natural interface — your voice. The more you interact with Xbox One, the more it gets to know you and learns what you like. Some of the breakthrough Xbox One features that put you at the center of your living room entertainment include the following:


TV on Xbox One. Navigate and watch live TV from your cable, telco or satellite set-top box through your Xbox One. Microsoft is committed to bringing live TV through various solutions to all the markets where Xbox One will be available.
Home. Turn on your entertainment system with two powerful words, "Xbox On," and a custom-tailored Home dashboard welcomes you with your favorite games, TV and entertainment.
Snap. Do two things at once on the biggest screen in your home. Use Snap to jump into a multiplayer battle while watching your favorite movie, talk with friends on Skype while watching live TV, or track your fantasy team on TV as you watch the big game and more.
Skype for Xbox One. Specially designed for Xbox One, talk with friends on your TV in stunning HD, or for the first time ever, hold group Skype calls on your TV.
Trending. Stay on top of what is hot on TV by discovering the entertainment that is popular among your friends, and see what is trending within the Xbox community.
OneGuide. Find your favorite entertainment easily, searching by network, name or time, all with the sound of your voice and presented in a tailored program guide.


The Microsoft Xbox One will launch in markets around the world later this year. More details about Xbox One and blockbuster games will be explored at the Electronic Entertainment Expo in June.
"Xbox One is designed to deliver a whole new generation of blockbuster games, television and entertainment in a powerful, all-in-one device," said Don Mattrick, president, Interactive Entertainment Business at Microsoft. "Our unique, modern architecture brings simplicity to the living room and, for the first time ever, the ability to instantly switch across your games and entertainment."
Posted by | Tue, May 21, 2013 - 01:19 PM | Comments
---
NVIDIA's Tegra 4i smartphone processor is capable of handling 4G LTE Advanced networks, which means that users will have faster data speeds once the carriers start moving to the faster service later this year. NVIDIA has showed the NVIDIA Tegra 4i processor with an integrated NVIDIA i500 LTE modem doing Cat 3 at 100mbps at Mobile World Congress back in February, but it appears that wasn't tough for this silicon. NVIDIA has a demo this week at CTIA 2013 in Las Vegas with the same processor running through 150Mbps of LTE data in a demo! These are LTE Cat 4 speeds! The CTIA demo used a tester that emulates an LTE Cat 4 network because live local LTE Cat 4 networks don't exist yet. NVIDIA says their solution here is 40 percent the size of a conventional LTE modemm, so it's small and fast. If it is priced right and power efficient, we would expect NVIDIA to pick up some design wins with this mobile part!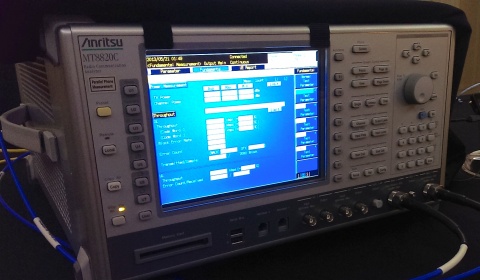 First shown at Mobile World Congress in February at Cat 3 100mbps, this Tegra 4i demo is fully based on a software update – no new hardware, no new processor. This showcases the adaptability and flexibility of NVIDIA's software-defined radio technology. An additional advantage of the technology is its tiny size. Because the modem is designed with general purpose Deep Execution Processors (DXP), it's 40 percent the size of a conventional LTE modem. The benefit is a fast, high performance, adaptable modem in a tiny footprint. Tegra 4i's modem is also multi-mode. It delivers 4G LTE Advanced and is backward compatible so it can offer LTE Cat 3, 3G, and 2G. That means it will work even where LTE networks aren't available. Other LTE Advanced features will be coming soon in software.
Posted by | Tue, May 21, 2013 - 01:09 PM | Comments
---
Today Opera Software released the final version of Opera for Android mobile browser. Opera for Android includes a new and sleek UI, an intuitive "discover" feature that's like a personal assistant for finding and delivering things relevant to you without searching, and impressive data compression capabilities that let you browse on even the most sluggish of networks. Additional new features include:
New Speed Dial implementation: right there on the home page, the order of Speed Dials can be re-arranged and doubles as a bookmark manager
Easy to access history mode that quickly gets you to that page you saw earlier today
Combined search, address bar and tab management (scroll through open tabs, open private tab close all tabs)
Chromium based browser technology, which translates to even better website compatibility
Opera for Android is available for Android versions 2.3 and above from Opera and on the Google Play store, and similar versions will be available for iOS and various tablets later this year.

"Most people just see a fraction of what the web has to offer," says Rikard Gillemyr, EVP of Consumer Products at Opera Software. "We check out the same sites every day, and you can get through with the latest news after just a short bus ride. We wanted to give people a relaxed way of discovering interesting articles and checking them out without any extra effort."
Posted by | Tue, May 21, 2013 - 12:58 PM | Comments
---
I.R.I.S. today announced the availability of their next generation IRIScan Book 3 and IRIScan Book 3 Executive. These portable scanning solutions are battery‐powered, enabling mobile users to easily capture paper documents, receipts, photos and more without the use of a computer. The IRIScan Book 3 and IRIScan Book 3 Executive scan directly to an included MicroSD card in black/white or color with 300, 600 and 900 dpi scanning resolutions. No driver installation is required, simply connect the scanner with the included USB cable or insert the MicroSD card into the computer. The IRIScan Book 3 is powered by 3 AAA batteries and comes with Readiris Pro 12 to convert the paper documents, PDFs or image files into editable and searchable digital text. The IRIScan Book 3 and IRIScan Book 3 Executive are now available for $99 and $129 respectively.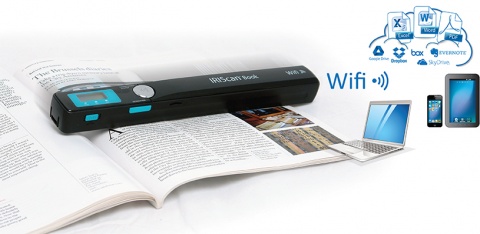 "The IRIScan Book 3 boosts productivity and saves time while scanning on the go," said Jean-Marc Fontaine, Director of Sales and Operations, Americas at I.R.I.S. "Whether you are road warrior, businessman or student, the IRIScan Book3 is the most versatile scanner for mobile use."
Posted by | Tue, May 21, 2013 - 12:53 PM | Comments
---
Sprint today announced that prepaid brands Boost Mobile and Virgin Mobile USA will add the Samsung Galaxy S III to both brands' expansive lineups of smartphone devices. Launching in June, the high-end Android smartphone will operate on the Sprint 3G and 4G LTE networks, with 4G LTE available to Boost and Virgin Mobile customers in 88 markets. Pricing information will be available from both Boost Mobile and Virgin Mobile at a later date.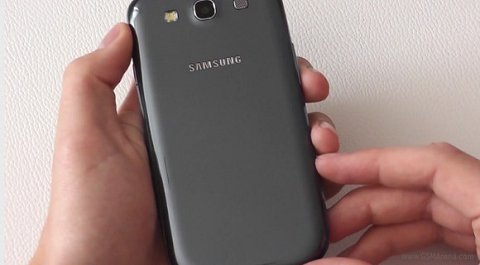 "Samsung Galaxy S III is a premium smartphone designed to deliver one of the hottest handset experiences to consumers," said Jeff Hallock, senior vice president, Marketing-Sprint. "Offering this device on both Boost and Virgin Mobile with the value, choice and flexibility of their no-contract[1] wireless plans makes moving from a long-term contract a simple decision. This is another stellar handset that further validates both brands' leadership in this space, a nationwide network[2] with unlimited no-contract offers."
Posted by | Tue, May 21, 2013 - 12:48 PM | Comments
---
D-Link today announced several enhancements available now to its mydlink portal and mydlink Cloud Camera apps, making it even easier to remotely monitor a home or small office via virtually any computer, iPhone or iPad running iOS 4.3 or later or Android device running 1.6 Android or later. Offering advanced new features to its award-winning line of mydlink-enabled Cloud Cameras, D-Link now offers easier configuration on its mydlink portal and enhanced remote capabilities via the mydlink+ and free mydlink Lite app. The enhancements to the mydlink portal and mydlink Lite (free) app are now available and will be available on the mydlink+ app ($0.99) in late June which also offers expanded tablet support and a multi- camera monitoring dashboard.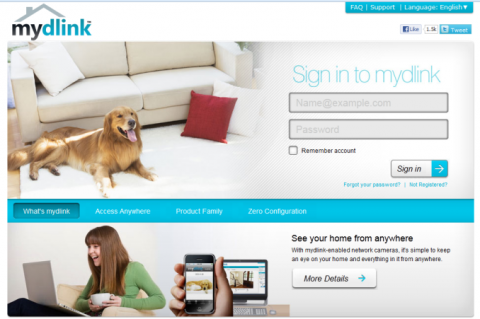 D-Link Cloud cameras now offer more control of what matters most via the mydlink portal and a range of mobile devices; highlights include:
Easy Portal Configuration: The mydlink portal now enables users to update motion and audio detection1 settings, including recording schedules and setting noise thresholds, directly on the mydlink portal without having to go through advanced settings.
Remote Video Playback: Users can play back video stored on the SD card housed in the camera (for select cameras) to multiple mobile devices, as well as configure recording2 schedules and override options in the event the SD card is full.
Two-Way Audio: Users can now speak and hear through a mobile device to select D-Link Cloud Cameras that support two-way audio, including the Cloud Camera 1200 (DCS-942L) and Cloud Camera 2200 (DCS-2132L).
Remote Pan and Tilt: For added remote flexibility, users of the Cloud Camera 5000 (DCS-5222L) can also pan and tilt live camera video from a mobile device.
Device Rename: Easily rename the mydlink-enabled device from the mobile app or portal – a useful feature if you relocated the device to a new or temporary location and want to easily identify the device.
Re-order Device Listing: Simple drag and drop interface allows users with multiple mydlink-enabled devices to show devices in the order of their preference.
"We're excited to add several new features to our mydlink apps in order to make it even easier for moms, dads, home owners and small businesses to use D-Link Cloud Cameras for round-the-clock surveillance," said Daniel Kelley, vice president of marketing, D-Link Systems, Inc. "The new capabilities cater directly to mobile users and extend the control of Cloud Cameras while on the go. Whether you're looking to keep an eye on your property, your business after hours, the kids while you're away, or even the family dog, the new features make it easier than ever."
Posted by | Tue, May 21, 2013 - 12:43 PM | Comments
---
Toshiba today announced that the company has developed second generation 19 nanometer process technology that it will apply to mass production of 2-bit-per-cell 64 gigabit NAND memory chips later this month. Toshiba has used the new generation technology to develop the world's smallest 2-bit –per-cell 64 gigabit NAND memory chips, with an area of only 94 square millimeters. Using a unique high speed writing method, the next generation chips can achieve a write speed of up to 25 megabytes a second - the world's fastest class* in 2-bit-per-cell chips.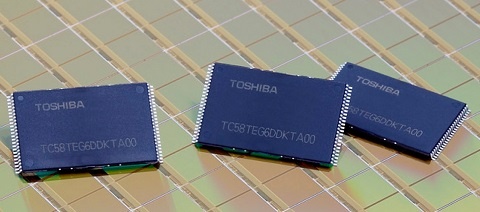 Toshiba is also developing 3-bit-per-cell chips by using this process technology and aims to start mass production in the second quarter of this fiscal year. The company will initially introduce 3-bit, multi-level-cell products for smartphones and tablets by developing a controller compatible with eMMC, and will subsequently extend application to notebook PCs by developing a controller compliant with solid state drives (SSD).
Posted by | Tue, May 21, 2013 - 12:36 PM | Comments
---
A report released ahead of Apple CEO Tim Cook's inaugural Capitol Hill appearance Tuesday alleges the tech giant took advantage of numerous U.S. tax loopholes and avoided U.S. taxes on $44 billion in offshore, taxable income between 2009 and 2012 — a characterization Apple flatly rejects. The bipartisan Senate probe also charges for the first time that Apple's long established foreign entities, based in Ireland, don't actually have tax-resident status there or anywhere else. The company conducts most of its international business in the European country to take advantage of lower tax rates, according to the congressional report.
"What we intend to do is to highlight that gimmick and other Apple offshore avoidance tactics so that American working families, who pay their share of taxes, understand how offshore tax loopholes raise their tax burden and how those loopholes add to the federal deficit," said Sen. Carl Levin (D-Mich.), the chairman of the Permanent Subcommittee on Investigations. The panel initiated the probe with the backing of its top Republican, Sen. John McCain of Arizona.
Posted by | Mon, May 20, 2013 - 08:02 PM | Comments
---
GELID Solutions reveals the Rev. 2 GX-7 CPU cooler of its GAMER product line. Engineers at GELID Solutions have upgraded the GX-7 to the Rev. 2 GX-7 by adding the Slim 12 PL Blue fan and the GC-Extreme thermal compound. Contrary to traditional heat pipe arrangement the Rev. 2 GX-7 offers a special array of heat pipes to take full advantage of all 7 heat pipes heat transfer capacity. Further V-shaped aluminum fins were used in the center of the heat sink to allow airflow to reach the heat sink more evenly. Openings inside of the heat sink and near the heat pipes let fresh-air flow in from the top and the bottom to the zones where normally poorly ventilated and eliminate the creation of hotspots. The unique heat sink shape supports dual fans. This cooler is available now and has a MSRP of USD 65 or Euro 45.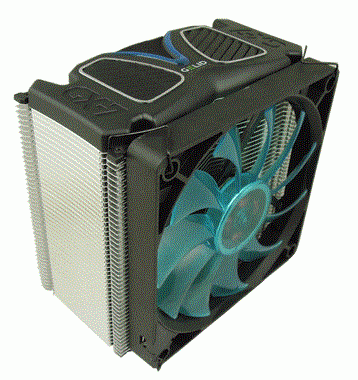 Posted by | Mon, May 20, 2013 - 07:03 PM | Comments
---
The United States Air Force says a test launch of an intercontinental ballistic missile is scheduled to happen on Tuesday. The unarmed Minuteman 3 missile is to be launched from Vandenberg Air Force Base, California, and travel 6,742 kilometres to the Kwajalein Atoll in the Pacific Ocean. It is one in a series of periodic launches to ensure that the ICBM force is reliable. Read also: North Korea continues short-range missile tests The U.S. has 450 nuclear-armed Minuteman 3 missiles ready for combat use, if directed by the president. They are in underground silos around F.E. Warren AFB, Wyoming; Malmstrom AFB, Montana; and Minot AFB, North Dakota. The The last launch of a Minuteman III missile from Vandenberg Air Force Base flew 4,290 nautical miles to a test range in the Marshall Islands back on November 14, 2012.
Posted by | Mon, May 20, 2013 - 04:44 PM | Comments
---
Yahoo! and Tumblr announced today that they have reached a definitive agreement for Yahoo! to acquire Tumblr. Per the agreement, Tumblr will be independently operated as a separate business. David Karp will remain CEO. With more than 300 million monthly unique visitors and 120,000 signups every day, Tumblr is one of the fastest-growing media networks in the world. Tumblr sees 900 posts per second and 24 billion minutes spent on site each month. On mobile, more than half of Tumblr's users are using the mobile app and do an average of 7 sessions per day.


Tumblr Chief Executive Officer David Karp, a 26-year-old who started the company in 2007, signed a note announcing Yahoo!'s $1.1 billion acquisition with the salutation, "F--- yeah." Karp, a high school dropout, said in a blog post on Monday that he was "elated" to sell Tumblr, while stressing that the New York-based blogging service wouldn't be changing under its new owner's influence. In Yahoo's statement announcing the deal, the company said it "promises not to screw it up." Our headquarters isn't moving. Our team isn't changing. Our road map isn't changing," Karp said. "Our mission - to empower creators to make their best work and get it in front of the audience they deserve - certainly isn't changing."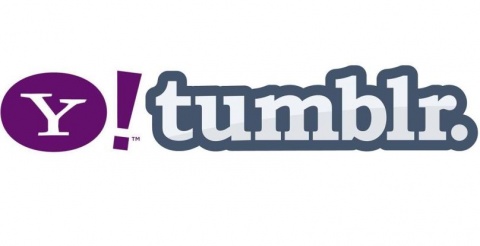 "Tumblr is redefining creative expression online," said Yahoo! CEO Marissa Mayer. "On many levels, Tumblr and Yahoo! couldn't be more different, but, at the same time, they couldn't be more complementary. Yahoo is the Internet's original media network. Tumblr is the Internet's fastest-growing media frenzy. Both companies are homes for brands - established and emerging. And, fundamentally, Tumblr and Yahoo! are both all about users, design, and finding surprise and inspiration amidst the everyday."
Posted by | Mon, May 20, 2013 - 02:51 PM | Comments
---
Are you excited for the upcoming Sony Playstation 4 game console? Sony today released teaser video that shows off a little bit about the Sony PlayStation 4 and that it will be fully revealed on June 10th, 2013 at E3!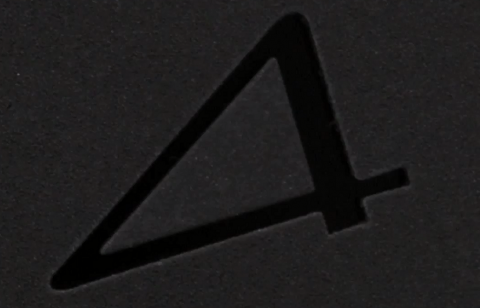 Sony teases the PS4's hardware with a blurry black rectangle and flashes of design details .Check out the video below to see what looks to be a rectangle shaped PlayStation 4 with a glossy black finish! Legit Reviews will be at E3, so we can't wait to check it out!
Watch our world exclusive teaser video and See it First at E3 June 10th 2013. Make sure you are the first to see it first.
Posted by | Mon, May 20, 2013 - 11:13 AM | Comments
---
EVGA recently released a teaser trailer for the company's upcoming Active Cooling Xtreme (ACX) GPU cooler. We all know that the NVIDIA GeForce GTX 700 series is rumored to be launching this month, so we can assume this is the GPU cooler that EVGA will be using on some of their SKU's. From the video it looks to be a dual-fan GPU cooler with gold accents and a matte black finish. It looks like gold is all the rage these days as ASUS also introduced gold accents on the majority of their Intel Z87 motherboards. The video says that EVGA ACX is coming on 5/23/13, which also just happens to be the leaked launch date of the NVIDIA GeForce GTX 780.
Posted by | Mon, May 20, 2013 - 09:52 AM | Comments
---
Futuremark today released PCMark 8, which is a popular PC benchmarking tool in the enthusiast community. For the first time in the series, PCMark 8 will combine performance testing with battery life measurement. It looks like Futuremark is embracing the move away from the desktop form factor to mobile. With PCMark 8 you can estimate battery use from each benchmark test or use Battery Life mode to loop a test until the battery is almost empty for more accurate results. PCMark 8 will be available in several editions ranging from a free to download Basic Edition to a fully-featured Professional Edition designed for device manufacturers, businesses and the press. PCMark 8 is compatible with Windows 8 and Windows 7. PCMark 8 is in the final stages of development with a public release expected towards the end of Q2.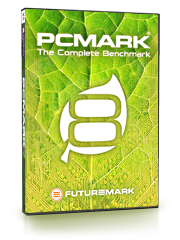 PCMark benchmark tests are based on common use scenarios such as browsing the web, photo editing, video chat, writing and gaming. PCMark 8 takes this one step further by including additional benchmark tests based on popular productivity and creativity applications from Adobe and Microsoft. Whether you are looking for long battery life, maximum power, for the home or at the office, PCMark 8 will help you find the devices that offer the perfect combination of efficiency and performance for your needs.
Posted by | Mon, May 20, 2013 - 09:43 AM | Comments
---
NEXT