New 3DMark Benchmark Highlights and First GPU Results
Mon, Feb 04, 2013 - 12:00 PM
Futuremark Releases New 3DMark For Windows Benchmark
Futuremark today released the Windows version of the new 3DMark benchmark! This highly anticipated release has been delayed a number of times, but it appears to be complete and ready for release. The Android, iOS and Windows RT versions are still works in progress, but at least we can show off the new 3DMark and some benchmark results on some video cards.
We've recently been benchmarking the ASUS ARES II and NVIDIA GeForce GTX 690 video cards, so those are the two cards that we'll be showing off today! Before we dive into the benchmark results on the three included tests, we'll give you a quick tour of the new and improved benchmark utility.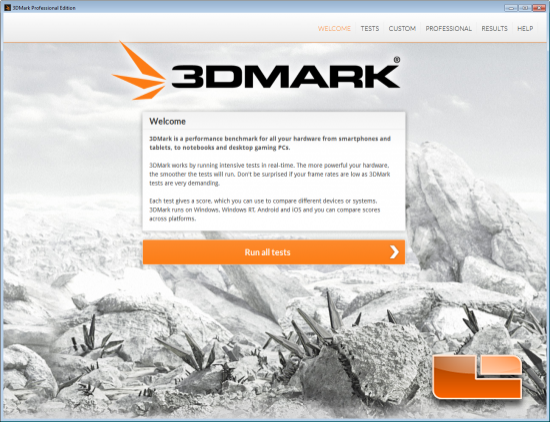 When you first fire up 3DMark you'll see this welcome screen that tells you a little bit about the benchmark utility for those that have never used it before. The welcome screen says:
"3DMark is a performance benchmark for all your hardware from smartphones and tablets, to notebooks and desktop PCs.
3DMark works by running intensive tests in real-time. The more powerful your hardware, the smoother the tests will run. Don't be surprised if your frame rates are low on 3DMark as the tests are very demanding.
Each test gives a score, which you can use to compare different devices or systems. 3dMark runs on Windows, Windows RT, Androud and iOS and you can compare scores across platforms"
You can run all the tests from this screen or you can go to the 'tests' page and run what you'd like.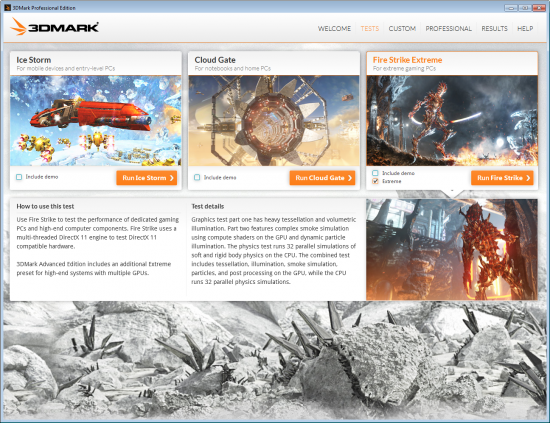 Futuremark 3DMark has three primary benchmark tests that you can run and which test you should be running depends on the system that you are benchmarking on.
Ice Storm – For mobile devices and entry-level PCs
Cloud Gate – For notebooks and home PCs
Fire Strike Extreme – For extreme gaming PCs (extreme mode for those with multiple GPUs)
Since all of the benchmarks can be run on desktop PCs, we will run each of them on our selected AMD and NVIDIA video cards on the GPU test machine that we have in the lab!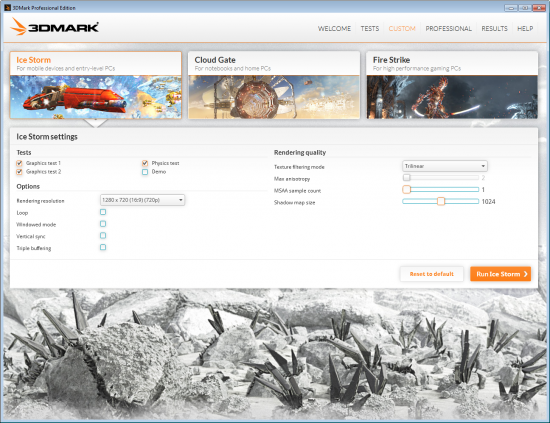 On the 'custom' tab you can go into each game and customize the settings. This is not something that we do here at Legit Reviews as we want to keep our results simple for our readers to compare against, but it is nice for those that want to tweak settings and see what their rig can handle.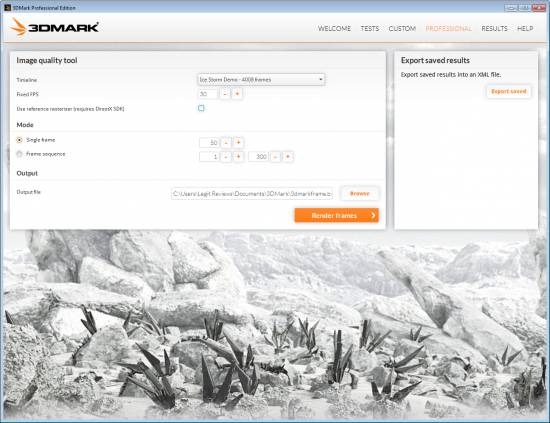 For those that want to purchase the professional edition for $995 you can save results to XML, change image quality, frame mode and more. This version is also licensed for business use, so it something the home user would never need.

Now would be a great time to mention that there are three versions of 3DMark. The 3DMark Basic Edition is the free version that lets you run all three benchmarks. For those that benchmark a ton, then take a look at 3DMark Advanced Edition as it lets you run individual benchmarks for faster test runs, unlocks the Fire Strike Extreme benchmark, gives you in-depth interactive performance graphs and more!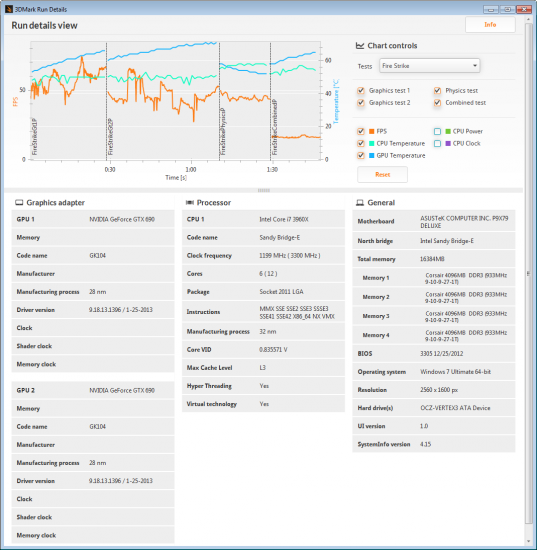 The interactive run details view is pretty handy as it tells you all your system information during the benchmarks run. The image above is from a benchmark run that we did on Fire Strike on the NVIDIA GeForce GTX 690 video card with GeForce 313.96 drivers. As you can see the details view gives graphs of what the FPS, CPU Temperature, GPU Temperature, CPU power and CPU clock were doing in each of the benchmark runs. This is very nice to have as pretty much all CPUs and GPUs are dynamically clocked and this gives you a great look at what your machine is doing behind the scenes. We did notice that the specific GPU details were not fully shown on the cards that we had time to test. This is something Futuremark will be able to address as time goes on, so no big deal.
Let's take a look at some performance results with the new benchmark!