MSI X340 Slim Core 2 Solo Notebook Review
Mon, Sep 28, 2009 - 12:00 AM
Final Words
The MSI X340 Slim notebook surprised me a bit. It has an innovative design that makes it have a professional, sleek look and it does not lose functionality for the sake of style. The keyboard is large, and the keystrokes are soft and comfortable. The touchpad is in an awkward place, but I am glad that it can be turned off with a function key. From the student who likes to take notes on a laptop to those that like style along with an ultra-portable solution, the MSI X340 Slim notebook fits the bill.
When it comes to battery life, I am impressed that it will play a full-length movie before dying, and almost 4 hours of battery life at idle is certainly a bonus. You certainly don't have to worry about it dying on you anytime soon while working on that all-important paper while sipping the Joe at the local cafe. Given the included 4-cell battery, we were happy with it's performance. For those that plan on embarking on longer road trips and would like to watch more than one movie, the optional 8-cell battery may be the wiser choice.
We were a little surprised that the unit we received had such out-dated drivers. For a notebook that was first available in May, we expected to have drivers from 2009 as part of the pre-install on the MSI X340. Most all of the drivers were from November 2008 and were in need of an update. However, we test the units as we receive them, so we did not update the drivers for any of our benchmark tests. We did update the Intel graphics driver in an effort to get 3DMark Vantage to run, but that did not make a difference. In the future, we would like to see at least semi-recent drivers as part of the factory install.
As it turns out, the MSI X340 Slim performed pretty much how we expected it to in our benchmarks. Of course it isn't going to compete with gaming notebooks, but you get what you pay for, here. For the most part, it outperformed the netbooks we have tested, which was expected. This is definitely a mid-range notebook, and we would expect a mid-range price. At $689.00 shipped at the time of this article, I would say that the X340 Slim notebook comes with a very fair price tag. You get slightly better-than-netbook performance for slightly higher price. That's besides the fact that you get a 13″ screen instead of 10″.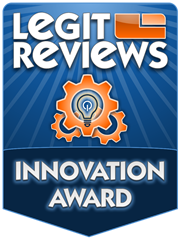 Legit Bottom Line: The MSI X340 Slim Notebook is stylish, innovative, very portable and easy to use. At right around the $690 price point, this mid-range laptop is perfect for the person on the go who wants something a little bigger than a netbook.