MSI N760 HAWK Video Card Review
Wed, Aug 07, 2013 - 12:00 AM
Temperature & Noise Testing
Temperature & Noise Testing
Temperatures are important to enthusiasts and gamers, so we took a bit of time and did some temperature testing on the MSI N760 HAWK video card.
MSI N760 HAWK 2GB Video Card Idle Temperature: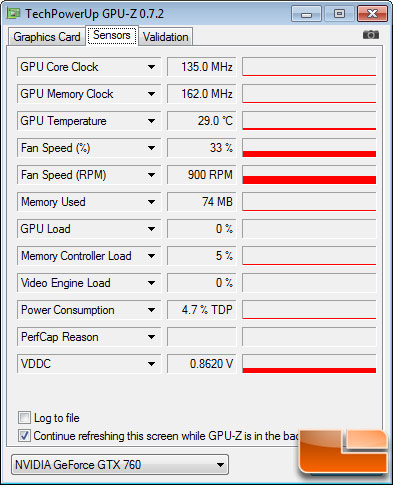 The MSI N760 HAWK had an idle temperature of 29.0C in a room that was 22.0C (72F) and the fans were spinning at 900 RPM.
MSI N760 Hawk 2GB Video Card Gaming Temperature: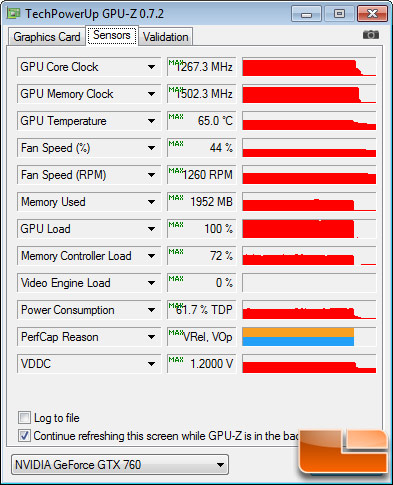 When playing Far Cry 3 and Battlefield 3 for about 30 minutes each, we hit 65C on the GPU and did not get any hotter than this.  Notice the fan speed went from 900RPM at idle to 1260RPM when gaming. You really can't hear the card with it in your system at idle, but when you start gaming you can hear the fan a bit.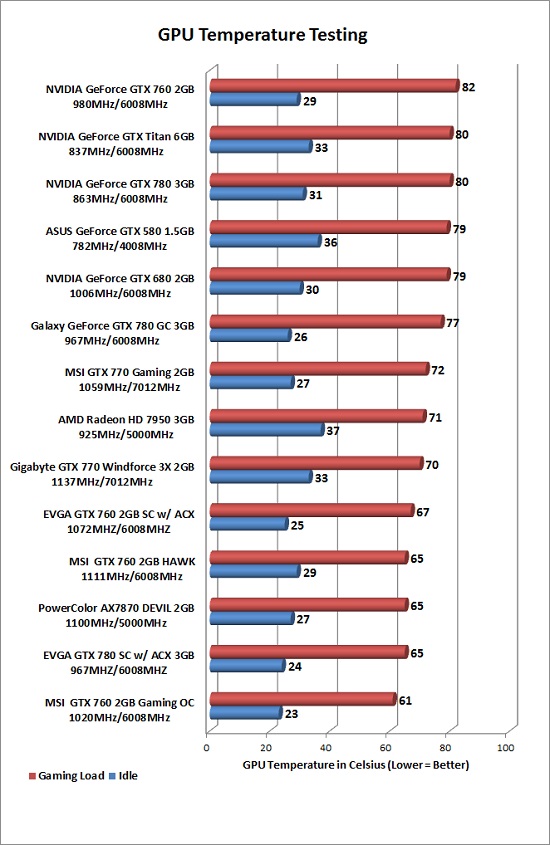 The MSI N760 GAMING card had lower idle and gaming load temps than the MSI N760 HAWK, which came as a shock to us since the MSI N760 HAWK has an extra heatpipe and the idle clock speeds and GPU voltage is the same.
MSI N760 Gaming – 23C w/ fan running 990RPM and 0.862V
MSI N760 HAWK – 29C w/ fans running 900RPM and 0.862V
The only difference at idle was the fact that the MSI N760 GAMING had the fans running about 100 RPM faster than the MSI N760 HAWK.
We asked MSI why the MSI N760 GAMING runs so much cooler despite the extra heatpipe and they replied with this statement.

The MSI 760 HAWK has a higher clock speed.  I wouldn't recommend comparing our GTX760 GAMING. the Hawk default setting is 1111 MHz. GTX760 Gaming core clock 1020MHz (gaming mode)  There is a big gap between these 2 skus during idle. Higher clock means there is more power consumption. GTX760 Hawk around 180W v.s 760 Gaming 165W.  That's why there is temp. difference. If you were to clock  the GAMING at same speed, you probably can see the difference.

So, MSI didn't dispute our numbers and just said that the higher clock speeds was the cause. This makes sense for our gaming load results, but not for our idle testing.
Sound Testing
We recently upgraded our sound meter to an Extech sound level meter with ±1.5dB accuracy that meets Type 2 standards. This meter ranges from 35dB to 90dB on the low measurement range, which is perfect for us as our test room usually averages around 36dB. We measure the sound level two inches above the corner of the motherboard with 'A' frequency weighting. The microphone wind cover is used to make sure no wind is blowing across the microphone, which would seriously throw off the data.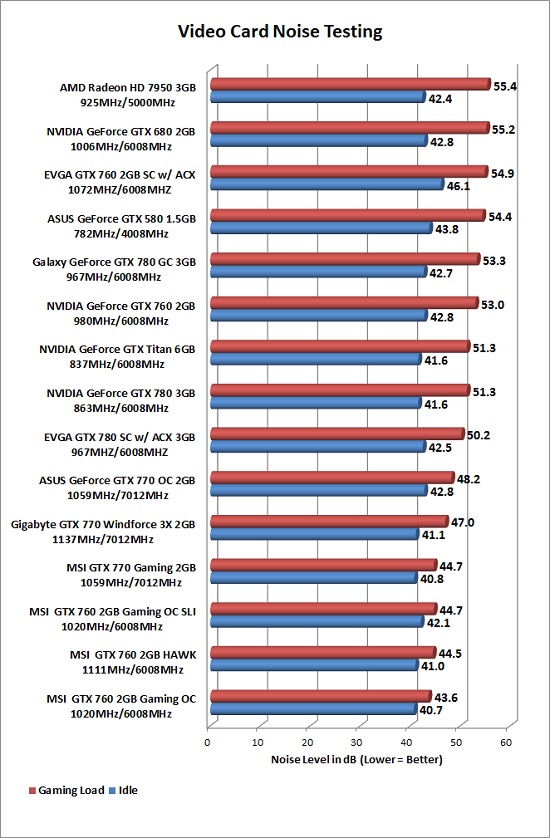 When it comes to noise levels the MSI N760 HAWK and MSI N760 GAMING are nearly identical and are very quiet cards as you can see the load noise levels are better than all of the other cards that we have tested.