MSI GeForce GTX 770 Gaming and ASUS GeForce GTX 770 DirectCU II Review
Thu, May 30, 2013 - 8:00 AM
MSI GeForce GTX 770 Twin Frozr Gaming OC Edition
MSI will also be launching two GeForce GTX 770 graphics card in North America this month and that would be the MSI GeForce GTX 770 Twin Frozr Gaming OC Edition and the GeForce GTX 770 Lightning 2GB.
| | | |
| --- | --- | --- |
| MSI GTX770 Graphics Card | Twin Frozr Gaming 2GB | Lightning 2GB |
| Model | N770 TF 2GD5/OC | N770 Lightning |
| GPU boost clock | 1111MHz | 1202MHz |
| GPU base clock | 1059MHz | 1150MHz |
| Memory clock | 1753MHz (7012MHz) | 1753MHz (7012MHz) |
| Memory interface | 256-bit | 256-bit |
| Price | $409.99 | $459.99 |
MSI says that the Gaming card will retail for $409.99 and the Lightning card will retail for $459 and the main difference between the two cards is clock speeds and the GPU coolers. We will be looking at the MSI GeForce GTX 770 Twin Frozr Gaming OC Edition today. MSI provided us with an early GTX770 Twin Frozr gaming sample that was clocked at 1059MHz base clock with a boost clock of 1111MHz along with 2GB of GDDR5 memory running at 1753MHz (7012MHz effective), so it is factory overclocked and features identical clock speeds to the ASUS card on the previous page.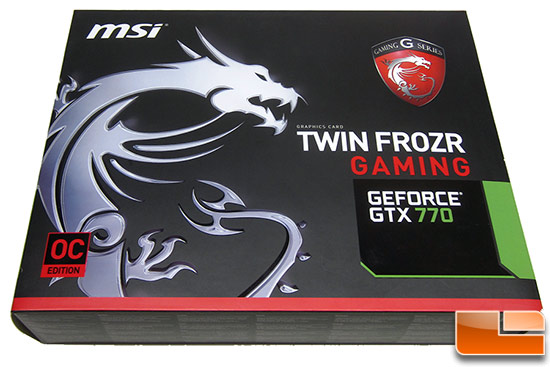 MSI has a sharp looking retail packaging for the new cards as you can see from the image above.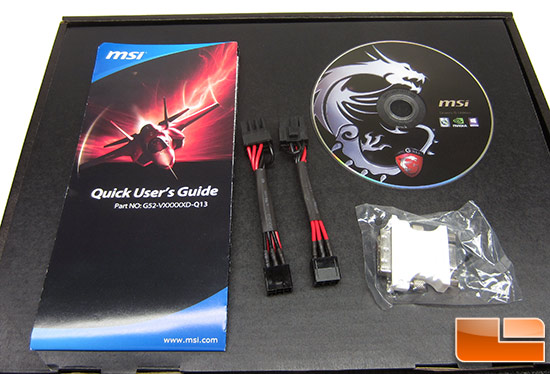 Inside the retail box you'll find the accessory bundle, which includes a pair of 8-pin PCIe power adapters, the driver disc a DVI-to-VGA adapter and a quick users guide.
The MSI GeForce GTX 770 Gaming card is clearly a departure from the reference design heat sink and cooler. The MSI GeForce GTX 770 Gaming features two 100mm (10cm) fans and the Twin Frozr IV GPU cooler that has 5 copper heat pipes. At start up the fans are audible but quickly fade to nearly inaudible.
MSI uses Military Class 4 components on the Gaming series card, so they have Hi-c CAP, new SFC and Solid CAP. The dual 10cm PWM fans have propeller blade technology with dust technology, so they spin backwards for a second when first started to prevent dust from blowing into the heat sink.
MSI went with a pair of 8-pin PCI-e power connectors for their GeForce GTX 770 gaming edition card. MSI went with a 6-phase PWM setup on this card.
Here we can see the connectors for the card. It is packing a pair of DVI connectors, the bottom is a DVI-I while the top is DVI-D. Display Port is at the bottom left and HDMI is in the middle. The design looks nearly identical to the NVIDIA GeForce GTX 770 reference card, so the video outputs remain the same.
Here we have the back side of the card where it should be noted that this card is just 10.0″ in length, so it is half an inch shorter than the NVIDIA GTX 770 reference design and the ASUS GeForce GTX 770 DirectCU II.