MSI GeForce GTX 770 Gaming and ASUS GeForce GTX 770 DirectCU II Review
Thu, May 30, 2013 - 8:00 AM
ASUS GeForce GTX 770 Overclocking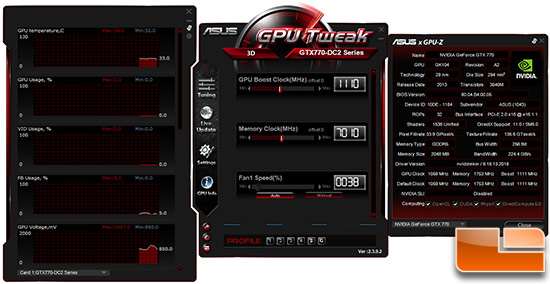 To overclock the ASUS GeForce GTX 770 DirectCU II OC Edition card we used ASUS GPU Tweak version 2.3.9.2. This is a great overclocking utility that allows you to adjust the GPU boost clock, memory clock, voltages, power/temp targets and tinker with the fan speed settings. If you want to enabled advanced features you can enable adjustment of the GPU voltage and the power target. You also have the latest version of GPU-Z built-in and live monitoring tools all in this one utility.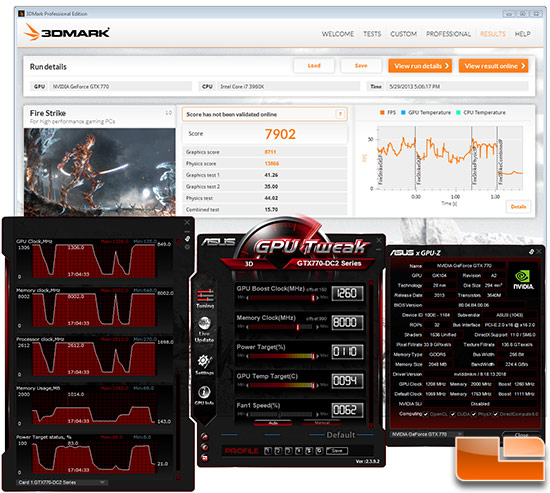 Overclocking the ASUS GeForce GTX 770 DirectCU II OC video card was simple thanks to GPU Tweak and we had great results for this card. The defaults speed core clock speed on this card are 1059MHz on the core (1111MHz Boost) and 7012MHz on the 3GB of GDDR5 memory.
We cranked up the power target to 110% and set the temperature target to 94C. From there we then increased the memory and GPU clock speeds as far as we could. We were able to take the card up to 12085MHz on the core (1260MHz Boost) and all the way up to 8000MHz on the memory! Thanks to GPU Boost 2.0 we were hitting 1306MHz when gaming, which is better than the 1162MHz you boost to with stock settings. This is a very nice overclock on the core and an amazing overclock on the memory. It should be noted that when we tried to overclock beyond 8000MHz on the memory that we started seeing artifacts in 3D applications, but a 1GHz overclock on the memory is amazing. ASUS did a great job designing this card and it easily overclocks!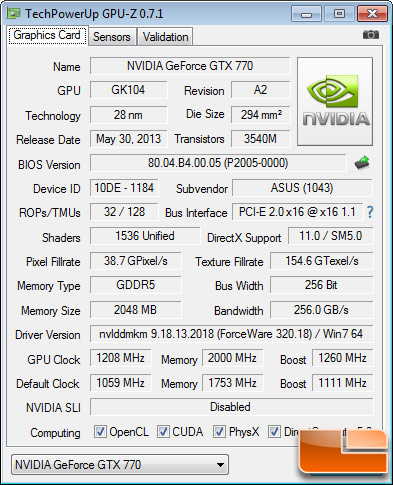 Let's take a look at some Futuremark 3DMark on the Fire Strike preset to see how the overclock helped performance.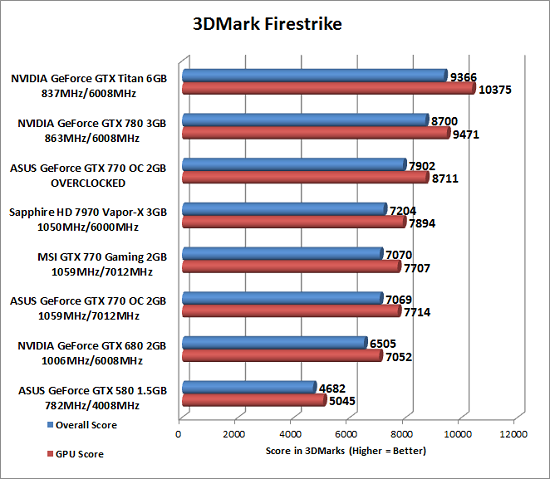 We tried out this overclock with Futuremark 3DMark Fire Strike and saw the score go from 7069 to 7902, which is a 11.8% improvement over the stock speeds!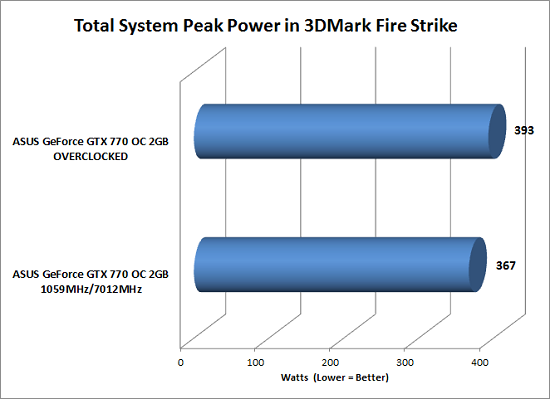 Just for fun we took a look at overclocked power consumption and we found in 3DMark Fire Strike that power use went from 367W to 393W, which is an increase of just 26 Watts. The ASUS GeForce GTX 770 DirectCU II OC would hit 57C with stock settings and 60C with the overclock, so overclocking doesn't really add too much more heat or power draw!