Maingear Unlocked F131 System Sweepstakes
Tue, Jun 15, 2010 - 5:12 PM
Maingear is giving away a fully configured gaming system to one lucky person that wants to sign up for their mailing list. The winner of the drawing will be announced on June 20th, 2010.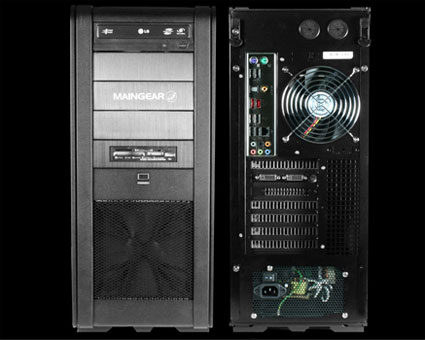 The system includes the following hardware:
Processor – Intel i7-875K
Motherboard – Intel DP55WG
Graphics Card – ATI Radon HD 4890
Hard Drive – 640GB WD Black
Memory – 4GB 2400MHz Patriot Viper II Sector 5
24x Dual Layer DVDRW w/Lightscribe
Windows 7 Home Premium 64bit
750W PSU
The F131 has been in Maingear's lineup since the company opened its doors, and its staying power shows. Winning top honors from editorial reviews, it has consistently provided the best in price to performance ratio no matter what task you need accomplished. Enter for your chance to win a MAINGEAR F131 with the new unlocked Intel® Core™ i7-875K based system courtesy MAINGEAR and INTEL for the flexibility to set your system specs just the way you like.