Mad Catz R.A.T. M and M.O.U.S. 9 Gaming Mice Review
Wed, Jun 12, 2013 - 12:00 AM
A.P.P. – Mad Catz's Software
A driver CD is not included with either the R.A.T. M or the M.O.U.S. 9. Currently, Mad Catz is still operating and maintaining its Cyborg gaming website which contains the R.A.T. M and M.O.U.S. 9 product webpages as well as outdated driver downloads. It's a matter of time before the Cyborg brand is completely defunct, but the download link for the latest drivers and mouse profiles are located on Mad Catz's website.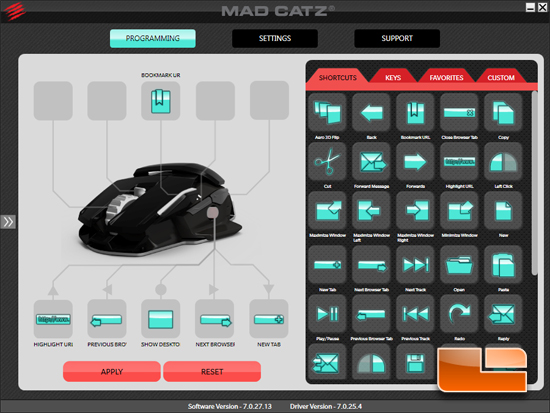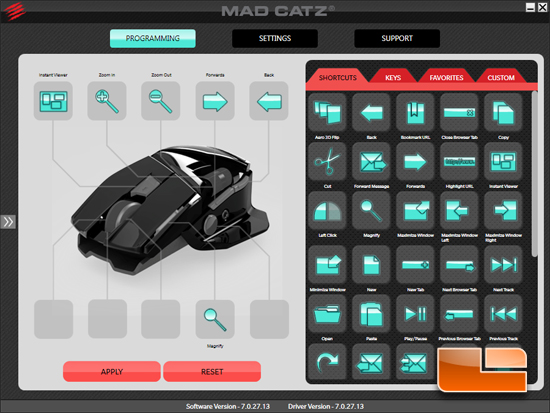 Top: R.A.T. M; Bottom: M.O.U.S. 9
The R.A.T. M and the M.O.U.S. 9 use their own separate drivers and control program, though the graphic interface of the latter is mostly the same. The main PROGRAMMING page has boxes pointing to the programmable buttons on an image of the mouse and a menu with shortcuts, keyboard keys, and custom commands. Drag and drop the macros in the menu onto the boxes for each programmable button to configure it. Changes must be applied to take effect.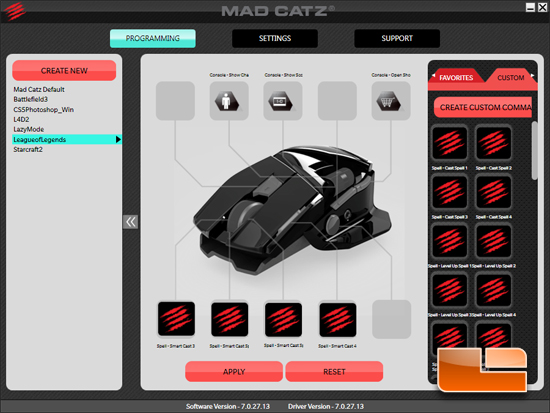 A small arrow on the left edge of the program opens a list of profiles. Profiles can be created by the user and linked to a program. Profiles can also be downloaded from the driver download page and each contains custom macros. To "install" the downloaded profiles, add them to the Mad Catz folder in My Documents.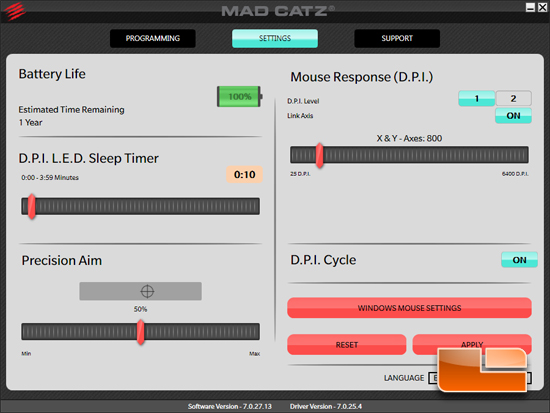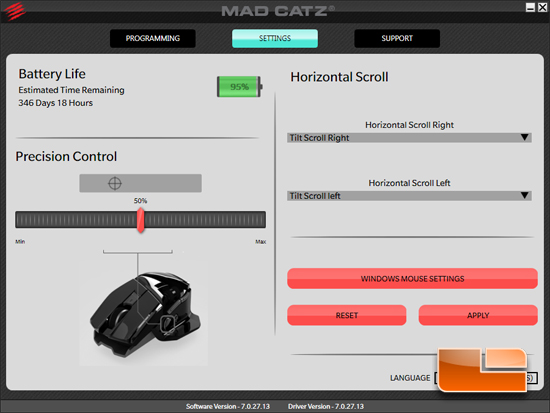 Top: R.A.T. M; Bottom: M.O.U.S. 9
The SETTINGS tab opens several mouse parameters to be modified and also displays the mouse's estimated remaining battery life. A button also acts as a shortcut to the Windows mouse settings.
The R.A.T. M's setting page permits changes to the DPI and Precision Aim. The M.O.U.S. 9 is limited to changes to Precision Control and button assignments for horizontal page scrolling.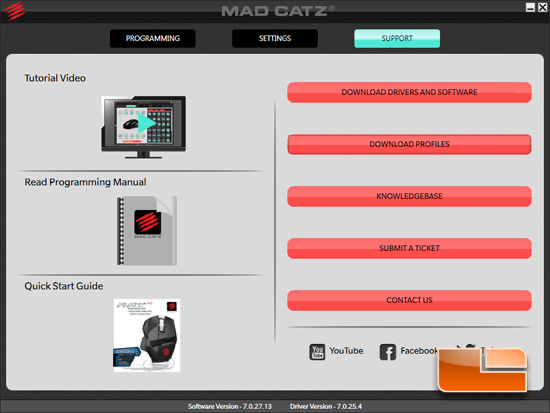 The SUPPORT tab has buttons that trigger web links in your choice of internet browser.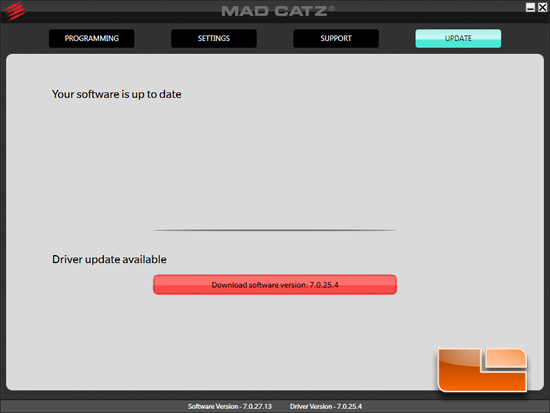 The UPDATE tab will only appear either if the mouse is disconnected or a driver component requires updating. If the mouse is disconnected, then disregard this page if it requests to download the mouse driver.