Mad Catz R.A.T. M and M.O.U.S. 9 Gaming Mice Review
Wed, Jun 12, 2013 - 12:00 AM
R.A.T. M
The R.A.T. M is Mad Catz new notebook mouse that follows the R.A.T. namesake with a 6400 DPI laser sensor, an adjustable palm rest length, and 10 programmable buttons. Its official features from both the product packaging and product web page are listed below.
Connect to PCs, Mac and smart devices via Bluetooth Smart technology
USB nano dongle for devices without Bluetooth
Up to 1 year of use from 2 AAA batteries
6400 Dpi with 2 Dpi settings
Palmrest adjusts to fit your hand
Unique 5D button enables 5 commands with a single control
10 programmable buttons with drag-and-drop software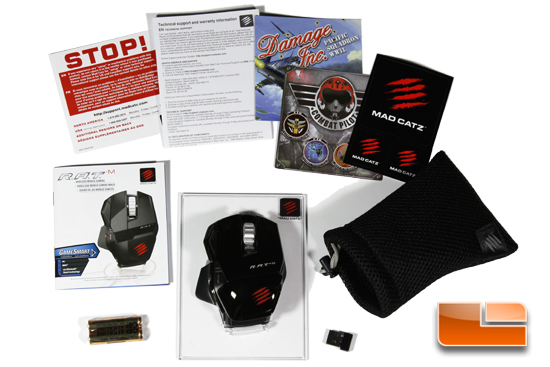 The R.A.T. M comes packaged in a clear plastic box along with a multi-language instruction manual, warranty information, a support notice advising contact with Mad Catz, some game promotion cards, Mad Catz stickers, two AAA batteries, and a mesh carrying pouch.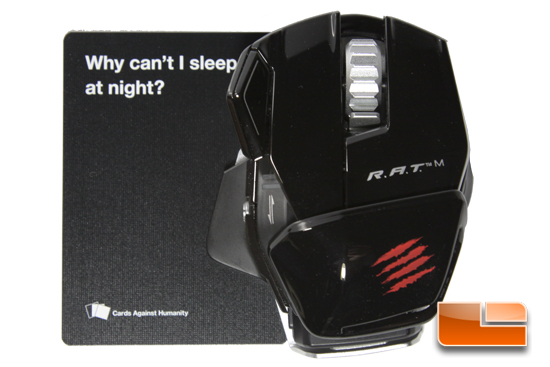 As a notebook mouse, the R.A.T. M is tiny at 3.75 x 2.9 x 1.4 inches / 9.2 x 73.7 x 35.6 mm (LxWxH.) Its footprint is barely bigger than the area of a regular playing card. The R.A.T. M is easy to pack away, but a number of gamers will find this mouse too small to use comfortably.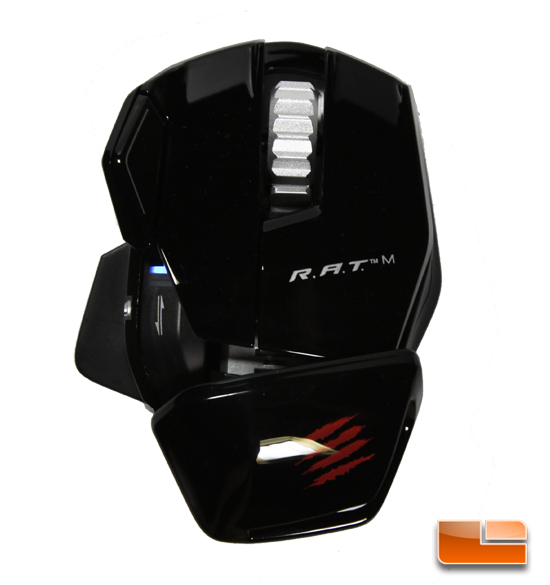 The palm rest can slide out and lock at three points along the rack, bringing the mouse's maximum length to 4.2 inches.
There are two LED indicators that flash when a certain setting is changed. The blue LED will blink if the Bluetooth connection is connected or disconnected. The red LED will shine at a certain brightness to indicate which of the two DPI profiles are being used. Both LEDs will eventually turn off to conserve battery life.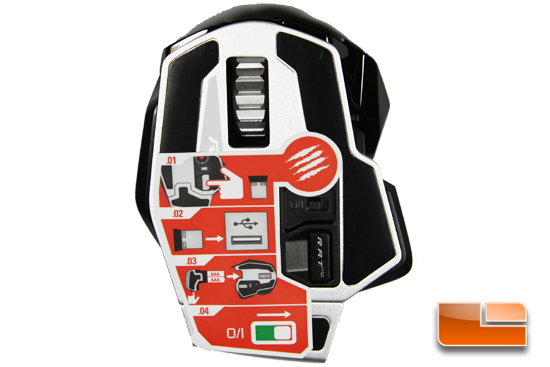 Before using the R.A.T. M., an informative sticker must be peeled off. Also seen is the Bluetooth nano dongle being held in its compartment.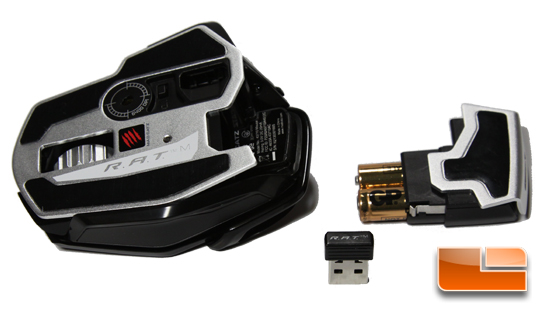 The battery holder is released by pushing a button and then pulling. Two AAA batteries are included and can power the mouse for up to a year.
Also visible is the R.A.T. M's 6400 DPI laser sensor.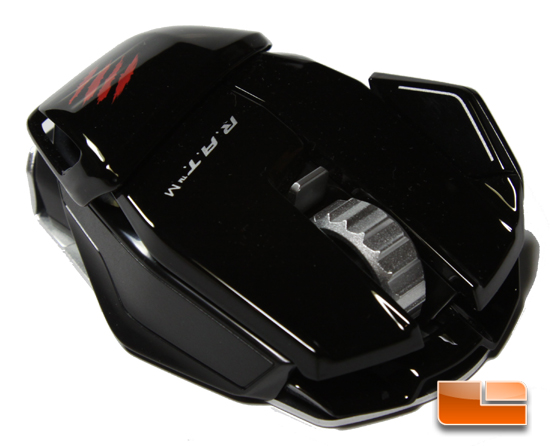 The toothed metal scroll wheel has a soft roll and gives flair to the mouse. However, the wheel can be cold to the touch and the teeth can be annoying after long use. A small programmable button is located next to the scroll wheel and between the mouse buttons.
A programmable "wing" button is located next to the left mouse button. In practice, I find it's too stiff to quickly press.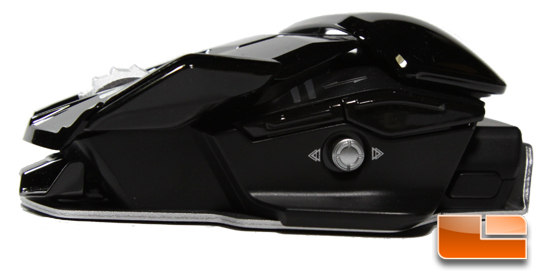 The 5D button is a tiny joystick that can be pressed down and pushed in four directions. This adds five programmable buttons to use, though it's too stiff and too small to effectively use and the R.A.T. M's small size makes it difficult to leverage the 5D button.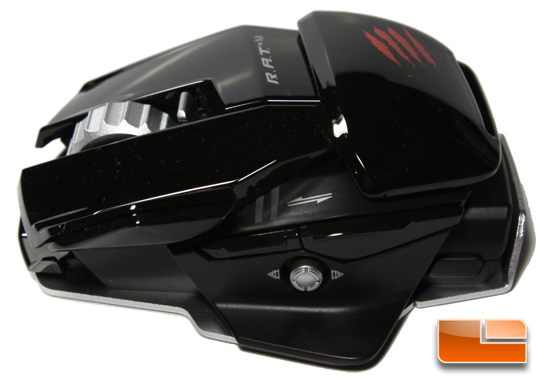 There are another two programmable buttons on the left side of the mouse. Their placement leads me to believe these buttons are more accessible to small hands as it's difficult otherwise to use them.