Mad Catz R.A.T. M and M.O.U.S. 9 Gaming Mice Review
Wed, Jun 12, 2013 - 12:00 AM
Introducing the R.A.T. M and M.O.U.S. 9
When I first received the R.A.T. M and M.O.U.S. 9 review samples, it didn't immediately strike me that Mad Catz's newest computer mice looked strange. I became desensitized to the R.A.T.s' unusual modular appearance and extra scroll wheel long before Mad Catz began to phase out the Cyborg branding. Yet, I am now reminded of this reality after noticing the curious amusement of nearly everyone who saw me use these mice. My friends commonly remarked along the lines of "That looks like a transforming mouse" and "It looks like a car."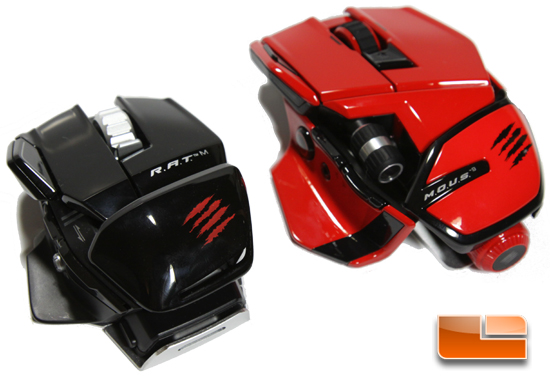 Gauging public opinion was not the reason why I took both of these mice wherever I took my laptop. The R.A.T. M and M.O.U.S. 9 are mobility focused designs and it was in the interest of this review to see how well these mice would travel. Mad Catz has made use of Bluetooth Smart, the newest Bluetooth specification that uses a dual-mode low energy radio. This not only makes the new R.A.T. mice wireless, but the low power Bluetooth grants up to 1-year of battery life.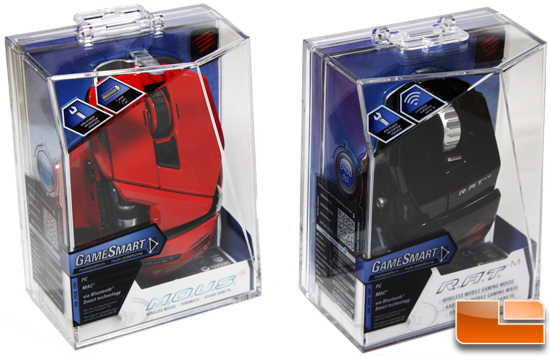 The R.A.T. M is an entirely new compact mouse that follows in the flavor of the other and larger R.A.T.s. It's notable gaming mouse features are its 6400 DPI laser sensor, two programmable modes, and a 5D multidirectional tilting button that brings the number of customizable buttons to 10.
Followers of the R.A.T. mice will immediately notice the M.O.U.S. 9 looks like the older R.A.T.s. Despite what its suffix suggests, the M.O.U.S. 9's design only resembles the R.A.T. 9 and the new M.O.U.S. designation is directed towards office users. New to the M.O.U.S. 9 is a tilting scroll wheel that brings the effective programmable button count to 10. This mouse tracks at a constant 990 DPI as a result of Mad Catz decision to use a laser sensor that can track on glass surfaces.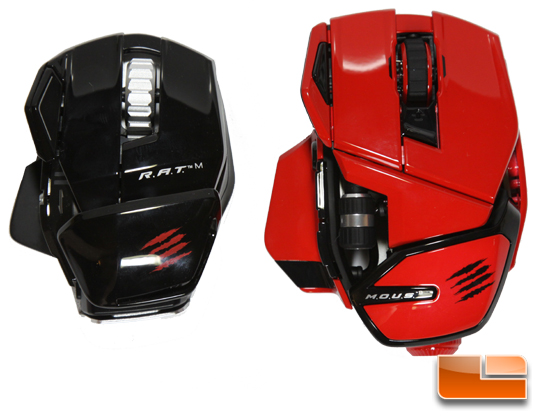 ­­
Technical Specifications
R.A.T. M

M.O.U.S. 9

R.A.T. 5

R.A.T. 9

Sensor

Laser

Laser (Track on glass)

Laser

Laser

DPI

25-6400

990

100-5600

25-6400

Acceleration

50G

8G

50G

50G

Polling Rate

120Hz

125Hz

1000Hz

1000Hz

Tracking Speed

Up to 6 m/s

Up to 0.8 m/s

Up to 6 m/s

Up to 6 m/s

Programmable Buttons

10 (with 5D buttons)

10

6

6

Profile Switching

2 DPI levels only

None

Yes, 3

Yes, 3

Adjustable Palm Rest


Yes

Yes

Yes

Yes

Interchangeable pieces

No

No

No

Yes

Removable Weights

No

No

Yes

Yes

Connectivity

Bluetooth

Bluetooth

USB Wired

2.4 GHz RF Wireless

Power

2x AAA batteries­­­­­

1x AA battery

USB Wired

Proprietary

rechargeable batteries

Battery Life

1 Year

1 Year

N/A

9 Hours

Street Price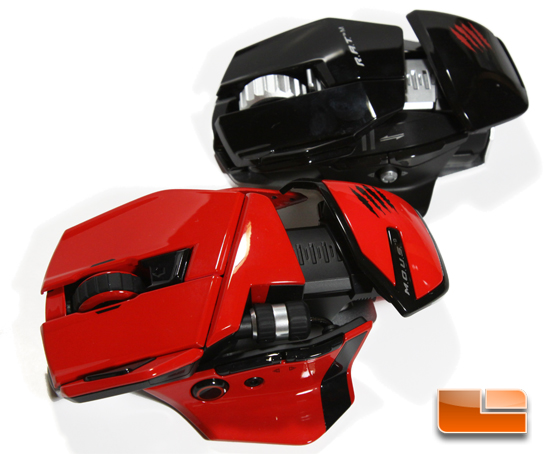 Both the R.A.T. M and the M.O.U.S. 9 are available in four different finishes – gloss red, gloss white, gloss black, and matte black. The review samples we have are the gloss black R.A.T. M and the gloss red M.O.U.S. 9.
Both the R.A.T. M and the M.O.U.S. 9 both come with 2-year warranties and each can be found respectively for $122.83 and $127.02 on Amazon. That's expensive as far as computer mice are concerned and we'll have to determine if the new mobility features justify the heavy price premium especially when most of the older R.A.T. mice can be found for less money.