Logitech G710+ Mechanical Gaming Keyboard Review
Mon, Jan 28, 2013 - 12:00 AM
Logitech G710+ Mechanical Gaming Keyboard
Gaming mechanical keyboards have been the rage in recent years. SteelSeries and Razer were amongst the first to notice. Since then, many brands with a foot in gaming have released their own mechanical keyboards such as Corsair, Thermaltake, Cooler Master, and GIGABYTE. Seemingly absent all this time was Logitech, a giant amongst peripheral makers known for its innovation and diversity. Many including myself were wondering if Logitech would ever release a mechanical keyboard. That came to an end with the newest addition to Logitech's G-series, the G710+ mechanical keyboard.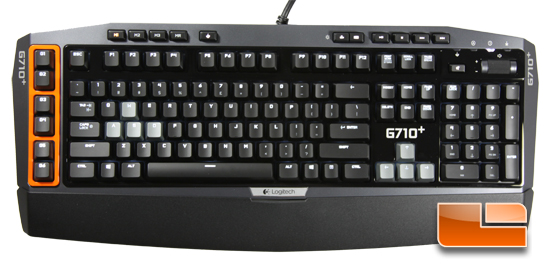 The Logitech G710+ keyboard has a traditional 104-key layout and 6 macro keys, all of which use Cherry MX Brown mechanical switches and damped by a soft rubbery plastic ring to reduce noise. The special keys at the top of the keyboard – the media keys, macro toggles, and light toggles – are not mechanical, but the presence of these keys is welcome as they are normally not found on competing mechanical keyboards. All the keys are individually backlit with white LEDs white except for the macro toggles which use amber and red LEDs. The WASD and arrow keys can have their brightness adjusted separately from the rest of the keys with four brightness levels. A mouse, headset, or other USB device can be plugged into a conveniently placed USB port.
Logitech G710+ Mechanical Gaming Keyboard Features and Specifications:
Tactile high-speed, mechanical keys: With an actuation force and distance of 45 g and 4 mm, respectively, the keys are optimized for rapid command entry.
Whisper-quiet keys: Quiet, non-clicking key switches and a built-in dampening ring underneath each keycap significantly reduce the distracting noise coming from your keypresses without sacrificing responsiveness.
Adjustable dual-zone backlighting: Easily locate keys—even in low light. The entire keyboard is backlit in white LED light and adjustable to one of four brightness levels plus "Off". For better visibility of the WASD and arrow keys, their brightness can be adjusted independently from the rest of the keyboard.
6 programmable G-keys: With three macros per G-key, you can configure up to 18 individual functions per game, including single keypresses, complex macros or intricate LUA scripts. You can also create macros on the fly.
110 anti-ghosting keys and 26-key rollover
USB pass-through: Easily connect your mouse, headset or other USB device via the Hi-Speed USB (2.0) pass-through.
Game/Desktop mode: No accidental interruptions—you can disable the Windows/Context Menu keys when you play.
1-year warranty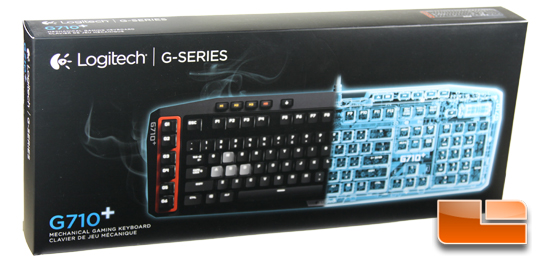 The G710+'s outer packaging box has an image of the keyboard on the front and back face. The back side lists the features of the G710+, but is surprisingly quite barren. It is amusing that the G710+'s web product page explains its features in more detail.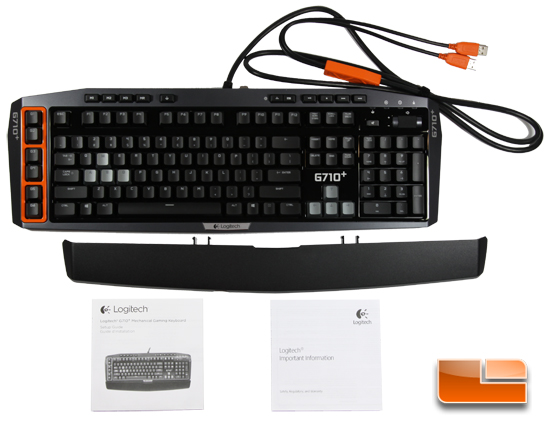 Packaged along with the keyboard are a detachable palm rest, a quick start guide, and a hazard warning that frees Logitech from liability due to personal harm. A CD is not included and users wanting to use the macro keys have to download the software from Logitech's support webpage. The rest of the keyboard including the media keys are fully functional with the default plug-and-play drivers. At this time, Logitech only supports using the G710+ on Windows Vista, 7, and 8. Users running Windows XP, Linux, and OS X are out of luck. The G710+ can be typically be found for $130 shipped.
Next, let's take a closer look at the keyboard!