Logitech G710+ Mechanical Gaming Keyboard Announced At $150
Tue, Oct 09, 2012 - 1:30 PM
Logitech just announced the newest addition to its G-Series line of high performance gaming products: the Logitech G710+ Mechanical Gaming Keyboard. Designed to help you focus on the game, this keyboard is tested and tuned to deliver what gamers want: minimal distraction, rapid response, and complete control.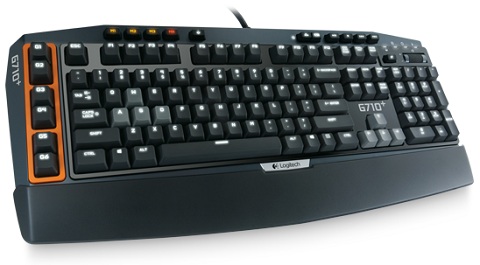 The keyboard's mechanical keys deliver gaming-grade responsiveness, featuring an actuation force of 45g and distance of 4 mm, and are optimized for rapid command entry. Additionally, the non-clicking key switches have a built-in dampening ring underneath each keycap to significantly reduce the distracting noise coming from your key presses without sacrificing responsiveness. The keyboard has undergone a torturous testing process to help ensure durability, with a cycle life of at least a 50 million keystrokes. The entire keyboard is backlit in white LED light, adjustable to one of four brightness levels, and can be turned completely off. For better visibility of the WASD and arrow keys, their brightness can be adjusted independently of the rest of the keyboard.
The Logitech G710+ Mechanical Gaming Keyboard is expected to be available in the U.S. and Europe beginning in October and December 2012, respectively, for a suggested retail price of $149.99.
"The Logitech G710+ Mechanical Gaming Keyboard was created to meet the specific needs of gamers," said Mark Starrett, senior global product manager for Logitech. "We road tested this keyboard with professional gamers, partners, publishers, and everyday gamers like you and me, to ensure we've created a mechanical gaming keyboard that exceeds expectations."