Logitech G110 Gaming Keyboard Review
Sat, Dec 15, 2012 - 12:00 AM
Logitech G110 – Looking Closer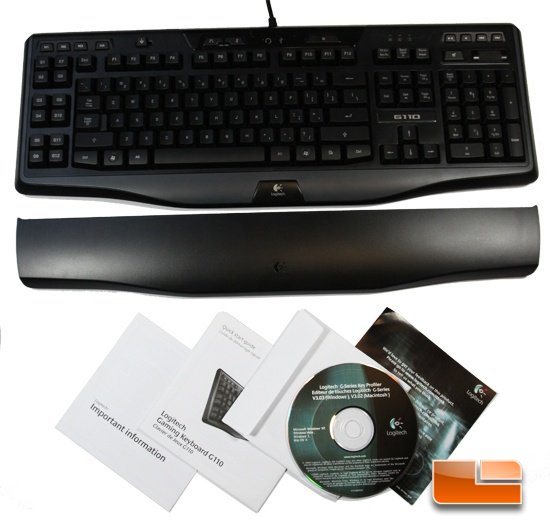 The Logitech G110 gaming keyboard comes with a detachable palm rest, a quick start guide, a hazard warning that frees Logitech from liability due to personal harm, and a CD containing the control software for the macro keys and backlighting which can also be downloaded from Logitech's support webpage. It should be noted that Logitech has done a really good job at keeping their software updated and just released version 8.40.83 on December 5th, 2012. Why download the software? Because the Logitech Gaming Software lets you customize customize buttons on G-series keyboards and more importantly, it allows you to get predefined game profiles for the keyboard! Logitech Gaming Software v8.40.83 that was just released added keyboard profiles for the following games:
Profiles added for:
Borderlands 2
Call of Duty: Black Ops II
Dishonored
DOTA 2
Guild Wars 2
Medal of Honor Warfighter
Natural Selection 2
Torchlight II
Transformers: Fall of Cybertron
XCOM: Enemy Unknown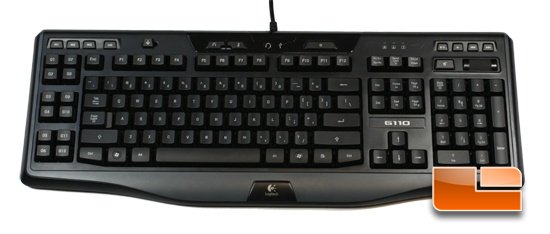 The G110's plastic construction is sturdy plastic fashioned in matte grays and blacks. Its 20.5" x 9.25" (WxL) dimensions are not unusual. The detachable palm rest is entirely optional and only extends the length of the keyboard by a quarter-inch.

The biggest concern with the palm rest is that it is supported by small hinges that hook onto the keyboard. Lifting the keyboard causes the palm rest to flop around and is a nuisance for those who move their keyboard around often.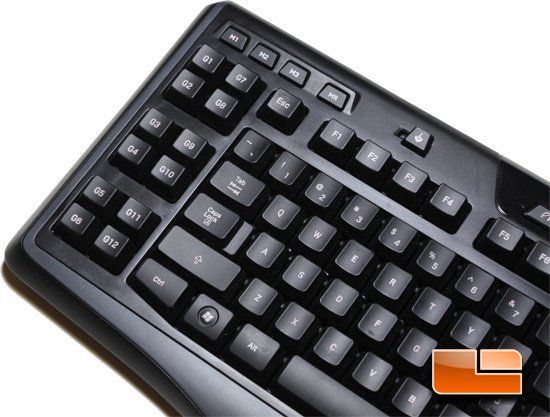 On the left hand side are 12 customizable macro keys with three toggle-able modes and a key that triggers on-the-fly macro recording. No other keyboard that costs as much as the G110 has this many macro keys!
The user can slide a switch to enable or disable the Windows key in what Logitech calls Game/desktop mode.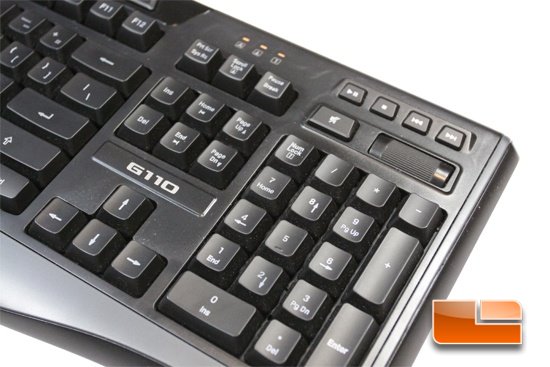 Above the numeric keypad are a set of media keys. Volume is controlled by a wheel – rolling it upwards raises the volume while rolling it downwards lowers it.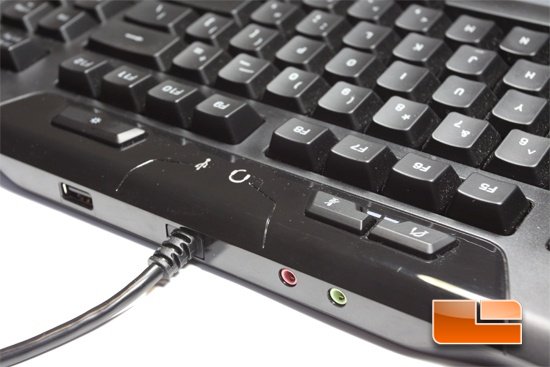 Around where the USB cable comes out of the G110 are a USB 2.0 port for a mouse and two 3.5 mm jacks for a microphone and headphone. Logitech advises against using the USB port for external data streaming such as flash drives and external USB hard drives.
There are keys for muting either or both the output and mic-in. Towards the right is a key that toggles the backlight to on/off.
The sound quality of both the output and the mic-in is roughly of the same sound quality of that of onboard audio found on many modern motherboards. However, sound card users won't benefit from this feature at all because the G110's integrated audio does its own audio processing. If you aren't as much as a picky audiophile as I am, then the sound quality of the G110's audio is more than adequate and the placement of the jacks are convenient for those who frequently plug and unplug their headsets.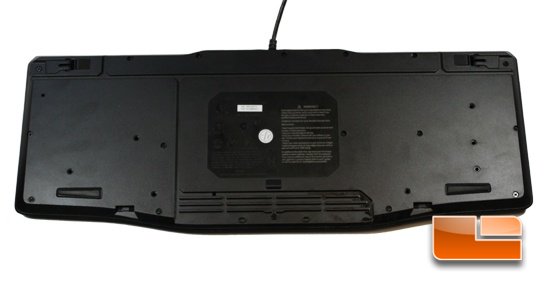 Unique to Logitech's G-series keyboards are grooves on their undersides for managing mouse and headset cords. However, thick cords won't fit in the paths on the G110.