Legit Reviews Folding Team #38296 Enters The 100 Million Point Club!
Wed, Dec 09, 2009 - 11:41 AM
The Legit Reviews Folding team has reached a new milestone today as Team 38296 has broken the 100 million point mark! Only 82 teams out of the 169,634 teams can say they have reached this incredible milestone. The team has completed nearly 223,000 work units since it was created and has had over 250 people contribute work units over the years. Currently the team has 60 active members and a total of 368 CPU's and GPU's folding thanks to these 60 members. The team is currently looking for more members, so if you are interested in folding please feel free to look into it and join our active team. The Legit Reviews folding team is free to join and always welcomes new members! We are also doing a contest and a drawing right now where those on the folding team have a chance to win one of ten AMD Phenom II 965 Black Edition processors! be sure to follow the link below to the forum thread on the folding war to find out more about this! If you have a video card, a processor or a Sony Playstation 3 that you want to fold on please consider joining Legit Folding Team #38296!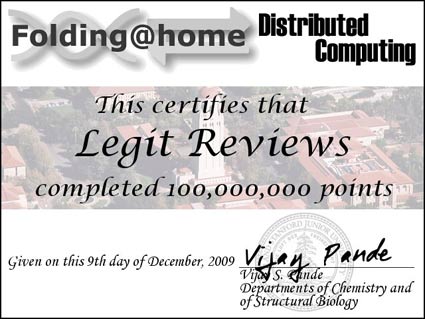 The goal of F@H and Stanford is to apply this new technology to dramatically advance the capabilities of the project, applying their simulations to further study of protein folding and related diseases, including Alzheimer's Disease, Huntington's Disease, and certain forms of cancer. With these computational advances, coupled with new simulation methodologies to harness the new techniques, Stanford believes they will be able to address questions previously considered impossible to tackle computationally, and make even greater impacts on our knowledge of folding and folding related diseases.