KINGMAX Makes A Flash Drive You Can See Inside!
Thu, Oct 11, 2012 - 8:07 AM
Kingmax just unveiled the UI-05 flash drive, which is rather unique because you can see the flash memory chip that holds the data through a clear window. Kingmax says this is a COB (Chip-on-Board) type USB flash drive. The clear glass cover is said to be both waterproof and dustproof, so you can safely see the inside of the flash die and even the wire-bonding structure. No word on pricing, but the Kingmax UI-05 is available now in 4GB, 8GB, 16GB, 32GB capacities and all are backed by a five year warranty.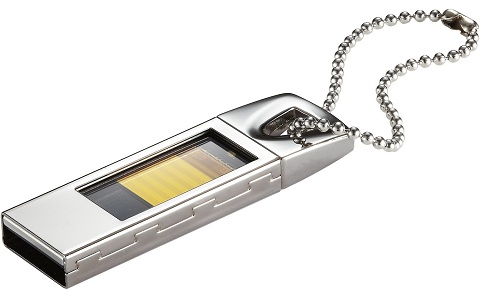 KINGMAX's own package technology has made it possible for the UI-05 to become the world's 1st glass-ceiling USB flash drive. Delicate handling of compression and temperature require the finest level of manufacturing craftsmanship to fit the UI-05 with its glass ceiling. Revealing the UI-05's circuit structure gives consumers a new product experience and expresses a sleek new direction in high-tech styling. Sturdy metal housing provides security and protection with a streamlined look that's subtly fashionable and futuristic. The eye-catching blue LED draws the attention of those nearby and sends the message that the UI-05 is not just another unimaginative, utilitarian USB. This is a stylish, must-have device for anyone seeking good design and reliable portable memory storage.