John McAfee Reported Captured, But Is He?
Mon, Dec 03, 2012 - 9:00 AM
John McAfee has been on the run for nearly a month in Belize. On November 10th 2012 his neighbor Gregory Faull was found shot in the head and McAfee went on the run. The following day McAfee went on the run, according to the local police he is not a suspect in his neighbor's murder, they do wish to question him though. Throughout John McAfee's time on the run he has been updating a blog detailing his time on the run. It talks about wearing various disguises when needing supplies from town and hiding out in the jungles of Bolivia. On Saturday night Mr McAfee's website posted an update that the McAfee founder had been captured at the border of Belize and Mexico after three weeks spent hiding from police. Subsequent media reports suggested Mr McAfee had been captured, but that may not be the case. A spokesman for the Belize Ministry of National Security told media sites yesterday that the report was incorrect and that police still had no idea of Mr McAfee's whereabouts.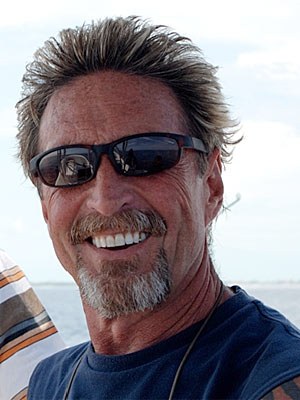 A posting on the anti-computer-virus pioneer's own blog suggests that indeed he has – which if it proves to be true will end an increasingly bizarre saga that has lasted almost a month. Wanted by police in the Central American country for questioning regarding his neighbor's murder, whoismcafee.com was updated on Saturday afternoon with an 'unconfirmed report that John McAfee has been captured at the border of Belize and Mexico.'