Intel Winter Giveaway Ending Soon – Still Time to Enter!
Wed, Mar 06, 2013 - 3:09 PM
Have you heard about the Intel Unleash Anywhere Winter Giveaway Sweepstakes? By entering you could win Intel computer processors and possibly a custom-branded snowboard! Intel is taking entries until March 31st, so there is still time to enter. The promotion is open to those in the United States and Canada (excluding Qubec). If you know what Intel means by "creamy POW" in the contest description be sure to let us know. Is that slang for creamy powder?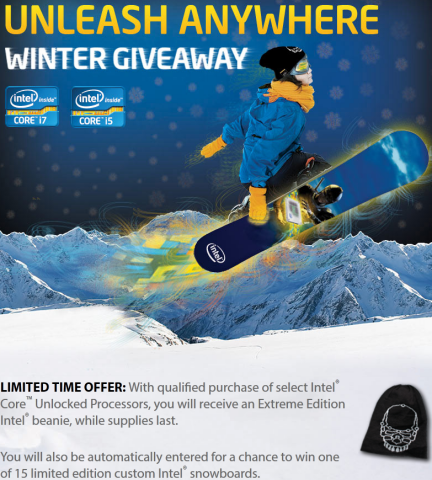 Your game and your gear can get a whole lot sweeter. With a qualified purchase of select Intel Core Unlocked Processors, you will be entered for a chance to win a limited edition Intel snowboard. The board is sweet, but the processor is even sweeter! Packed with power, it will take your gaming to new heights. Included is Intel Turbo Boost Technology 2.0 which gives you accelerated performance when you need it (like slamming an energy drink while shredding the creamy POW on the mountain) and overclocking-enabled for the flexibility to set your system's specs the way you like (just like you wouldn't settle for the low end board boots or bindings, you want to pick what fits your style). Get out there, get your new gear, and get your game on. Purchase an Intel Core i5 or i7 Unlocked Processor today and you'll receive a custom branded Intel beanie! (While supplies last) Buy Intel. Get a Beanie. Win a Board.