Intel To Launch 4.5W Haswell Processors Later This Year
Tue, Jul 23, 2013 - 2:25 PM
Intel disclosed that they will be coming out with a 4.5W SDP (Scenario Design Power) variant of Haswell during an analyst briefing that took place this morning. Intel did not give any specifics when it comes to clock speeds, or the price of this ultra low power processor, but did say that it would be coming out later this year in limited volumes. SDP refers to power draw during sustained workloads, whereas traditional TDP ratings measure power usage during shorter bursts of activity. Previously leaked documents show this unnamed processor being a Y-series model thanks to the TDP Spec table below that was discovered. Intel says that the 4.5W SDP processor will be used in select fanless tablets & 2-in-1 detachables.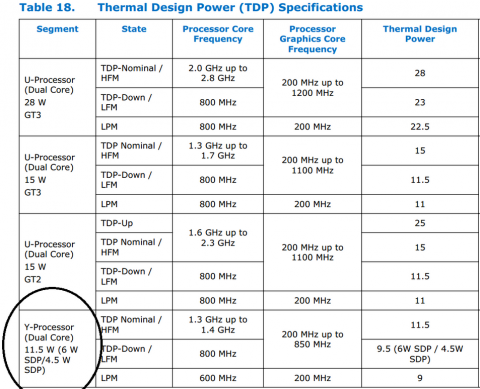 Intel PR Statement Made Today:
At Computex we disclosed 4th gen Core would operate as low as 6 watts SDP. In fact, parts as low as 4.5 watts will be in the market later this year in limited volumes. The 4.5 watt parts enable incredibly thin and fanless designs with all day battery life and great performance.
The 4.5W SDP Y processors enable Intel Core architecture in select fanless tablets & 2-in-1 detachables. The 6W SDP Y processors will feature in detachables and thin convertibles 2-in-1s that while being super thin, will still need some fanned cooling. Both Y processors will offer balanced performance and mobility across productivity & tablet workloads.
We're focused on bringing the power down in a big way to deliver on more mobile and fanless designs. This is yet another step to move the industry in that direction. The Thermal Design Power (TDP) for the Y processors is 11.5W, same TDP as on the 6W Y processors.