Intel Releases 9.18.10.3165 GPU Drivers For Ivy Bridge and Haswell
Thu, Jun 06, 2013 - 10:00 AM
Intel Iris Pro, Iris and HD graphics users will be happy to know that they have a new graphics driver to use! Intel released 9.18.10.3165 graphics drivers for Windows users this morning that adds support for 4th Generation Intel Core Processors and fixes bugs reported on 3rd and 4th Generation Intel Core Processors. This driver supports both 32-bit and 64-bit variants of Microsoft Windows 7 and Microsoft Windows 8. We have these drivers running on an Intel Core i7-3770K processor with no issues yet!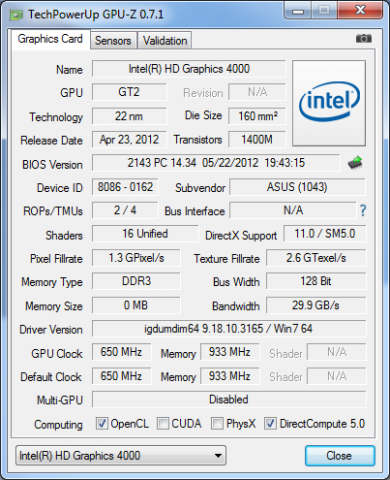 Issues Fixed in Intel 9.18.10.3165 Graphics Drivers
Fixed an issue where monitors not supporting EDID were locked to 1366×768 resolution.
Resolved DWM.exe crash error "Desktop Window Manager stopped working and was closed " reported on systems with discrete graphics with Switchable Graphics enabled.
Resolved a crash issue that may be seen after inserting H.264 file in to a timeline of the Corel VideoStudio Pro software.
Resolved an issue where 2560×1080 resolution was not available on the third DisplayPort 1.2 monitor when daisy chained. ( DisplayPort 1.2 is supported only on 4th Generation Intel Core Processors).
Resolved an issue where power on the second and third monitors are not detected while daisy – chained.
Resolved a corruption issue seen in Resident Evil 5 Benchmark (DirectX 10).
Fixed an issue where a vertical line unexpectedly appears on the right side while at the Windows locked screen, when screen is unlocked, or when resuming from Sleep or Hibernate state.
8 Fixed issue where screen may turn black after switching to Clone mode.