Intel Releases 15.31 Graphics Drivers For Ivy Bridge Processors!
Wed, Apr 03, 2013 - 8:05 AM
Those of you with a 3rd Generation Intel Core Processor 'Ivy Brige' and happen to be using the integrated Intel HD Graphics 4000/2500 are going to be happy this morning. Intel has released a graphics card driver update that helps improve both power consumption and performance! This driver also supports OpenCL 1.2, so be sure to update! You can download the 32-bit driver or the 64-bit driver. These were the drivers that we told you about last week here.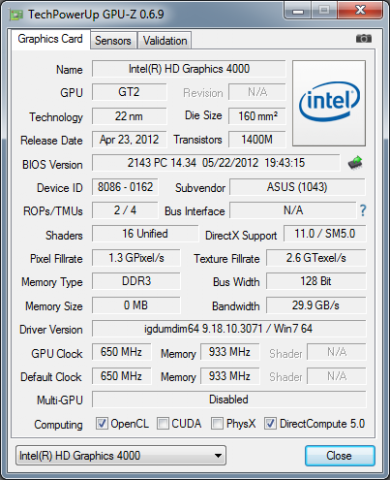 Several optimizations to reduce the system power consumption have been added in this driver. These optimizations might result in minor performance drop in some games while yielding power savings. The user can choose to override these power optimizations by selecting the "Maximum Performance" power mode in Intel control panel or "High Performance" mode in the Windows power setting.
This driver release increases 3D gaming performance on a variety of titles. Intel has tested a number of games on the 3rd Generation Intel Core processor with Intel HD Graphics 4000. The results are listed below are for 3rd Generation Intel Core processor-based Ultrabook systems