Intel Core i7-4770K Haswell 3.5GHz Quad-Core CPU Review
Sat, Jun 01, 2013 - 12:00 PM
Intel Z87 Chipset Overview and DZ87KLT-75K Motherboard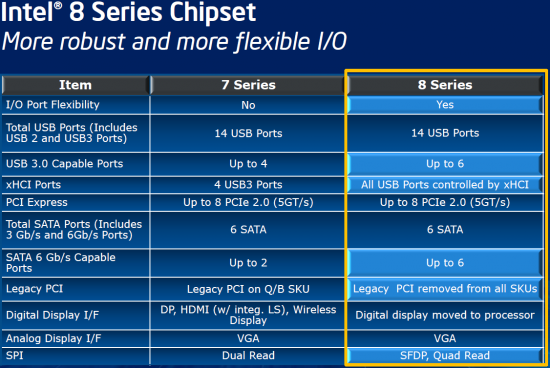 One of the other major changes with The 4th Generation Intel Core 'Haswell' processors is the introduction of the Intel 8 series chipset for the Haswell-required LGA 1150 socket. These chipsets are codenamed Lynx Point and will consist of Z87, Z85, H87, Q87, Q85 and B85 chipsets for both current Haswell and Broadwell processors. That is, if Intel does an LGA 1150 version of those processors as rumor has it they might just be embedded SoC's. If there is a socketed Broadwell processor to be had, these boards would likely just need a BIOS update in order to run the next generation processor after Haswell.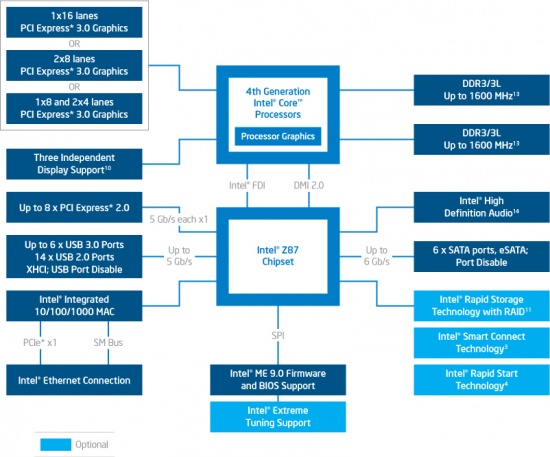 The flagship chipset is the Intel Z87 and that is of course the chipset that is of interest to our enthusiast audience. The diagram above is of the Intel Z87 chipset and its connectivity.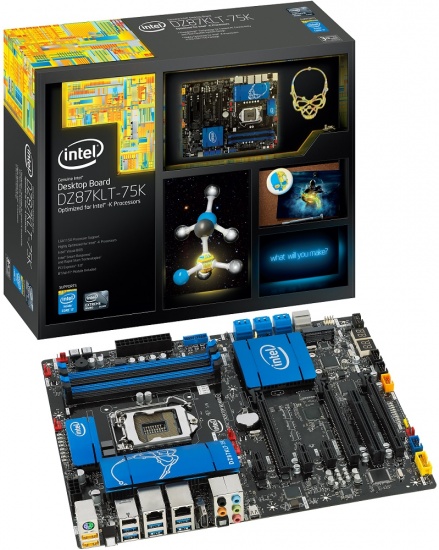 We usually don't spend much time covering Intel motherboards in our processor articles, but this will be one of the last desktop motherboards released by Intel. Intel is the company that came up with the idea of consumer desktop boards, so it will be odd that they will no longer be manufacturing and selling Intel branded boards after the Intel 8 series comes to a close in the years ahead. The board that Intel sent us to look at with Haswell is the Intel DZ87KL-75K desktop motherboard.
The Intel DZ87KL-75K motherboard has a pretty nice layout with tons of high-end features that enthusiasts are looking for in 2013. For starters you have a nice black and blue color theme and some fairly beefy passive coolers covering the components that are known to get hot. When it comes to key features you have eight SATA III 6Gbps ports (two by a third party controller), a mini PCI Express (mSATA) slot, five 4-pin PWM fan connectors and support for NVIDIA SLI and AMD CrossFire graphics card setups.
When it comes to rear panel support you have the usual PS2 connector, eight SupreSpeed USB 3.0 ports, a 800 MBit/s FireWire port, dual Intel Gigabit LAN, otpical S/PDIF and 7.1 audio connectors. When it comes to video outputs you have a full-sized HDMI port and a single Thunderbolt connector that also doubles as a mini-DisplayPort output. If you don't need Thunderbolt you might want to look for another motherboard model called the DZ87KL-70K, as it will not feature the Thunderbolt support, but you still have the mini-DisplayPort.
The DZ87KL-75K motherboard features an 8-phase VRM design along with a single 8-pin EPS power connector to supply more than enough power to the 4th Generation Intel Core 'Haswell' processor of your choosing.
The Intel DZ87KLT-75K motherboard has three PCI-Express 3.0 x16 slots in an x16/x8/x4 configuration, as well as three PCI-Express 2.0 x1 slots. It looks like Intel won't be getting rid of the PCI-slot as they included one of those slots as well, despite the fact that most people no longer use PCI cards for anything.
Here is a closer look at the six blue SATA III ports that connect to the Z87 chipset and the pair of grey SATA III ports that run off a third party controller. You can also see the back of the mini-PCIe slot behind the first set of SATA III ports and to the right of the SATA III ports you can see an internal USB 3.0 header for front panel connectivity.