Intel Core i7-4770K Haswell 3.5GHz Quad-Core CPU Review
Sat, Jun 01, 2013 - 12:00 PM
3DMark 2013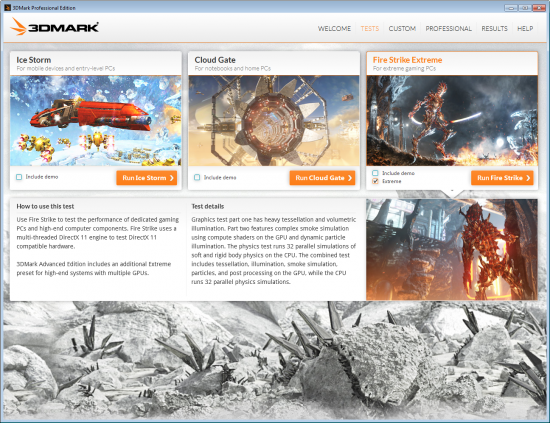 Futuremark 3DMark has three primary benchmark tests that you can run and which test you should be running depends on the system that you are benchmarking on.
Ice Storm – For mobile devices and entry-level PCs
Cloud Gate – For notebooks and home PCs
Fire Strike Extreme – For extreme gaming PCs (extreme mode for those with multiple GPUs)
Since all of the benchmarks can be run on desktop PCs, we will run each of them on our Intel and AMD processors to see how they stack up.
Intel Core i7-3770K w/ Intel HD Graphics 4000: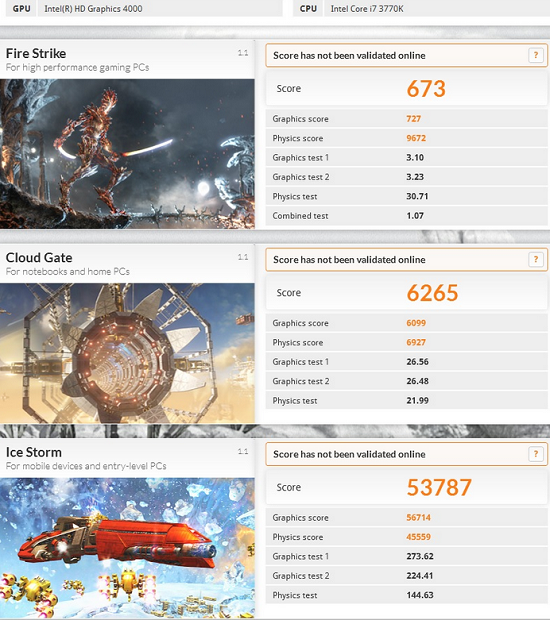 Intel Core i7-4770K CPU w/ Intel HD Graphics 4600: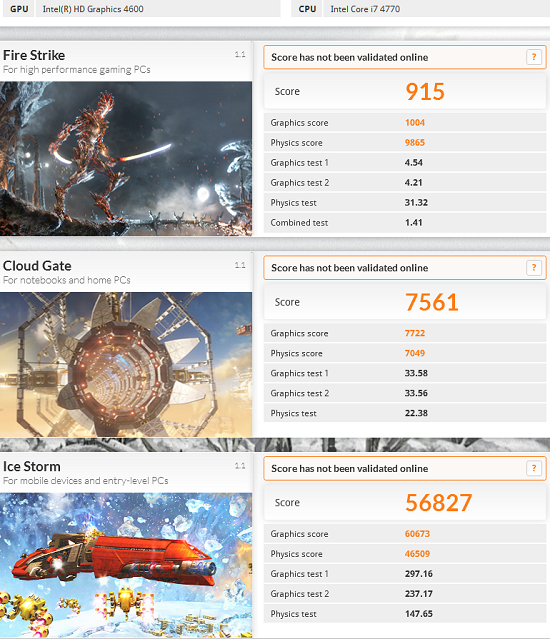 AMD A10-5800K APU w/ Radeon HD 7660D Graphics: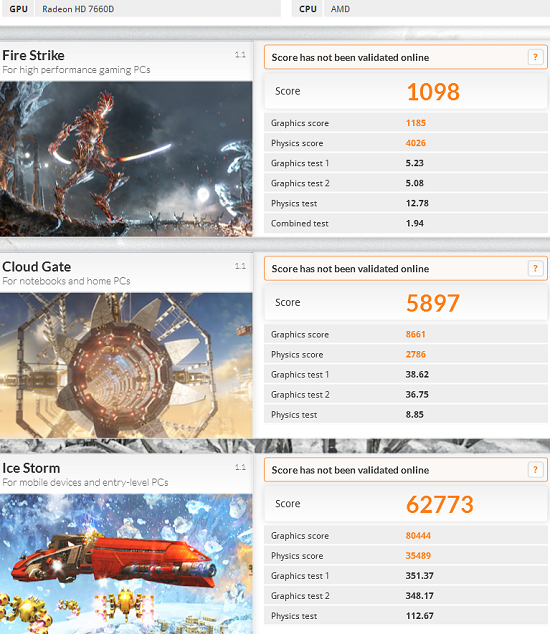 Benchmark Results: The Intel Core i7-4770K scored 915 points in Fire Strike, which is 36% faster than the Intel Core i7-3770K! Seeing a 36% performance improvement between these two desktop processors is impressive to say the least. The AMD A10-5800K APU hasn't been in the lead in any benchmark yet, but here we can see that it excels in graphics and had an overall score in Fire Strike of 1098, which is 20% faster than the new Intel Core i7-4770K processor. Oddly, the AMD A10-5800K APU scored poorly in Cloud Gate and both the Intel Core i7-3770K and Core i7-4770K were able to perform better in that one benchmark. If you look closer at the results for Cloud Gate you'll see that AMD won in the graphics tests, but lost in the Physics test, so Futuremark 3DMark must have more weight on the physics test than the GPU test in this test scenario.