Intel Acknowledges '8MB Bug' on Intel SSD 320 Series Drives – Backup Your Data Now!
Fri, Jul 15, 2011 - 12:02 PM
Some users of the Intel 320 Series Solid-State Drives have been reporting some serious issues with their drives and it looks like Intel has been able to re-produce the problem and acknowledged that one existed in a forum post made this week. What appears to be happening to customers is that the drive crashes and when it comes back it shows up as being only 8MB in capacity! People have been able to recover the drive, but from the looks if it the data is lost. If you own an Intel 320 Series SSD we highly suggest that you backup your entire drive right now and keep an eye out for a firmware fix from Intel in the days or weeks ahead. Intel just recently increased the warranty on these drives to five years. We wouldn't worry about the warranty or being able to replace the drive if something happens, the data is the part not covered by the warranty. Backup your data!!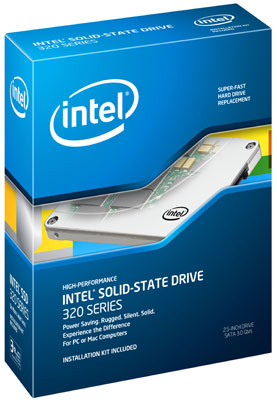 Intel is aware of the customer sightings on Intel SSD 320 Series. If you experience any issue with your Intel SSD, please contact your Intel representative or Intel customer support (via web: www.intel.com or phone: www.intel.com/p/en_US/support/contact/phone) . We will provide an update when we have more information.