Intel 525 Series mSATA SSD Performance Roundup
Mon, Feb 11, 2013 - 12:00 AM
Final Thoughts & Conclusions
Drive capacities as shown in Windows are shown in the table below along with the best live pricing we could find which will likely vary as time goes on. For nearly all users with a machine that holds only a single unit for storage, the 120GB and above are really the drives to be looking at where the 30Gb and 60GB drives would be better suited as cache drives or secondary storage.
Drive:
User Capacity:
Model Number:
Retail Price:
Cost Per Usable GB:
Intel 525 30 GB
27.9 GiB
SSDMCEAC030B3
$49.99
$1.76
Intel 525 60 GB
55.8 GiB
SSDMCEAC060B3
$112.90
$2.02
Intel 525 120 GB
111 GiB
SSDMCEAC0120B3
$162.99
$1.47
Intel 525 180 GB
167 GiB
SSDMCEAC0180B3
$229.99
$1.37
Intel 525 240 GB
223 GiB
SSDMCEAC0240B3
$299.99
$1.34
It's good to see some more options in the mSATA space which will only continue to grow, as right now there aren't a lot of offerings available. Intel has done a nice job of making a healthy range of capacities available to suit most everyone's needs and budgets. Covering them with a five year warranty is also a big plus since the industry standard tends to be the three year mark.
In the end, the 525 Series drives are really the mSATA version of the 520 Series drives with some additional firmware tweaks that are unique to Intel. For now at least. Being powered by the SF-2281 controller, they put up stellar numbers when faced with data the controller can compress to turbocharge performance. On the 60GB drives and up, performance is roughly the same in that respect with reads all topping out around the 555MB/s mark and writes in the 520MB/s to 530MB/s range.
Moving to incompressible data, the performance starts to vary more between each capacity, especially on the writes where they range from almost 50MB/s to a little over 300MB/s. Real world performance echo the synthetic benchmarks which is usually the case. We look forward to seeing more mSATA drives on the market and await the next generation controller from Intel as well as SandForce to pit them against the likes of Link_A_Media Devices and the Indilinx Barefoot 3 controllers.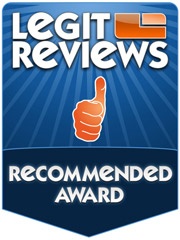 Legit Bottom Line: The dearth of big name drive makers in the mSATA SSD space, along with the performance and wide variety of capacities offered by the 525 Series of drives, makes it a slam dunk to look Intel's way for your mSATA needs.