Homeless Hotspot Issue at SXSW Makes Headlines
Tue, Mar 13, 2012 - 6:44 PM
When I heard that an advertising/marketing firm hired on homeless people in Austin Texas to serve as wireless Internet hotspots at this year's South By Southwest festival in Austin, Texas I was impressed. The idea was simple and it gives those out of work a chance to make some quick money that they would not have made otherwise. The company behind the idea, Bartle Bogle Hegarty, paid the homeless that wanted to work $20 up front and then a minimum of $50 a day for at about six hours of work per day. They then were able to earn commission based on the wireless access that they sold to event attendees on top of that. The idea sounds solid, but the thing causing the uproar is they fact that they made them wear t-shirts about the homeless project and others feel they have been turned into inanimate objects for the benefits of others.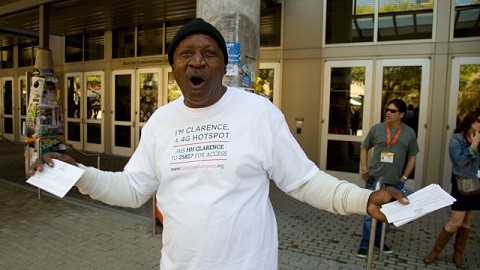 I don't think we have lost our humanity and at the end of the day these people are getting paid to work! They are selling 15 minutes of WiFi for $2. If they don't want to do it or feel like they are being taken advantage of they don't have to do it and they can quit. What are your thoughts? Are the homeless being used and abused or are they being given an opportunity to do an easy job and make some quick money? Remember the company hired just 12 men and one woman to carry around the mobile hotspots in their pockets and to walk around the streets. The homeless population in Austin is around 6,000-strong. Check out a video interview with one of the homeless workers named Clarence below.
The experiment was the idea of ad agency Bartle Bogle Hegarty, which wanted to explore a potential replacement for the newspapers traditionally sold by homeless people to make money. BBH New York executive Saneel Radia approached Austin Resource Center for the Homeless director of communication and development Mitchell Gibbs with the idea for the service, which he dubbed Homelesshotspots.org. "I will be very frank: My first reaction was, here is another group trying to make a buck off the homeless," says Gibbs. But he says as he explored it further, he changed his mind. "Our community really needs some awareness building," he says.