Griffin Rolls Out New Power Accessories at CES 2013 – PowerDock 5 Charges 5 iPads At Once!
Sun, Jan 06, 2013 - 11:50 AM
Griffin Technology is showcasing its new power lineup at the 2013 Consumer Electronics Show. The lineup includes a solution for storing and charging up to five iPads simultaneously, as well as two new smart chargers for the home and car. The most unique and interesting new device being unveiled at CES 2013 is the PowerDock 5. This charging station is said to be the ultimate space-saving, countertop charging and storage solution for up to 5 iPads.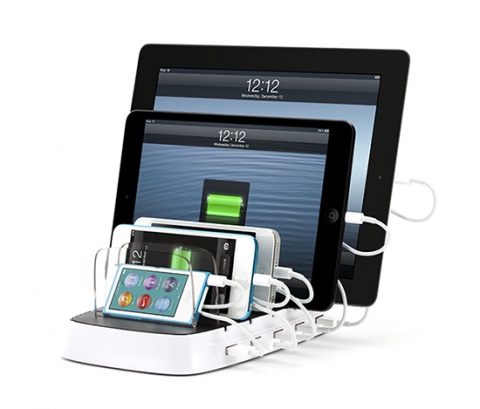 Designed for convenience and efficiency, PowerDock 5 contains five charging bays large enough to accommodate an iPad encased in even the largest of cases, including Griffin's own Survivor case. When not in use, PowerDock 5 keeps all the users' device cables tucked away and organized, ready for use at any time. PowerDock 5, $99.99, is ideal for multiple-iPad households and work environments and will be available Spring 2013.