Gigabyte GeForce GTX 770 WindForce 3X 2GB Video Card Review
Mon, Jun 17, 2013 - 12:00 AM
Final Thoughts and Conclusion
The Gigabyte GeForce GTX 770 WindForce 3X 2GB video card looks good and has the performance to back up the good looks. The WindForce 3X GPU cooler is about as big of a GPU cooler that we have ever seen on a dual-slot video card. It stretches 11-inches in length and is comprised of two aluminum finned heatsink arrays that use six copper heatpipes to help dissipate the heat from the NVIDIA Kepler GPU. Gigabyte rates this GPU Cooler as being able to handle up to 450 Watts and we have no reason to doubt that. It was able to keep our cards temperatures under control at both stock and overclocked speeds!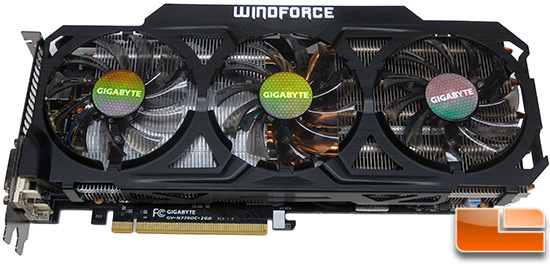 The card that we looked at today is the Gigabyte GTX 770 WindForce 3X 2GB and it is sold under part number GV-N770OC-2GD for $409.99 shipped. Not a bad price considering that is only about $10 more than what most GeForce GTX 770 reference cards sell for. If you game at 2560×1600 or higher when it comes to screen resolutions then you might want to step up to the 4GB version of the same card to help 'future proof' your high-end video card purchase. The 4GB variant of this card is sold under part number GV-N770OC-4GD that sells for $449.99 shipped. If you are gaming on a triple panel setup it is highly advisable to spend the extra $40 to get twice as much frame buffer as many game titles use more than 2GB at a screen resolutions of 5760×1080 and higher. All Gigabyte GeForce 700 series cards are backed by a 3-year limited warranty.
At the end of the day there are a ton of GeForce GTX 770 video cards available for sale. When we looked this morning we found one dozen different GeForce GTX 770 cards for sale ranging in price from $399.99 to $509.99 plus shipping. The Gigabyte GeForce GTX 770 WindForce 3X  just happens to be on the low end of that price range and that came as a shock to us. This card is the least expensive GeForce GTX 770 that you can buy right now. It easily performed better than the ASUS and MSI cards that we compared it against and those cards cost about $10 more. Gigabyte has a solid card here and it is hard to believe that a card like this is the entry-level GeForce GTX 770 card!
Legit Bottom Line: The Gigabyte GeForce GTX 770 WindForce 3X 2GB video card performs great, has solid overclocking numbers and is currently the lest expensive NVIDIA GeForce GTX 770 video card on the market today.