Gigabyte GeForce GTX 770 WindForce 3X 2GB Video Card Review
Mon, Jun 17, 2013 - 12:00 AM
Gigabyte GTX770 WindForce 3X Overclocking
We installed the EVGA Precision X 4.2.0 software utility to see how the Gigabyte GeForce GTX 770 WindForce 3X 2GB video card could be overclocked! You can use whatever software utility you like for overclocking and we used this one since we are familiar with it and it was already installed on our test machine.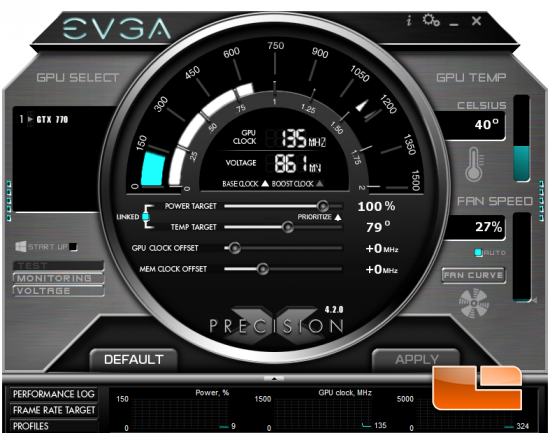 EVGA Precision X v4.2.0 includes a few new features that are new to some of the high-end NVIDIA graphics cards. Not only can you adjust the power target, GPU and Memory clock offsets within a certain range, but you can now also adjust the temperature and power targets.  By default the power and temp targets are linked together, but you can unlink them and adjust them independently.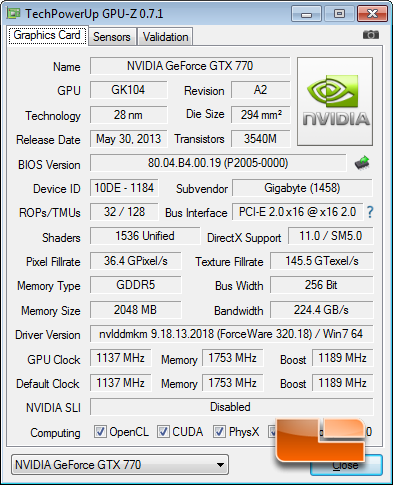 In case you forgot, the Gigabyte GeForce GTX 770 WindForce 3X has a base clock of 1137MHz,  a boost clock of 1189MHz and the memory runs at 7012MHz.  Let's see how much more we can get out of this factory overclocked card!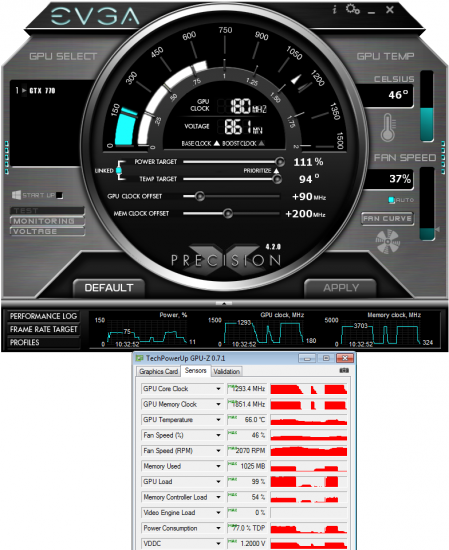 To see how much higher we could get we increased the power target to 111% and the temperature target to 94C. This is the highest possible setting for each. We then slowly increased the GPU clock offset and memory clock offset to see how far we could go before the card would become unstable.  We ended up with a GPU clock offset to +90MHz and the mem clock offset to +200MHz before we started to get encounter some issues like artifacts.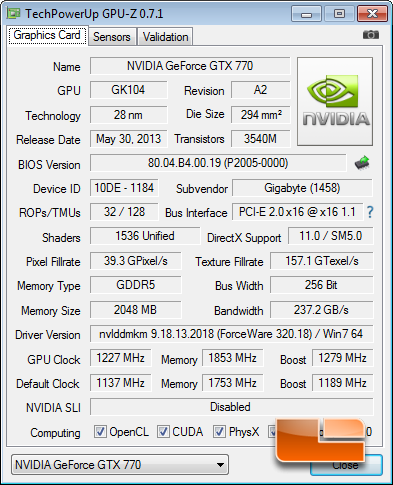 The highest fully stable and 24/7 game ready overclock was found to be 1227MHz base and 1279MHz boost on the core clock and 7412MHz on the 2GB of GDDR5 memory. In game titles we saw the card hitting 1293.4MHz thanks to GPU Boost on the core. This is not a bad overclock and we were very happy with the performance gains it gave us.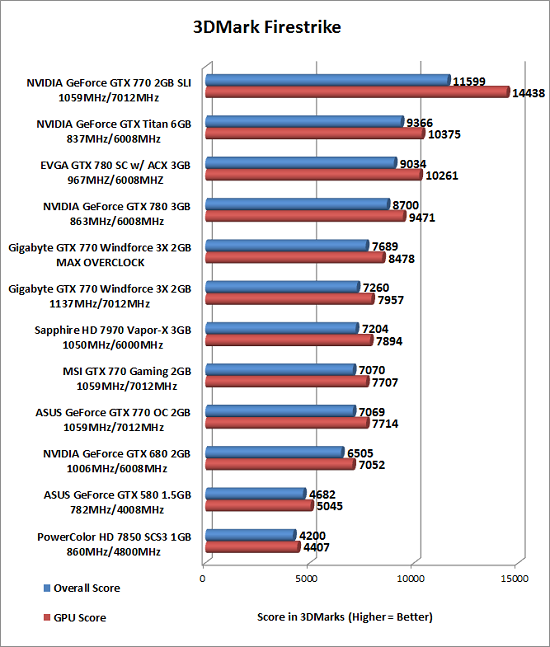 For example in 3DMark Fire Strike we saw performance go from 7260 to 7689 by overclocking the Gigabyte GeForce GTX 770 WindForce 3X 2GB video card.  This is a performance gain of 5.9%, which isn't bad considering how it was already overclocked higher than any other GeForce GTX 770 video card that we have tested.