Genius Gila GX Series Gaming Mouse Review
Fri, Mar 29, 2013 - 12:00 AM
Using the Gila & Conclusion
After hours and hours of gaming with the Gila, I am honestly impressed. I wasn't believing of those chiseled edges, the silly car lights, and the laundry list of mundane features on the box. I still don't care for every wordy marketing statement Genius has attached to the Gila, but I've shed whatever skepticism I had towards the usability of this mouse for gaming. Precision gestures were met with responsive and accurate tracking across every game I played and I'm not just saying that about the laser sensor. 8200 DPI is overkill, but the Gila fits naturally in the hand. I didn't feel fatigue or pain after gaming sessions and after incessantly clicking things for hours on the internet.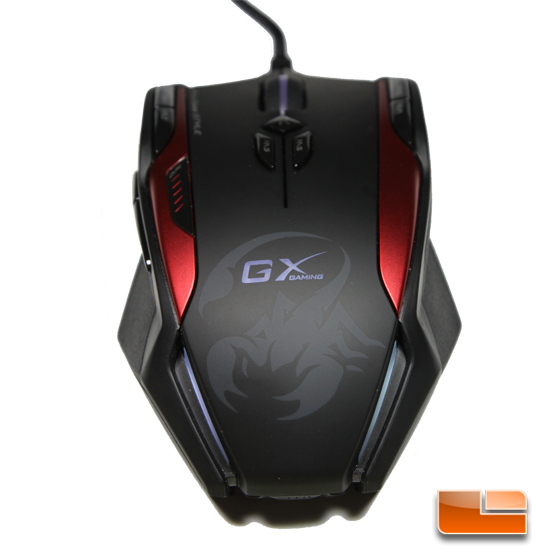 The Gila is a good candidate for a claw mouse – it's medium sized, its weight is adjustable, and the side buttons are placed for the claw grip. However, friction might make the mouse "stick" on surfaces when performing delicate motions. The Gila is also fantastic when griped in the palm, but trying to use the rearmost side button and the three buttons located next to the scroll wheel can be difficult. In any situation, the macro buttons placed adjacent to the right and left buttons are very accessible and proved useful for hotkey bindings. The overall ergonomics was surprisingly well-executed. The angles aren't intrusive and the dome of the mouse followed my hand's natural curvature. Even though Genius labeled the Gila as a mouse for massive-multiplayer (MMO) and real-time strategy (RTS) games, this mouse is flexible enough in its design to be used for shooters and office work.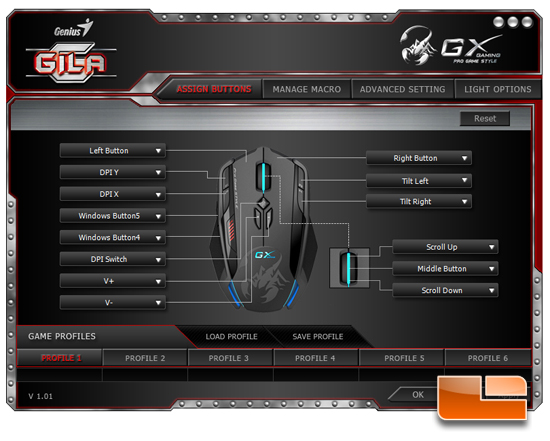 The Gila is pricy with the best price currently at Amazon for $77.94 shipped. That's especially apparent when compared to the Logitech G300 which shares a few core similarities in its ambidextrous shape and button placement. However, the Gila is feature loaded and that's ignoring the list of things Genius has tacked on the flapping front panel on the product box. A sturdy construction, braided cable, 1 year warranty, six onboard profiles, slick looks, adjustable weight, and extra buttons make this mouse worth its competition.
With no glaring problem to be found with Genius's Gila gaming mouse, it is deserving of our Editor's Choice Award.
Legit Bottom Line: Strikingly slick, feature-packed, and pricy, Genius's Gila can do more than RTS and MMO games. It's a comfortable gaming mouse that isn't held back by its design.