Genius Gila GX Series Gaming Mouse Review
Fri, Mar 29, 2013 - 12:00 AM
Genius Gila MMO/RTS Gaming Mouse
It was only a few months that I first learned of Genius and their products and so I took a look at their history upon getting a chance to review one of their mice. Founded in Taiwan of 1983, Genius has been manufacturing computer peripherals mostly as an OEM. Despite Genius's obscurity in North America, their manufacturing experience has made a splash in an increasingly crowded sea of gaming mice. This past January, the Gila was named an International CES Innovations 2013 Design and Engineering Awards Honoree.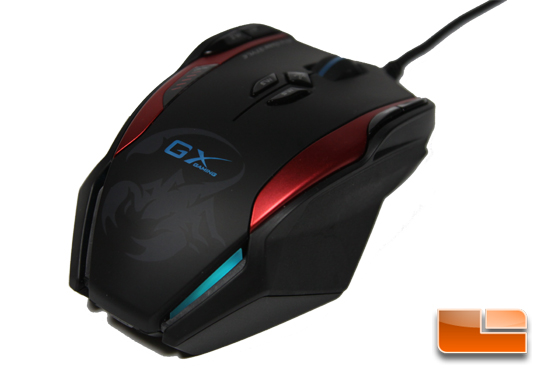 An award like that gave me hope that the Gila wouldn't make my hand feel like a meatball after hours of gaming and office work. Despite that, I don't entirely trust a company that names its products after venomous animals and Latin scientific names involving scorpions such as Imperator, not unlike a certain other well-known gaming peripheral brand. The Gila (pronounced HEE-la) certainly takes inspiration from the animal it was named after, most notably the red stripes. However, the actual Gila monster is quite sluggish. Venomous? Yes. Dangerous to humans? No. I'm sure Genius's Gila mouse is swifter than a lazy lizard of the American Southwest.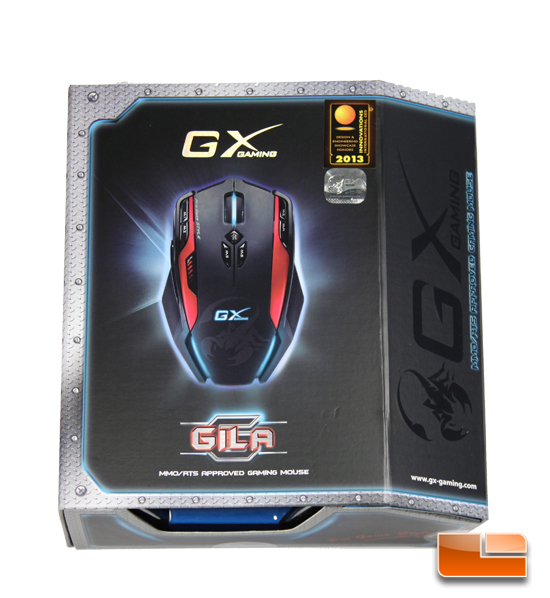 The Gila has been generously loaded with a number of gaming focused features to justify its high price at $77.94 shipped. Onboard memory that can store up to six profiles, adjustable weights, three multicolor LED lit areas, and an 8200 DPI laser sensor are the big features to be had.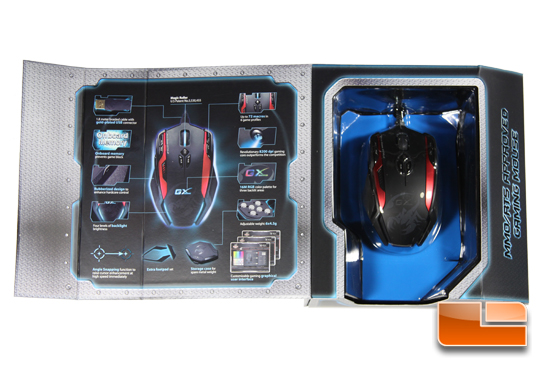 Looking behind the box's front we see the Gila behind a plastic shell as well as pictures and descriptions of notable features.
Genius Gila Features and Specifications:
12-button MMO/RTS gaming mouse
Over-clocking SGCii: 200 dpi to 8200 dpi
Scorpion gaming user interface
16 million RGB backlight system in 3 areas
Adjustable metal weights 4.5g x 6 with storage case included
32K onboard memory to prevent game block
1.8 meter braided cable with gold-plated USB connector
Rubber finish grip for complete control and handling
Dimension (W*H*D mm) : 114 x 72 x 44, (4.5 x 2.8 x 1.7 in)
Body weight (g) : 197, (7 oz)
1-year Warranty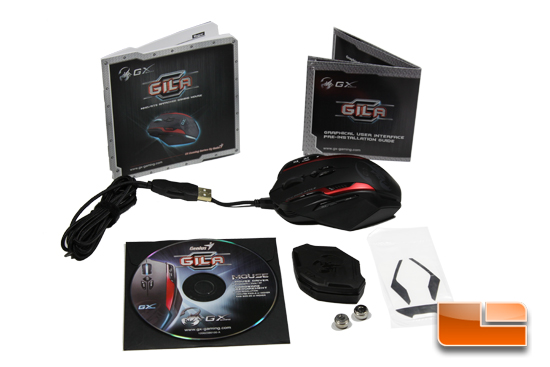 Inside the box is the Gila mouse, two installation manuals with over 20 pages for over 20 languages, a container with mouse weights, replacement feet for the mouse, and a driver CD.