Galaxy GeForce GTX 780 GC Video Card Review
Thu, Jul 18, 2013 - 12:00 AM
Final Thoughts and Conclusion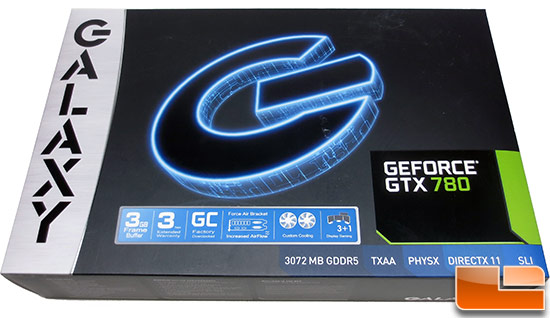 At the end of the day, the Galaxy GeForce GTX 780 GC is a welcomed addition to the Galaxy lineup and a worthy successor to the old Galaxy GeForce GTX 780 that was based entirely on the NVIDIA reference design. Our testing showed that the Galaxy GeForce GTX 780 GC had better gaming performance, ran quieter and had better thermal performance than the reference design, so this card looks good.
When you compare the Galaxy GeForce GTX 780 GC to other custom GeForce GTX 780 video cards on the market today things start to get a little dicey. For starters the Galaxy GeForce GTX 780 GC arrived to the market on July 17th, 2013 and that is more than a month after other brands released their custom cards. When something is late to the game you'd expect to see some killer features, totally custom design or insane clock speeds, but that is not what Galaxy did.
The Galaxy GeForce GTX 780 GC features a reference designed PCB with some different brand components on it along with a custom cooler and vBIOS. The clock speeds of the Galaxy GeForce GTX 780 GC are higher on the GPU that then reference card, but they are the same as the EVGA GeForce GTX 780 Superclocked! Why not beat it by say 5MHz or 10MHz just to make your card different? Why share the same clock speeds of one of your rivals when you could possibly beat it? Come to think of it, this card is Galaxy Clocked… That sounds familiar doesn't it?
When it comes to the custom cooler on the Galaxy GeForce GTX 780 GC we have to admit that it looks awesome. The color combination of the silver and copper cooling fins with the silver and blue fan shroud really make this video card pop and stand out from the crowd. If you are looking for something a little different, this certainly could be what you are looking for. The performance of the GPU cooler is better than the reference design, but not as good as some of the other implementations out there when it comes to idle/load temperatures or noise levels.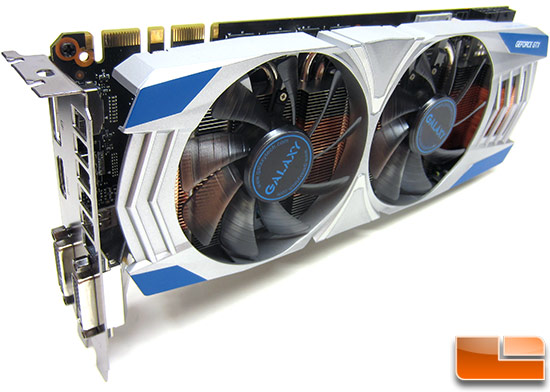 The Galaxy GeForce GTX 780 GC retails for $659.99 shipped and is backed by a 3-year limited warranty, so it is only about $10 more than reference design GeForce GTX 780. It is also around $10 less than the EVGA GeForce GTX 780 Superclocked w/ ACX cooling. Both cards use the NVIDIA reference PCB and have identical clock speeds. The only major difference is the GPU cooler and the appearance said cooler!
In conclusion, the Galaxy GeForce GTX 780 GC was found to be a great performing card with a solid GPU cooler and was easy to overclock. Sadly, there isn't anything revolutionary about it that makes us say that this is the card you have to buy. There is no one killer feature or something that this card has over any of the other cards on the market. It is getting extremely hard to differentiate yourself from other brands when it comes to PC hardware and this is a prime example of that issue.
Legit Bottom Line: The Galaxy GeForce GTX 780 GC is a great performing video card and is competitive with other GeForce GTX 780 cards in its price range!