Galaxy GeForce GTX 780 GC Video Card Review
Thu, Jul 18, 2013 - 12:00 AM
Galaxy Launches The Custom GeForce GTX 780 GC
Galaxy recently announced the GeForce GTX 780 GC video card, which is the first custom card by Galaxy for the GeForce GTX 780 series. The Galaxy GeForce GTX 780 video card that is based off the reference design (part nmumber 78NNH5DN00G0) has been discontinued, and the Galaxy GeForce GTX 780 GC (part number 78XNH5DN8MSU) will be taking over. In case you are wondering the term GC comes from "Galaxy Clocked", and is essentially Galaxy's way of saying it's more than just a plain old factory OC card. In addition to the factory overclock, all GC edition cards have a Galaxy in-house designed PCB with premium components and improved cooling.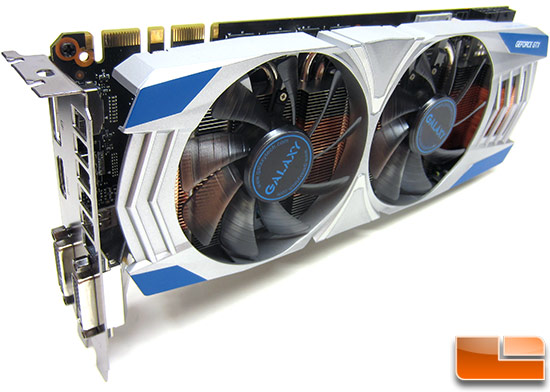 The Galaxy GeForce GTX 780 GC 3GB video card is certainly different looking from any other NVIDIA GeForce GTX 780 video card that we have seen. Galaxy's all new premium, high efficiency dual fan cooler looks sharp with a silver and blue accented fan shroud and clear fan blades that have a smoked finish. The twin fan cooling system uses EBR Fluid bearings for longer fan life and quieter operation. Under the fans you can see that Galaxy went with a hybrid metal GPU heatsink, so you can see both Copper and Aluminum cooling fins. Not only does this look good, but Galaxy claims that it maximizes the heat transfer from the card's overclocked GPU. The card itself features a custom PCB, but from what we can tell it is a reference NVIDIA PCB with higher grade components used on it.
When it comes to clock speeds, this cards NVIDIA Kepler GPU with 2304 CUDA Cores is factory overclocked to 967MHz Base Clock (standard: 863Mhz), and 1019MHz Boost Clock (standard: 900MHz). (It should be noted that the boost speed on our card is set to 1020MHz) The 3GB of Samsung GDDR5 memory is left stock at 1502MHz or 6008MHz effective. Due to the overclocked nature of this card, it means that you'll have enhanced gaming performance right out of the box. Enthusiasts that want to take full advantage of the card's superior cooling and improved overclock potential can use the included Xtreme Tuner Plus overclocking and monitoring software to further overclock the card.
This card retails for $659.99 shipped and features higher clock speeds and a greatly improved cooling solution. Not bad, considering it retails for only $10 more than the $649.99 shipped base model!
Galaxy GeForce GTX 780 GC Key Features:
Custom dual fan cooler with special "zebra" fan blade design increases air flow by 10% while reducing noise intensity up to 37%
EBR Fluid bearings guarantee longer fan life and silent operation
Force Air bracket maximizes airflow so less heat recirculates inside the PC chassis
Quad nickel-plated heat pipes greatly improve cooling efficiency
Hybrid Copper/Aluminum cooling fins for maximum heat transfer
Aggressive Factory Overclock delivers visible gains in gaming performance right out of the box
Galaxy custom PCB design features:
DrMOS multi-chip power stage modules for high current circuitry, low noise levels and low heat emission
High quality shielded inductors maintain cleaner signal and eliminate coil whine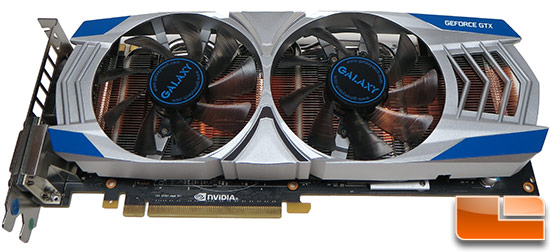 The Galaxy GeForce GTX 780 GC is a dual-slot graphics card that measures 10.5-inches in length. As you can see from the image above the card uses what appears to be a black colored NVIDIA reference designed PCB. The PCB part number on our Galaxy GeForce GTX 780 GC is 180-12083-****-B01 and the reference card is 180-12083-1102-B01. Besides some different components being used the PCB layout looks identical on the front and back.
For those that are curious about the fan size and manufacture we took them off and found out they were Everflow model T129215SU frameless 4-wire fans that are 85x85x15mm in dimension.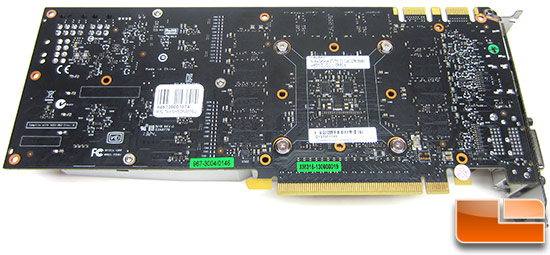 The back of the Galaxy GeForce GTX 780 GC is pretty plane as they only noteworthy item located there is the serial number of the card. None of the GDDR5 memory is located on the back and there is obviously no backplate and there is not a PCB stiffener being used on this card. The GDDR5 memory ICs on the front of the card are Samsung branded chips with the part number K4G20325FD-FC03 (detailed GDDR5 information).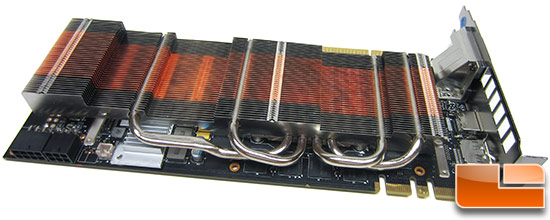 With the fan shroud and fans removed you can take a better look at the hybrid metal GPU cooler used on the Galaxy GeForce GTX 780 GC and for the first time see the four 6mm nickle plated copper heatpipes that are being used.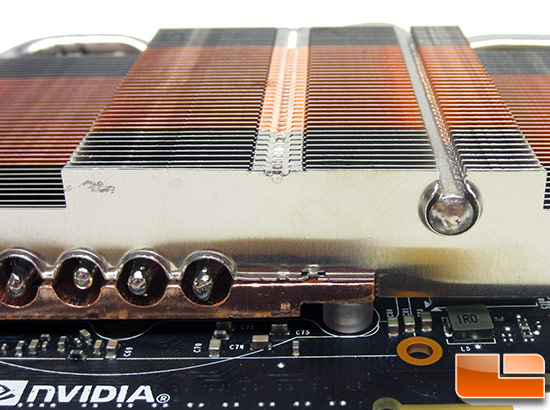 At first glance we didn't think the 6mm heatpipes attached to the cooling fins with solder because the last few rows were not, but it turned out that the inner rows are. It would have been nice to see more solder to improve heat transfer, but this sure beats just pressed on cooling fins.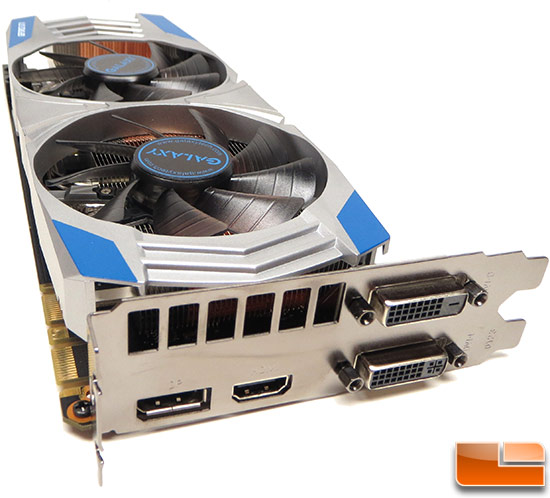 Display outputs include two dual-link DVIs, one HDMI and one DisplayPort 1.2 connector. This video card easily supports 4K resolution monitors and supports up to four monitors concurrently. This is great for those wanting to run NVIDIA Surround or NVIDIA 3D Vision Surround technology. Notice that Galaxy uses what they call the 'Force Air Bracket' that has larger ventilation holes for the exhaust ports. You can also see the pair of SLI connectors for 3-way SLI support along the top edge of the card in this image.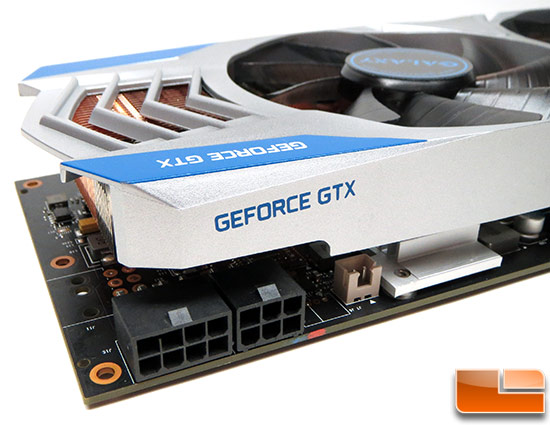 Since the Printed Circuit Board (PCB) appears to be the same as the NVIDIA reference design it shouldn't come as a surprise to anyone that this card uses the standard single 8-pin and 6-pin PCIe power connectors to supply power to the 250W TDP card.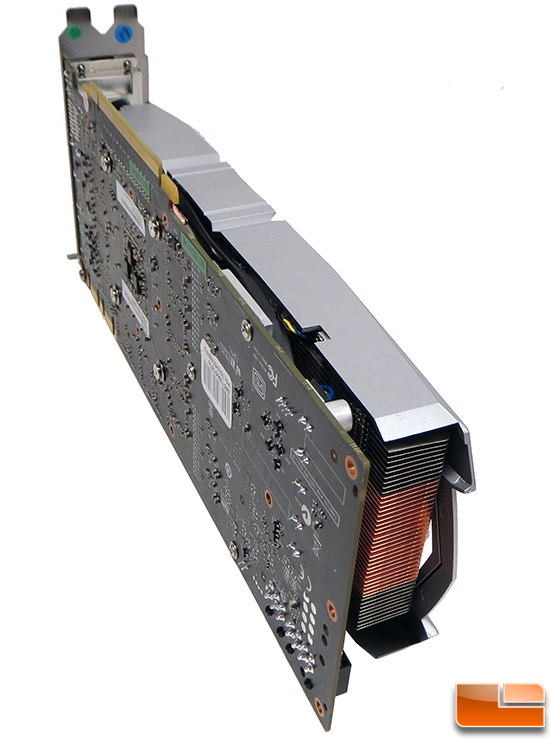 Here is a shot of the end of the card to better show the mix of the copper and aluminum cooling fins and that the end of the card is open. Hot air is exhausted in pretty much every direction with a design like this.