Finally a Power Outlet With Built in USB Ports – TruePower UCS
Sun, Dec 06, 2009 - 10:11 AM
It looks like an in-wall USB charger may be coming for under $10 if it passes some final tests. The TruePower UCS Power Outlet With Built in USB Ports
Model: APP-7169 will be available as soon as it gets final UL approval! The manufacturer says it will be perfect for charging any USB powered device including- mobile, iPod, iPhone, PDA, MP3, PSP, MP4 player & digital cameras. It is scheduled to begin shipping in early 2010.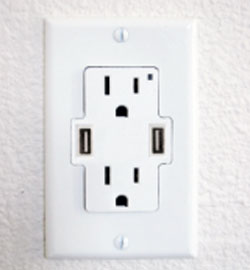 This item can be installed on any existing wall outlet. We will have an installation video available shortly so that you can see exactly what is involved and if this is something you feel comfortable doing on your own or if you will need assistance. Please also note that the USB ports only draw power when something is physically connected to the port. We didn't want a vampire port that continually sucks and wastes power when not in use so this was one of the features on the top of our priority list during the design phase.