EnGenius Technologies Launches Outdoor Wireless Bridge / AP
Thu, Dec 06, 2012 - 7:21 AM
EnGenius Technologies announced the launch of the ENS200 Outdoor Long-Range Wireless N150 Bridge/AP, a high-performance, cost-effective 802.11n 2.4GHz wireless outdoor bridge and access point that delivers speeds up to 150Mbps. The ENS200 can be configured to work in a variety of operation modes including access point, Wireless Distribution System (WDS) access point, WDS station, and WDS bridge, making it a versatile solution for creating a high-speed, stable and secure outdoor wireless link between buildings or offering wireless access to a hosted Internet connection in environments such as retirement homes, RV parks, campgrounds, and marinas. The ENS200 is backed by a one-year warranty and is available in North America via authorized distributors and value-added resellers at an MSRP of $69.99.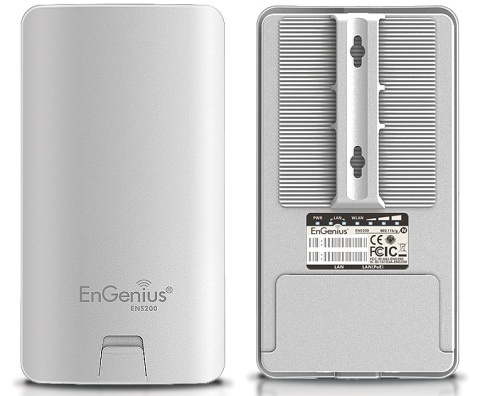 Key features of the ENS200:
High 400mW Transmit Power and fast data speeds: Delivers superior wireless coverage, provides data speeds up to 150Mbps and is ideal for point-to-point wireless links;
Ruggedized for outdoor use: IP65 waterproof and UV inhibited housing for harsh weather conditions;
Dual-polarity antenna: Wireless connectivity is maximized through the use of an 8 dBi built-in directional antenna featuring a dual-polarity design which allows adjustment to the environment;
Security features: WPA/WPA2 Personal and Enterprise encryption, 802.1x RADIUS authentication, hidden SSID, and MAC address filtering.