ECS Announces Modmen PC Modding Competition w/ $33,333 Prize For Winner!
Thu, Oct 11, 2012 - 1:39 PM
People are saying that the PC market is in decline, but even if it is Elitegroup Computer Systems (ECS) is trying to right the ship and get it headed in the right direction! The Taiwanese company today announced that it is teaming up with Thermaltake, G.Skill and various media partners around the world to launch its first ever worldwide Modmen PC modding competition. Yes, this is a good old fashioned PC modding competition! Starting today, ECS is searching for the Modmen of the year. The Grand Prize winner will become a Taiwan millionaire when he or she collects the NT$1,000,000 cash prize! This converts over to around $33,333 in USD. Ten other modders will receive can and/or hardware for participating, so a total of 11 people will walk away as winners! To register for the contest head to The ECS MODMEN Webpage. All submissions must be sent before February 28, 2013. To be eligible for this contest all contestants need to have an ECS motherboard purchased after 9/20/2012 or have an ECS Golden Board. We hope more companies do promotions like this to help the DIY PC market!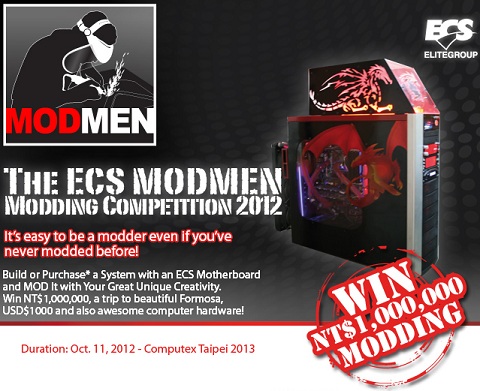 There are two stages of competition. The first stage takes place online. The top 10 case modders will be determined by a combination of online votes and ECS' own modding judges. The modder with the most votes will win US $1,000. The top 5 PC modders that qualify for the second stage of the competition, besides winning cash and prizes, will be flown to Taiwan and given accommodation to compete at Computex for a chance to win the Grand Prize – approx. US$33,333. During the competition the top five contestants will showcase their mods at ECS' booth and a panel of accredited judges and the audience will determine the grand prize winner.