ECS A970M-A DELUXE Motherboard Announced w/ Dust Defending Technology
Wed, Oct 31, 2012 - 2:02 PM
Elitegroup Computer Systems (ECS) has announced the newest member of its high-performance Black Series of PC motherboards, the A970M-A Deluxe.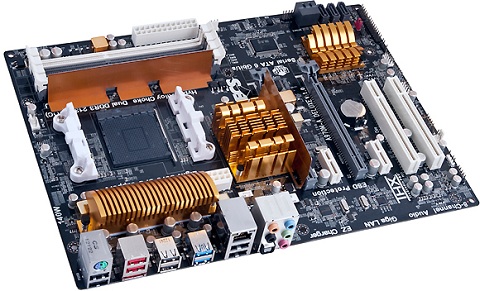 The ECS A970M-A Deluxe supports AMD AM3 and AM3+ processors and features new dust defending technology. ECS calls this feature Anti Dust Technology (ADS) and it basically is a set of shields that directs air and dust away from DRAM slots and PCIe slots. You can see the shields in the image above and you can watch a rather amusing demo in the video below with great sound effects!
For the ultimate in stability and reliability, the A970M-A DELUXE introduces new features like ECS Anti-Dust Shield Technology (ADS). The ultimate in dust defending technology, ADS prevents dust build up on the motherboard, a common, but little-understood cause of instability, intermittent faults, and poor performance. Long-term dust build up can cripple even the most powerful PCs by causing tough-to-diagnose issues like overheating, short-circuits, and unreliable memory or graphics card connection.