Early Sony PlayStation 4 Controllers At GDC 2013
Thu, Mar 28, 2013 - 1:09 PM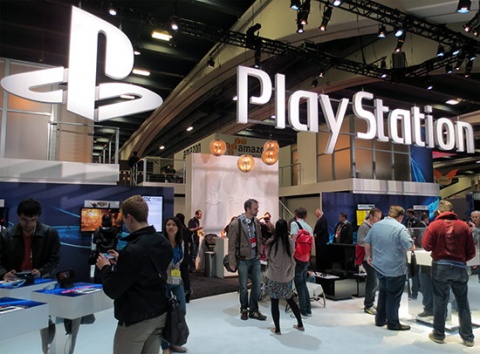 While checking out the main expo hall at the Game Developer Conference we stopped by the Sony booth to talk to some of the representatives that we know and to take a look at some Sony PS4 prototype controllers. Everyone has been talking about the PS4's 8GB of GDDR5 RAM lately and how it destroys the DDR3 memory used on a typical gaming PCs, so it will be good to talk to you about something different.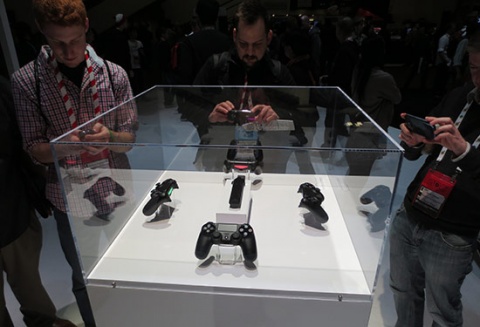 The two items on display are the Sony DualShock 4 controller and the There are a number of pretty big changes to the PS4 standard game pad, so lets see what features were added and what has been stripped away.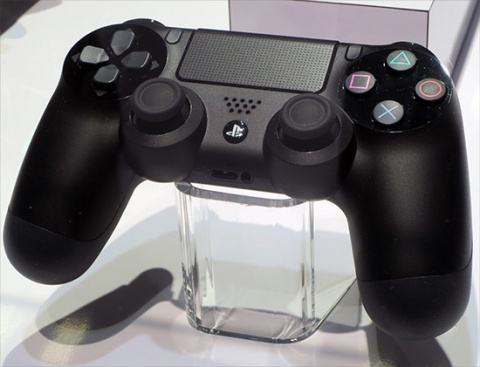 The image above is of an early revision of the DualShock 4 controller that will be standard on the PlayStation 4. The Start and Select buttons on the DualShock 4 have been replaced with a single "Options" button, and a new button called "Share" has been added. According to Sony, the PlayStation 4 controller buttons are going back to digital over analog because no one used them on PlayStation 3. Sony might have removed some things, but they have also been adding new. The most anticipated feature is without a doubt the touchpad zone, but you also have configurable force feedback motors, customizable light bar colors, redesigned L2/R2 button and the controller can recharge when the system is off.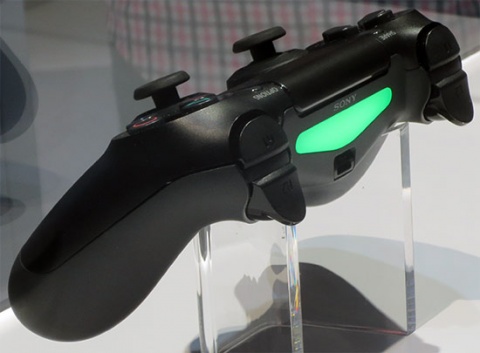 The L2 and R2 buttons on the DualShock 4 have been given a curved bottom. Sony says they got many complaints from users accidental fast-forwarding while watching Netflix and this was one of the reasons for the change. The light bar on the back of the controller can act as indicators for different players or to a color that you like. The colors you get to pick from are blue, red, green, andpink, which just happen to be the PlayStation symbol colors. We were told that you can also use them as a health bar, so it can be used for others this.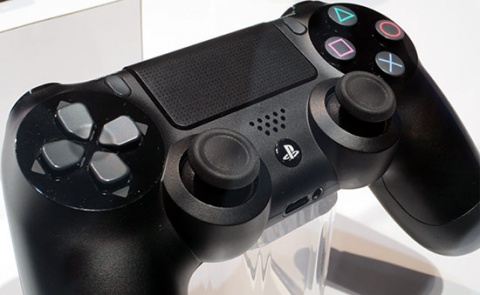 The touchpad on the controller will have a resolution of 1920×900, and will feature a tactile click when pushed down.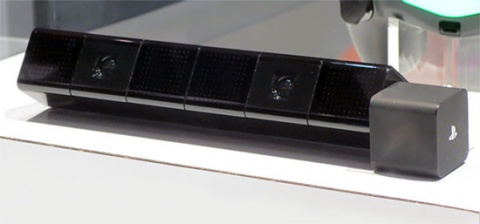 Next up we have the PlayStation 4 Eye camera. The new motion capturing camera is composed of two imaging units each capable of 1280×800 resolution and 60Hz at 12 bits per pixel. The camera has an 85 degree field of view. It will have a dedicated port on the PS4, which is great as you don't have to give up one of the units USB ports in order to use it. The Playstation 4 Eye motion camera is also equipped with a three-axis accelerometer.