EA and Hip-Hop Artists Team Up for Army of TWO The Devil's Cartel
Sat, Dec 08, 2012 - 9:07 PM
EA has announced on Dec 12th that hip-hop stars Big Boi and B.o.B are joining EA to work on the upcoming co-op first person shooter, Army of TWO The Devil's Cartel. The two artists will be working on the game's official theme song "Double or Nothing" which is set to release beginning 2013, as well as being the voice actors for the roles of T.W.O operatives Charles "Chuy" Rendall (Big Boi) and Anthony "Baker Barnes(B.oB).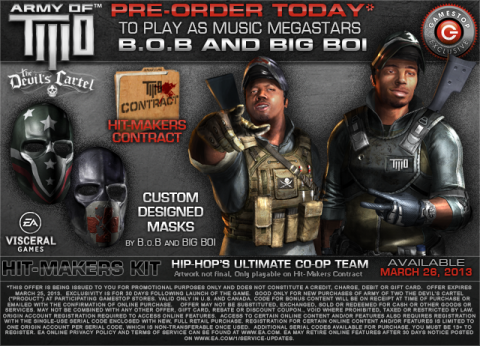 EA has also announced that pre-orders of Army of TWO The Devil's Cartel from participating locations will also come with the Hit-Makers Kit which comes with exclusive in game content like special missions, unlocks, and characters.
One of our primary goals with Army of TWO The Devil's Cartel is to bring the feeling of watching an action blockbuster movie to the game and adding that great theme song really helps set the right vibe, almost like you're in the theater," said Julian Beak, Executive Producer at Visceral Studios Montreal. "And aside from a great song, Big Boi and B.o.B also delivered outstanding performances that are really going to add to the story.