E FUN APEN Touch8 Gives All Windows 8 Users Touch Input
Thu, Jan 03, 2013 - 1:20 PM
With Windows 8 making its way into consumer's hands, comes the need to find a solution to allow touch input for those who have upgraded from Windows 7. When buying your Windows 8 computer, you should have gotten a touch capable screen with it. After all, that's what Windows 8 is all about; its touch screen capabilities. A company called E FUN, has came up with a solution to give most screens that do not have touchscreen capabilities, exactly what they're missing – touchscreen capabilities, via a stylus. E FUN introduces the APEN Touch8, which will be up for demo at CES 2013.
The APEN Touch8 uses ultrasonic and infrared technologies, which operates as a multi-touch-screen digitizer, providing touch-panel functionality where there was not once before. The Touch8 system comes with a cordless digital stylus, a detachable receiver, and connects via a USB connection. The max coverage area is listed at 15.6″, so this one will mainly be for notebook users.
The APEN Touch8 will be available Q1 2013 for a retail price of $79.99.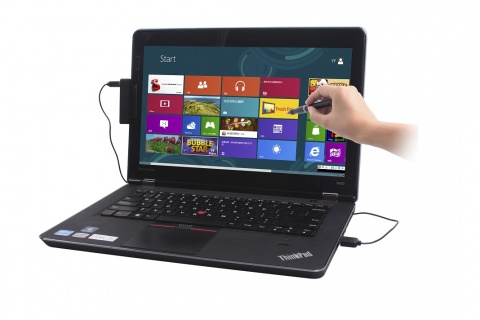 "There are about 600-million Windows 7 PCs and laptops in use today that can be upgraded to Windows 8," stated Jason Liszewski, managing director and VP of sales for E FUN. "The problem is that all of the platforms on which they run do not offer touch-screen technology. Our APEN Touch8 system allows these units to be easily and economically upgraded to include a touch function to take advantage of all that Windows 8 has to offer."