Dell XPS 14 Ultrabook Review – 2012 Version
Wed, Jan 23, 2013 - 12:00 AM
Dell XPS 14 Ultrabook Exterior Impressions
As we can see, there isn't much to do about the cover of the Dell XPS14. It has a brushed aluminum surface, and the Dell logo in the center.
Flipping the Dell XPS14 over, we can see the cool to the touch Silicone base and the XPS label. Beneath the label we can find the Windows 8 COA, Asset Tag, Serial numbers, and other system specific information.
The track pad on the Dell XPS14 is pretty massive, at least in my experience. The Synaptics ClickPad Series 1.5 measures 3.9375″ (3 15/16″) across and 2.8125″ (2 13/16″) deep. Most of the time I didn't have an issue, and it was nice having such a large pad, but occasionally I ran into a problem. I would find the palm of my right hand brushing the edge of the track pad and moving my cursor while typing. Eventually I started disabling the track pad in favor of my mouse while typing this article. The Keyboard was pretty typical, there really weren't any pros and cons that I discovered while using it. The XPS14 keyboard uses a nice and springy scissor-switch which was a pleasure to type on.
The Dell XPS14 features a 14″ panel with a resolution of 1600×900, this isn't bad to work on. Certainly better than the Cyberpower Zeus M2 we looked at recently that has a resolution of 1366×768 at the same screen size. The XPS14 panel has a Corning Gorilla Glass. Viewing angles on the Dell XPS14 were a little finicky, with just a slight shift in angles the colors would change. When you had the right angle it looked great, but it didn't take much to lose the angle.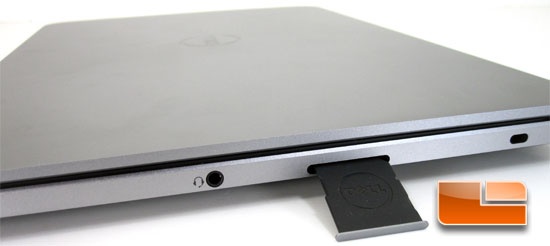 the right side of the Dell XPS14 features a 3.5mm Audio Jack, card reader, and the spot for a cable lock.

The other edge of the Dell XPS14 is a little more interesting. Starting on the left side, we have the power plug, Gigabit Ethernet, HDMI, DisplayPort, and a pair of SuperSpeed USB 3.0 ports.
Now that we've had a look at the outside of the Dell XPS14, lets break out the crowbar and sledge hammer and have a look on the inside of the XPS14 from Dell!