Cyberpower Zeus M2 Intel Ultrabook Review
Wed, Jan 02, 2013 - 12:00 AM
Cyberpower Zeus M2 Ultrabook
Intel Ultrabooks are the wave of the future. Though some may argue that tablets like the Apple iPad or Google Nexus tablet will be the way to go, but that's an argument for a different day. For now though, Ultrabooks and laptops are considerably more powerful for those of us that need it. If you need to run programs that are processor intensive for video editing, photo editing, or anything else you can think of, there is no certainly no substitute for Intel's latest 'Ivy Bridge' processors. When you couple the latest Intel processor architecture, ultra slim design, a super fast SSD, and great battery life you end up with an Ultrabook. Today we have the CyberPower PC Zeus M2 Ultrabook in the Legit Reviews labs. The Zeus M2 Ultrabook features the Intel Core i5-3317U quad-core processor at its heart. The speedy i5 isn't the only key feature of the Cyberpower Zeus M2 by any stretch of the imagination.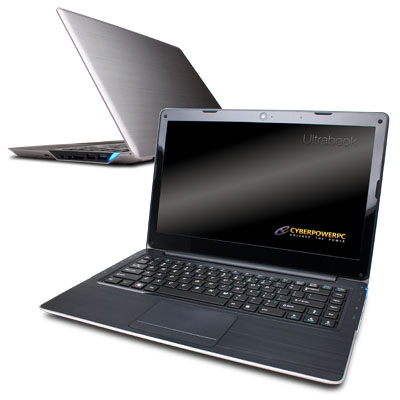 To start, the Zeus M2 offers a 14.1″ high gloss screen that has a maximum resolution of 1366×768. This is powered by the Intel 'Ivy Bridge' i5-3317U processor's HD 4000 graphics. While the Intel HD 4000 graphics may not be the meanest graphics around, they are fully capable of some great DirectX 11 graphics and will offer reasonable performance for some light gaming. Speed is certainly one of most common things that people will look for in an Ultrabook, by the specifications the Cyberpower Zeus M2 will have plenty. In addition to the Intel Core i5-3317U quad core processor, there is 16GB of DDR3 RAM installed into the machine! Not just any RAM, Corsair Vengeance 1600MHz RAM, some of the best stuff out there today.
Before we delve to much into the Cyberpower Zeus M2 Ultrabook, let's take a look at some of the requirements that will qualify an notebook/laptop as an ultrabook, and then look at how the Cyberpower Zeus M2 satisfies those stringent requirements.
Quick Startup – Going from hibernate to keyboard interaction in 7 seconds or less. Resume from sleep should be even faster than that.
Long Battery Life – The minimum for a single charge of the battery must be at least 5 hours.
Thinness – Ultrabooks need to be less than 21mm (0.82-inch) thick.
Enhanced Security – The laptop firmware must support Intel's Anti-Theft and Identity Protection technology.
Performance – Must be powered by Intel processors.
The first of the requirements for an ultrabook is low boot time, it needs to go from hibernate to keyboard interation in 7 seconds or less. To get this done there are a couple of ways, Intel Smart Response Technology (S.R.T.) or SSD Caching is a common one, another even faster way is using strictly an SSD. Cyberpower didn't cut any corners here and went the fastest way using strictly an SSD! Installed inside the Zeus M2 Cyberpower has planted an Intel 520 Series 120GB SSD. The Intel 520 Cherryville SSD's are rated for up to 550MB/s read and 520MB/s write. This will certainly give us some incredible boot times and ultra-fast response times when working on the Cyberpower Zeus M2 and should easily meet this first requirement.
The second requirement is battery life, to satisfy this requirement Cyberpower is using an 8 cell battery rated at 3320mAh, 49WH. Only Time will tell if it will meet the five hour requirement. The thickness is the third requirement, an Ultrabook with a screen size of 14 inches or more needs to be under 21mm, if the screen size is under 14 inches it can only be 18mm thick. The Zeus M2 has a screen of 14.1 inches they could have gone with the larger thickness, but Cyberpower was able to keep it under 18mm, albeit only by .1mm (.004″).
With all the data floating around on your computer and cloud, security is a huge concern these days. More so for those on the move where anything can happen. If you leave your Ultrabook in the cab, coffee shop, or someone grabs it out from under you, you want to keep you private data safe, and private! The fourth requirement is Enhanced Security. The firmware of the Ultrabook must support anti-theft and identity protection technologies from Intel. The final requirement to be an Intel Ultrabook is the performance, it need to have an Intel processor at its' heart. Since the Cyberpower Zeus M2 is using an Intel Core i5-3317U that requirement is easily met!
Cyberpower is a boutique PC builder, and as such their desktop computers are fully customizable when you order them. Hoping that the Zeus M2 is customizable as well I popped my head in over at www.Cyberpowerpc.com and went to the Zeus M2 Ultrabook page to see just how much we can customize it. It may not be as customizable as their desktops, but there are some changes that can be made. The primary changes that you can make when ordering the Cyberpower Zeus M2 are the Memory and storage. The Zeus M2 default configuration comes with 16GB of DDR3 1333MHz Corsair or major brand memory, if you don't feel you need that much memory you can save some money by dropping it down to 8GB or even 4GB. Though right now Cyberpower has their New Year Mega Sale which gives you a free upgrade to Corsair Vengeance 1600MHz memory. Nothing better than a free performance upgrade. The other change we can make is our primary SSD. As a default option the Intel 520 'Cherryville' 120GB SSD is a great choice, but if you need more storage you can bump it up to either a 180GB or 240GB Intel 520 series SSD. We also have the option of a 160GB, 300GB, or 600GB Intel 320 series SSD.
CPU

Intel Core i5-3317U Ivy Bridge Dual Core Processor – Integrated on MB 17W

Core Logic

Mobile Intel HM77 Chipset

Display

14.1″ 1366×768 LED Backlit Display

Memory

• 2 x SODIMM socket for expansion up to 8GB




• DDR3 1333/1600 DRAM support

Video Graphic

Intel HD 4000 UMA

Storage

• 2.5″ 7mm




• SATA up to 750GB; support 5400/7200 RPM




• m-SATA Minicard SSD (Intel Rapid Start Technology and Intel smart Response Technology with HM77 Chipset)

Audio

• Azalia with 24bit 2-channel audio support




• Built-in two stereo speaker with chamber




• Integrated one analog microphone

Keyboard

Frame keyboard

Touchpad

• Multi-gesture Touchpad




• Two separate Touchpad buttons

Interface

• 3 x USB




• 2 x Audio jack: Headphone-out (SPDIF), Mic-in




• 1 x RJ45




• 1 x DC in




• 1 x HDMI

Buttons

Power button with LED

LED Indicator

Battery / Storage / Wireless / Caps Lock / Number Lock

Communication

• 10 / 100 / 1000 LAN on board




• 802.11 b/g/n




• Bluetooth 3.0

Camera

1.3/HD pixel CMOS, fix type

Battery

Polymere Li-Ion 8 cell Battery

AC Adapter

Output: 65W

Security

• Intel Anti Theft Technology Support




• BIOS setup, Power-on, HDD User Password Protection, BIOS I/O lock




• Kensington Lock supported

Operating System

Windows 7 32/64 bits

Dimension
(W x D x H)

13.15″ x 9.25″ x ~0.704″ (344mm x 235mm x 17.9mm)

Weight

Target Weight: < 3.97 lbs (< 1.8kg)