Cougar Spike Micro-ATX PC Case Review
Mon, Feb 18, 2013 - 12:00 AM
Spike Internal Case Thoughts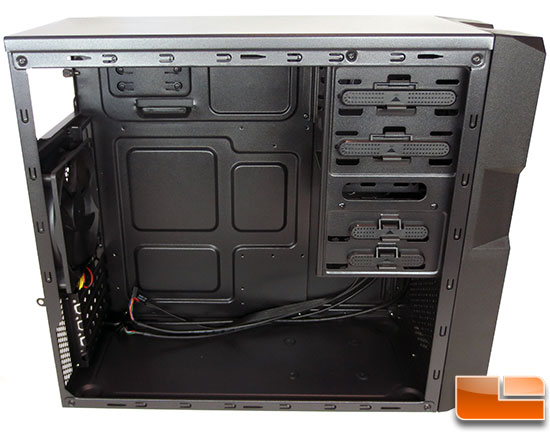 You'd think that the insides of the Cougar Spike would be small since it's a micro-ATX chassis, but there is quite a bit of room inside this chassis! Cougar says that you can install video cards up to 330mm long (13-inches) in this case with ease and we were able to confirm that was possible. The black finish inside the Cougar Spike was very nice and there were no unpainted spots that could be seen.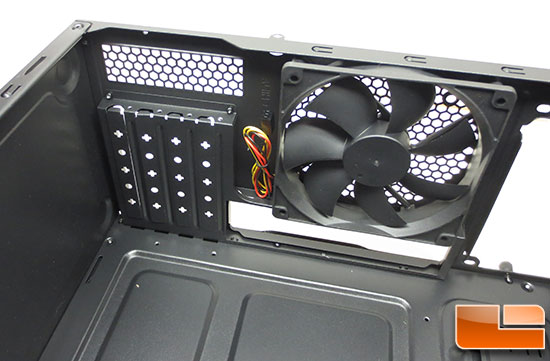 The PCI slots have blanks in them that can be broken off and accessed. It should be noted that these are not replaceable, which is a bummer if you like to change out hardware often. This was done as a cost cutting measure, but it makes sense on such an inexpensive chassis.
Cougar includes just one fan on the Spike and it is the rear 120mm 3-pin case fan shown above. This fan is made by Cougar and has part number QH12025SE12M on the fan motor housing. It looks like an inexpensive 120mm x 25mm sleeve fan and it is clearly not one of the higher-end Cougar fan models that they carry individually.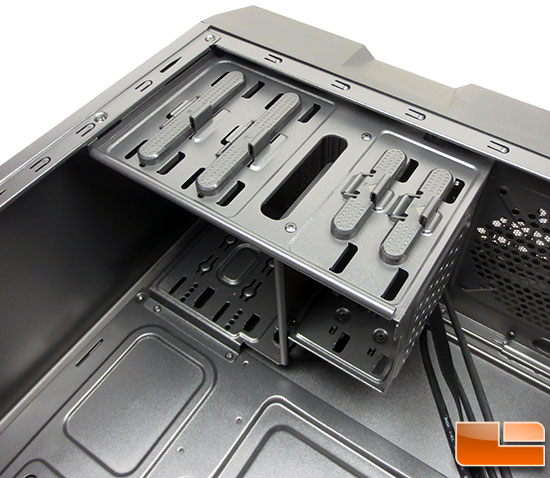 All of the internal and external 5.25″ and 3.5″ drive bays feature tool-free mounting systems, which makes installing and removing hardware a breeze. The 3.5″ drive bays come close to where the motherboard will be installed, so if you are using any hardware that sticks out far it might interfere with tall memory modules.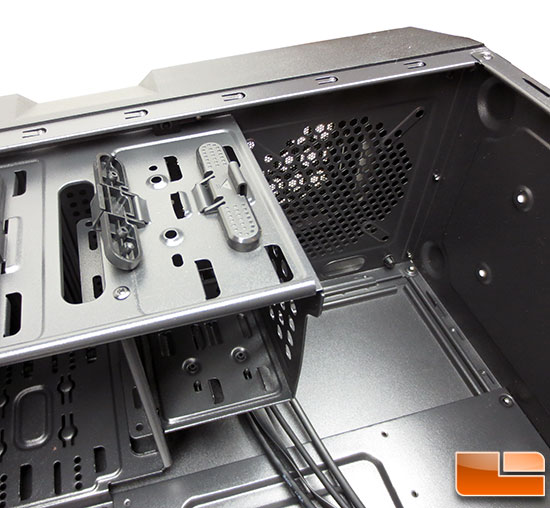 Here is a closer look at the tool-free design as one of the levers on the 3.5″ drive bays was moved to the open position.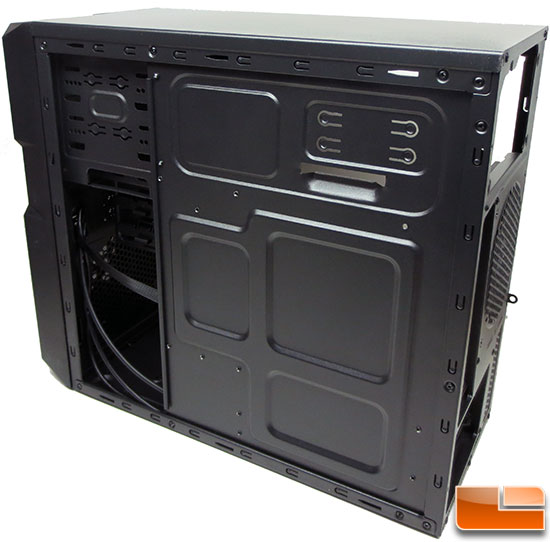 The Cougar Spike has no extra spacing at all behind the motherboard tray, so you'll be unable to hide any power supply cables on this chassis. If the Cougar Spike had one weak point it would have to be cable management as there just is none on this case. It also doesn't feature any cutouts in the motherboard tray, so you don't have access to the back of the motherboard to change out CPU coolers, route power supply cables or anything like that. Then again even it it had cutouts, there is no room to run anything!
Let's take a look at how building a system in this chassis goes!