Corsair Voyager Air Wireless Mobile Drive Review
Mon, Jun 10, 2013 - 12:00 AM
Corsair Voyager Air Final Thoughts & Conclusion
Corsair's Voyager Air is a sleek wireless media sharing device that I feel nailed this concept down quite nicely. The product itself is quite stylish, while the software is fairly easy to use. Holding a 6200 mAh battery and having a rating of 7 hours of HD streaming, I found this number to be fairly accurate. I was pleased to see that Corsair included a car adapter, which will help ensure you don't run out of a charge while on the road. The other included accessories and pouch were also great.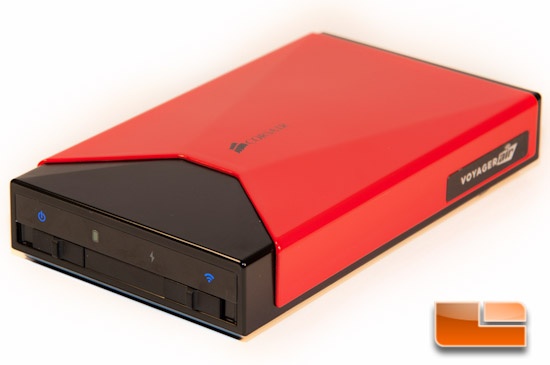 Speaking of accuracy, Corsair's claim of 120MB/s read and 119MB/s write was darn near spot on. We came in at just over 114MB/s read and just under 114MB/s write. My best recommendation if you want to move a lot of files or large files, is to utilize the USB 3.0 interface, because wireless is just too darn slow.
There were a couple quirks with the software that I'd like to see Corsair address. You're unable to upload content to the Voyager Air directly from the Local folder, and that folder is the only place you can view your device's local content. Of course if you went to the Folders section, you could upload no problem. Corsair also really needs to have the software seek out your existing content.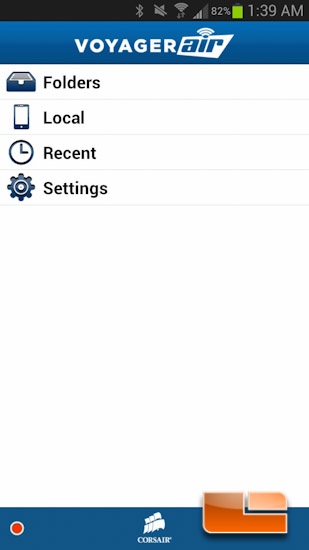 The Voyager Air will run you as low as $149.99 shipped on Amazon for the 500GB model, and $199.99 for the 1TB model. You do also have a choice between red and black, and I must say the red is slick! With the price of the 500GB Toshiba HDD costing $59.99 if you were to buy the 500GB HDD alone. That means the $90 goes to other BOM costs, packaging, software, marketing and profit margins for both Corsair and the retailer. You do get a 3 year warranty, so that has got to at least say something about the quality of the product.
The only other thing that got us was the inaccurate advertising on this product. Corsair's website and literature state that the Voyager Air will work with network-enabled smart TVs, Blu-ray players, game consoles, DVRs, and streaming media boxes. Unfortunately the current firmware on the Voyager Air doesn't support DLNA, however Corsair is working on the firmware that will support it. Until Corsair releases that, this info truly should not be marketed how it is.
Legit Bottom Line: The Corsair Voyager Air is a very slick mobile wireless file sharing device, but boasts a somewhat heavy price tag. It's extremely user friendly, light weight, and small, which will be appealing to many!