CES 2013: Seagate, Antec, Intel, A-Data, Digital Storm, Sapphire & More
Tue, Jan 15, 2013 - 12:00 AM
Gigabyte Boards, 4K Displays and More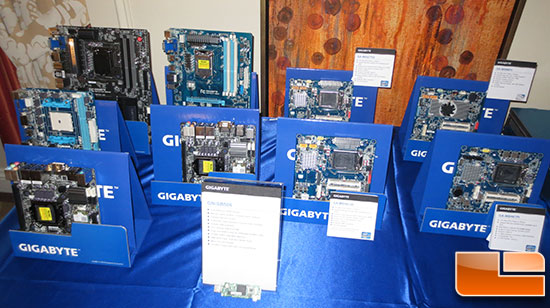 Gigabyte was showing off around a dozen motherboards at CES 2013 and it was clear that small form factor boards was the focus in the suite this year. Gigabyte had a number of micro-ATX, Mini-ITX and Thin Mini-ITX motherboards on display for both AMD and Intel processors.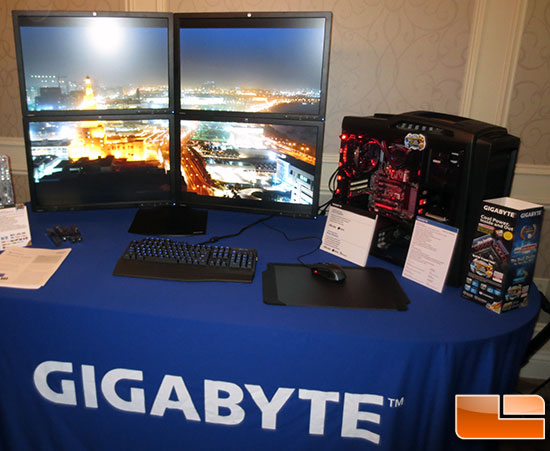 Gigabyte previously announced that GIGABYTE dual Thunderbolt motherboards with the new 4K Collage Graphics driver can power an Ultra HD 4k resolution video stream across four regular displays, but this was the first time that we got to see it working in person. Intel Collage display technology is simple to setup, using dual Thunderbolt ports that can be split into a total of four digital streams giving an incredible combined Ultra HD resolution of 3840 x 2400 pixels.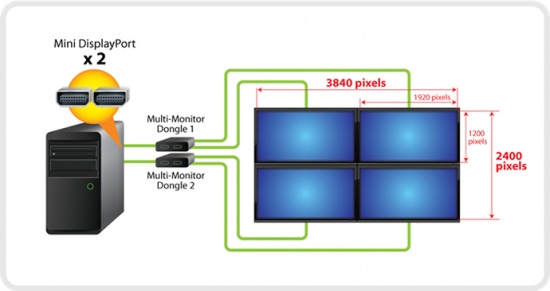 The nice thing about this setup is that you can get 4K resolution support with a simple driver update and you just need a Gigabyte board with Intel HD 4000 graphics (included on most Intel Ivy Bridge Processors). Getting 4K display support without a discrete graphics card and an expensive 4k panel is very nice. The setup here uses a pair of 1920×1200 monitors that are scaled vertically, so that is how you get a 3840×2400 screen resolution. Alternative 4K technology on the cheap!
Gigabyte had several sweet gaming systems in their suite with triple monitor setups running on all Gigabyte hardware!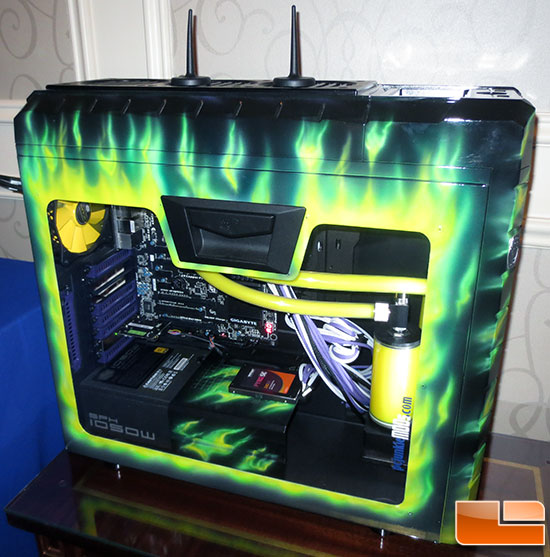 Here is a closer look at this sweet demo system!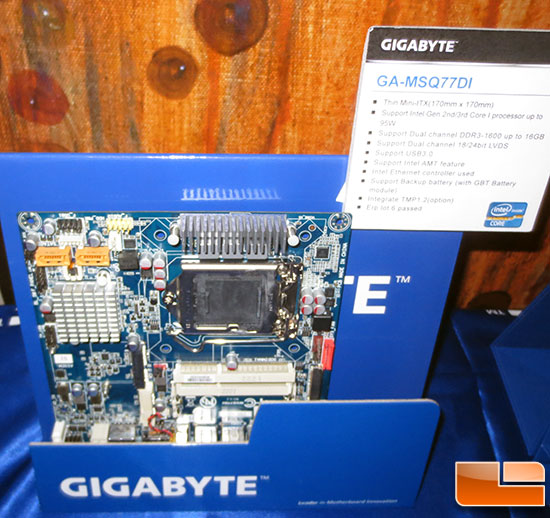 The Gigabyte MSQ77DI has been around since May 2012, but it was front and center at CES 2013 since Thin Mini-ITX motherboards are really popular right now. This specific board is based on the Intel Q77 chipset. The MSQ77DI has a half-size PCI Express slot (for a Wi-Fi card), a mSATA slot, two SATA 6.0 Gbps ports and a pair of SO-DIMM memory slots for DDR3 memory. The back panel includes HDM, two USB 3.0 ports, Gigabit Ethernet, a speaker jack and optical S/PDIF out. Gigabyte also offers the MSB75DI, which is a lower cost board that is virtually identical other than the fact that it is based on the Intel B75 Express chipset (just one SATA 6.0 Gbps port.)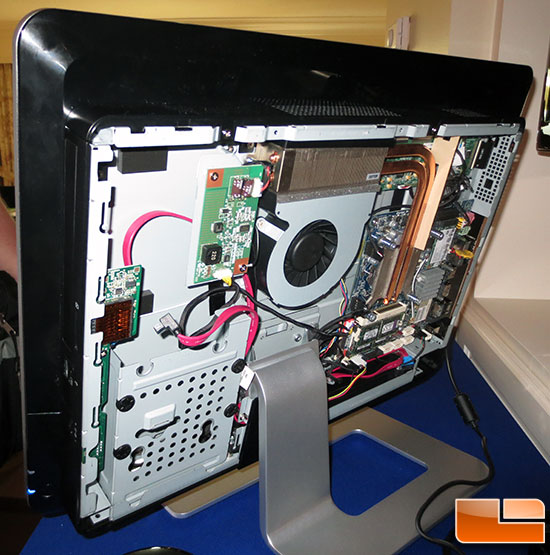 This Thin mini-ITX boards are really popular as they are used in All-In-One (AIO) Desktop PC's like the one shown above.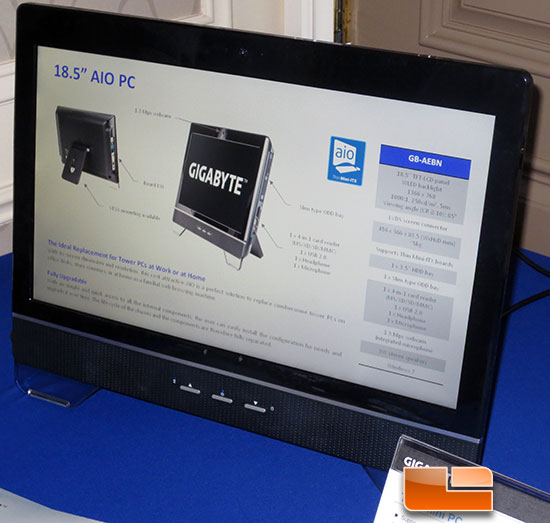 Gigabyte also had numerous AIO systems on display like the GB-AE8N shown above, which is the companies latest 18.5″ model.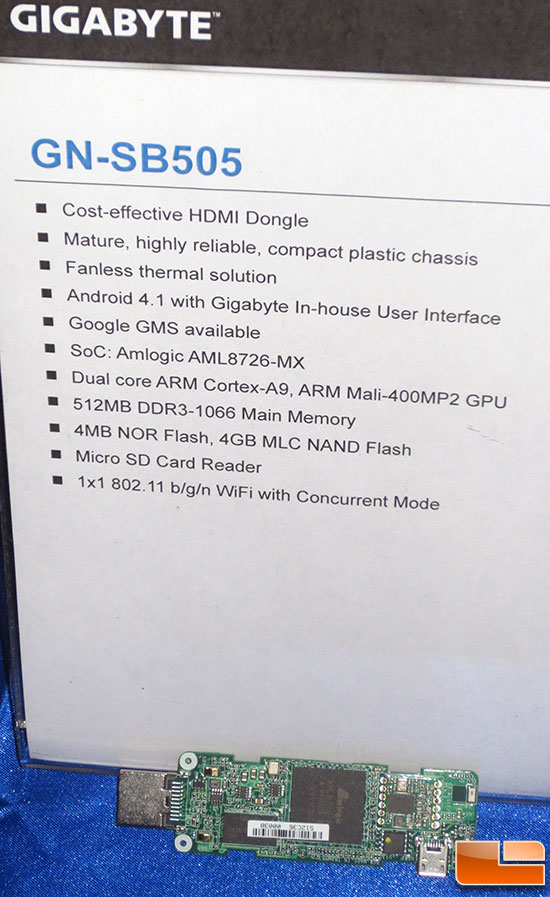 Gigabyte was also showing off the GN-SB505 low cost HDMI dongle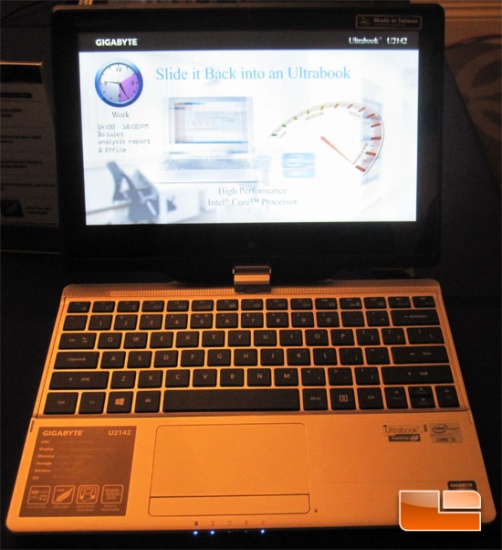 GIGABYTE was also displaying several of their Ultrabooks. The GIGABYTE U2142 isn't your typical ultrabook though, it can swing the monitor around and work as a tablet.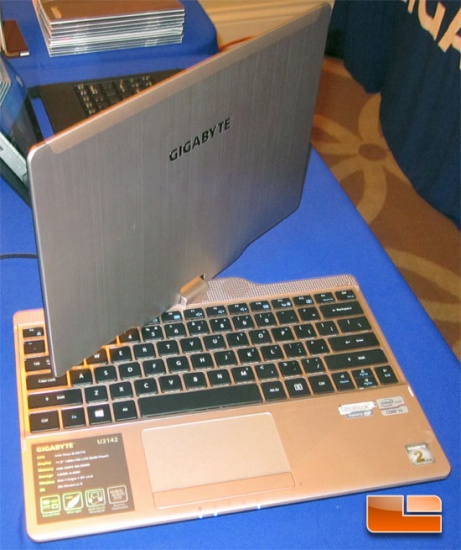 The brushed aluminum of the GIGABYTE U2142 looks great, above you can see the monitor swinging around before folding down into a tablet.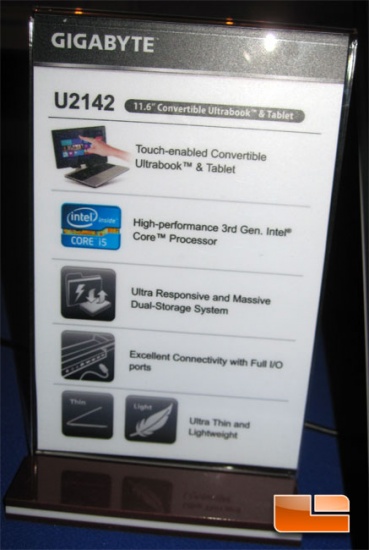 The GIGABYTE U2142 features an 11.6″ touch enabled screen. At the heart of the U2142 is a 3rd Generation Intel Core processor and a massive dual storage system. Looks like a great little system that GIGABYTE had here at CES 2013.