BlackBerry Z10 Commercial Airs w/ Real Features This Time
Tue, Feb 05, 2013 - 8:38 AM
BlackBerry's first Z10 smartphone ad aired during Sunday's Super Bowl, but it got ho hum results as it just showed what you can't do on BlackBerry 10. BlackBerry released a new ad yesterday that shows some of the things that you can actually do on the BB Z10 rather than what you can't.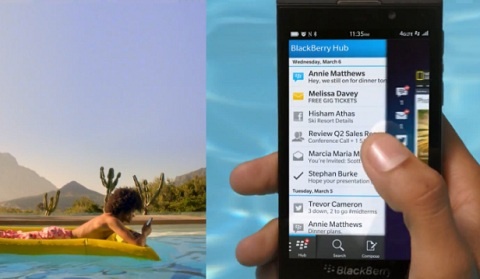 The new advert shows how the phone was 'built to keep you moving' and shows off Time Shift photo mode and the ability to 'flick' predicted words. The video features music by the psychedelic rock band Tame Impala from Perth, Australia. Check out the 60 second advert below.
Meet the new BlackBerry Z10: The first full touchscreen device for BlackBerry 10 and, according to CEO Thorsten Heins, "the most beautiful BlackBerry we have ever launched." BlackBerry Z10 features the ability to turn back time when editing photos, house all of your messages in the BlackBerry Hub and balance all of your work and personal information in one device.